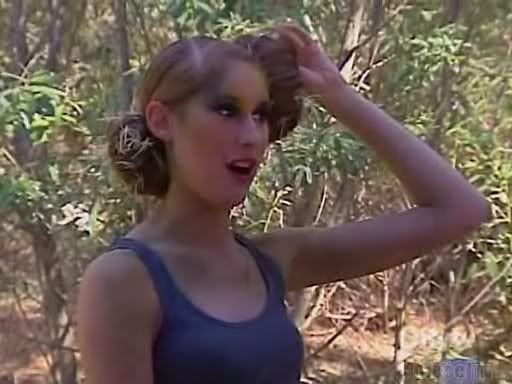 Tyra said that Victoria was eliminated because of her abrasiveness and snappiness, but we all know that the real reason was because she was clueless about the reality and fashion games.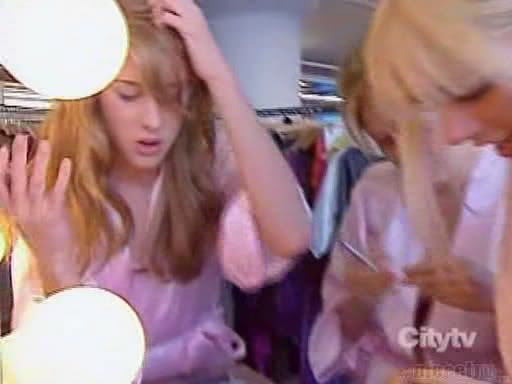 Without the insaneness or the hysteria, Victoria had to bank on an overflow of charm (here, Nigel was right in a stopped-clock kind of way) to become a favorite on either the show or the competition. As with any self-designated Smart Girl of the Show, she had vast potential, which she of course never realized as either a model candidate or Secondary Crush Object After Heather.
And for all the times she calls herself a nerd, Victoria loses serious geekage points when she compared herself to Princess Leia and someone else (I think, of all people,
Janet
) beat her to saying "Help me Obi-Wan!" Can she really be a nerd?
History majors, pfff.
---
Self-reflexively pop psychoanalysis quota alert!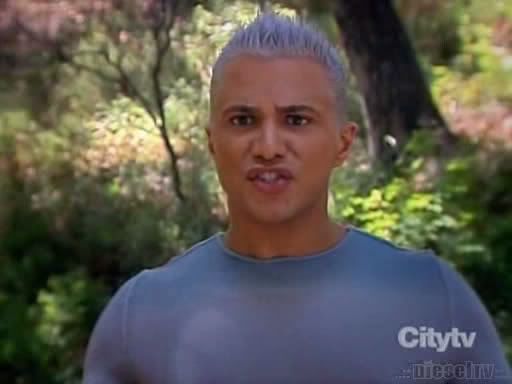 "Maybe sometimes it takes a complete emotional meltdown to kind of build yourself up."
Do keep
up, Jay
.
---
TOP MODEL FRAGRANCE RANKS


Heather (Previous: 1)


Disproving, yet again, the Asperger stereotype of impaired eye contact, Heather actually breaks the fourth wall and looks straight into the soul of the viewer. Not content to subvert one stereotype, Heather also showed she can connect emotionally to others.



She can rock a grunge look and still have empathy left over. (Especially compared to Victoria, who was already bored with Chantal sniveling about how she couldn't navigate two people giving her contradictory directions; not that I was any more interested in Chantal's whining than the Yalie was.)

But in regards to important matters, Tyra and the stylists were right not to alter Heather's look much.




Jenah (3)


Yay! More teeth porn for me. Which is all that she has going for her now that they've remade her into Courtney Love. Check it, here's Courtney:


Now Jenah:


We've already got the public nudity:
topless-from-the-back


And look! She's already passing out!




Lisa (6)
Great, now she looks like Jade, but with less of the insanity.




Bianca
(5)
You have to admit the artistry exhibited on the show. As the makeovers began, we all watched Ebony's travails with her weave, and we thought that she'd be the makeover disaster of the season. And here's Bianca, sympathizing with her sister in hair extensions but surely breathing a sigh of relief that it wasn't her...



But no! That was only foreshadowing! Because:



This show is so writerly sometimes.

On another but still hair-related note, like Tyra, I thought that going bald (or more accurately, buzzed) was a boon to Bianca (as it would be to many women actually); what would give her a more distinct identity, going the "regal" route, or turning her into a Beyonce clone?


Ebony (7)


First she lost her title of Queen Bitch to Bianca, then she had her weave-mishap one-upped again by Bianca. Ebony mightn't have much of a future on the show, nor on the upper half of my rankings, mostly because she was most compelling as the rancorously unlikable ex-villain-turned-underdog. Still, if the show doesn't work out for her, she might just try cooling her heels until high fashion embraces the bag lady look.




Sarah (9)
While she can take a good photo, Sarah needs too much prodding from Jay to get much farther.


Janet (10)
Sort of a chameleon -- sometimes she looks like a young and hot Liza Minelli, other times an old and ugly Liza Minelli.


Ambreal (8)


Tyra wasn't kidding about the corporate look that Ambreal was channeling. Thanks to the "Internet," I found a paparazzi shot of her rolling to a party, in considerably more dashing style than Britney, Lindsay, Paris et al:




Chantal (11)


More like Crybaby's Breath amirite?



(Quick tangent: Is it just me, or did she really look like Jane Krakowski in this shoot?)

I really shouldn't expect maturity from a 19-year-old model wannabe who has so far skated through life on her looks, but because of her meltdown, my feelings towards her went from mild apathy for her to inclement hate. She said that she'd wanted to be a model since kindergarten, but she shut herself down at the blandest sign of difficulty when Jay and the photographer kept giving her contradictory directions. Chantal tried to follow both instructions at once, and it only blew up her brain. Even better, she blamed everyone else -- she'd only have been able to take a good picture if Jay and the photographer had shut up for two seconds, omigad! -- which is great rhetoric at work. She so would've fared better on her own because she showed her personal autonomy when she received so much direction!

But to close on a serious note, at the very least, Chantal could've resorted to this guaranteed laffer:



Update: Chantal reacts to that missed comic opportunity:



Indie rating: Felix da Housecat – "What Does it Feel Like?"