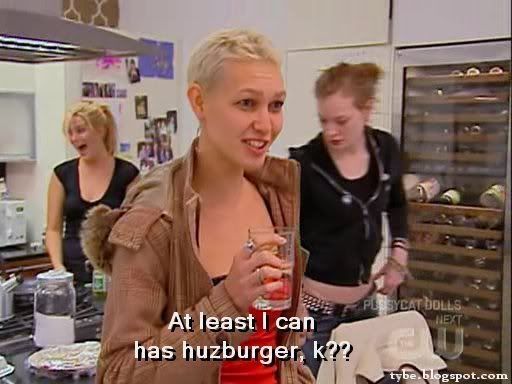 Whoa, another blow-out? I do love an early Christmas. (Or looking at the other way, it's a late Christmas, considering the sorry debacle at the end of the last cycle, which drained all of my enthusiasm for
ANTM
and made me entirely apathetic to the upcoming Cycle 10.) But seeing as this was nearly an identical eruption as the one from the last episode, I won't bother break it down with as much loving detail. Plus, my two favorite girls on this show were in the sketchy side of things, which I certainly would like to erase from my memory.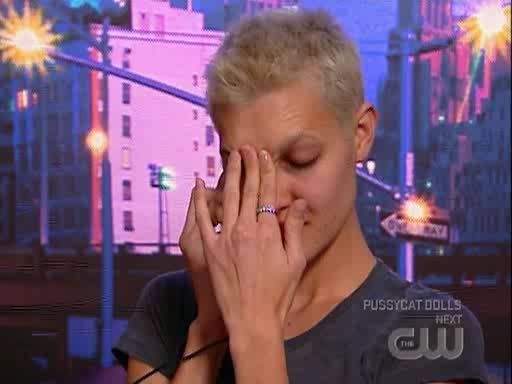 Make that the heinous center of things. No matter the participants and how you feel about them and their arguments, a gang-up is rarely edifying to witness. This case is further compounded when the gang pulls something as childish as talking behind someone's back while actually being right in front of them. The upside of all that rudeness is that it not only humanized Dominique but showed that she's actually really pretty when being attacked or when she's crying. If I were the moral-seeking type, then being mean to masculine women wears away that pesky butch edge of theirs.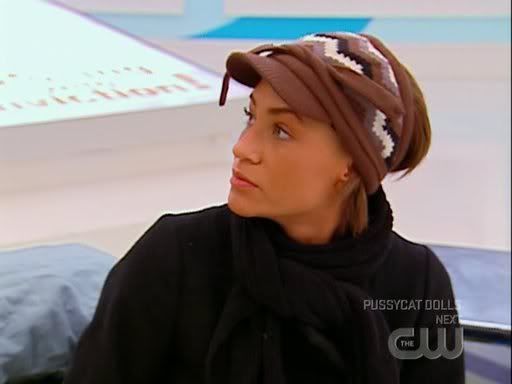 ---
Reality karma is always rooted in superstition (see contestants debating the ethics of the Yield on
The Amazing Race
), but one of the go-to strategies on
ANTM
is to knock a contestant off her high horse after she doessomething heinous earlier in the episode. It's part of the system of moral justice on this show, which has been around since the first cycle (e.g. Robin's sanctimonious stand for hypocrisy and flying boobs). In fashion (and by extension,
ANTM
), girls are expected to give up their childhoods, their bodies, their agency, and a healthy portion of their individual ethics to become a pure surface or a clothes hanger, all for the capitalist pursuit of industry self-perpetuation and its attendant social order. If fashion's social order is threatened, especially as seen on the show, then the BOOT (which is why outsiders like Lauren will never win the competition).
So as much as the show twists its logic, it tries to abide by self-sacrifice in the name of work/working it. Dani
elle
and Adrianne
got lauded for powering through serious illness; on the flip side, Monique's "Princess of the Throne" insanity wasn't enough to get her booted, but when she blew off a runway show because of dehydration, Tyra sent her packing post-haste. Same with Robin: her pear-shaped body and disinterest in actual modeling were all subsumed under a perverse matrix of "potential" and plus-size affirmation that kept her in the competition until she finally refused to prostrate/bare herself for the job.
The show's fashion ideology is exerted on a day-to-day basis through the morality that governs quotidian interactions without really changing the status quo, as we saw in Claire's case (Aimee =
cannon fodder
). Claire's only real fashion crime came from being too couture, and Tyra's not going to eliminate anyone like that this early. But the show karmically reasserted itself over Claire, whose lack of commercialness -- not an eliminable offense -- became the excuse to resign her to the bottom two, all to remind everyone about the show's moral authority. Abide by Tyra's ethical compass or risk getting left behind in the competition; on this City on the Hill, people who do bad things are supposed to be punished, and as we watch we are vicariously satisfied with this dispensation of justice.
But I'm not ready to throw Claire overboard yet, so in an attempt to excuse her behavior, perhaps as an avowed environmentalist she wanted to conserve energy (and you can read that as "electricity" or "milk") and so stayed in the bedroom to talk behind Dominique's back.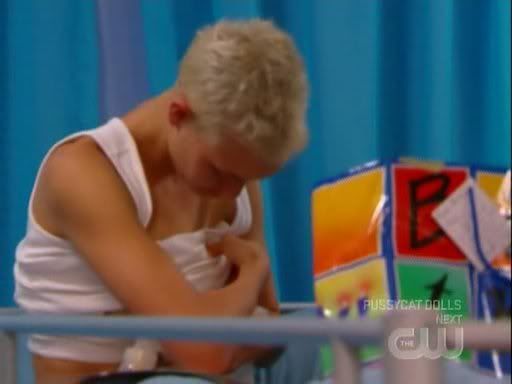 ---
So Lauren's palms, hurt from a patty cake marathon, punctuated the ridiculousness of the pain teach. (At least she wore her glasses to it.) In fact, you had to believe that the very purpose of the teach was for Tyra to break out this one pose she'd been saving for just the right occasion: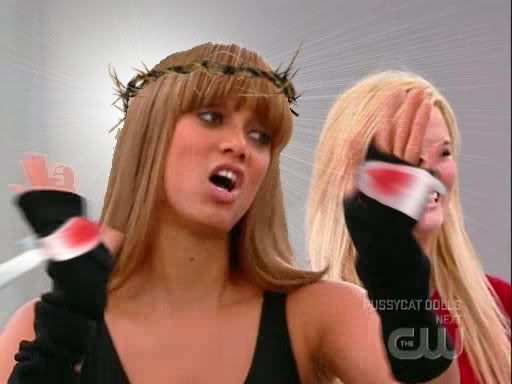 ---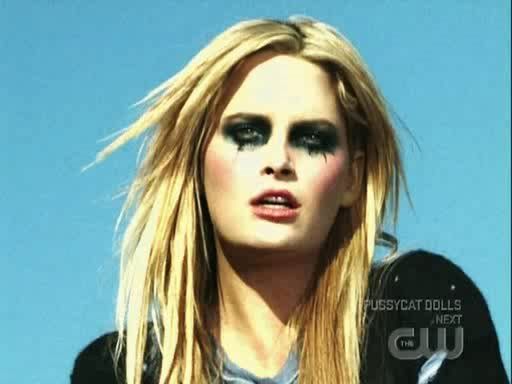 For all the love that Whitney's been getting from Tyra et al, her pictures to me have either been bland or looked like a deer caught in headlights. The grunge (Grunge! Nice to see the show with its finger on the pulse of the musical Now) shot is tepid and warmed over, hardly anything worth calling out first. And what's more, she has yet to live down the
big hair/plastic jacket ensemble
and her black best friend. Nothing will wipe away those two strikes short of her
wearing glasses
.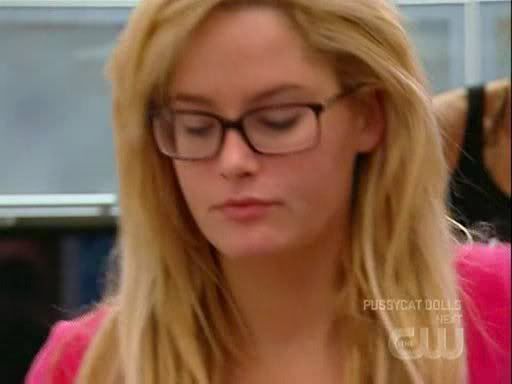 OK, glasses
plus
an abiding love for Japanese psyche.
---
Speaking of:
---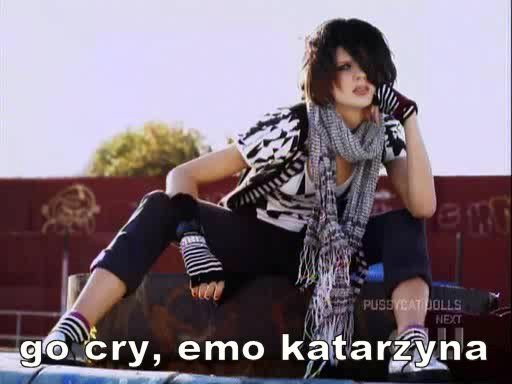 ---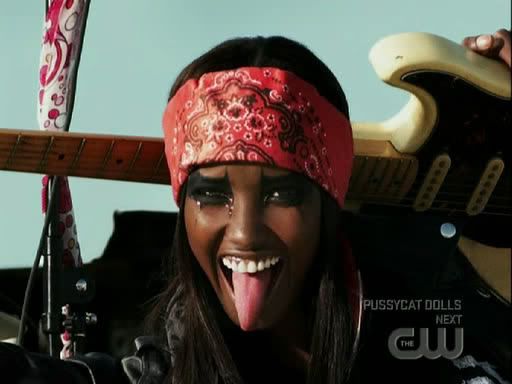 Given her atrocious beginnings, Fatima's growth is encouraging, but evolving from a Pekingese to Gene Simmons is still short of being model-human -- and I'm not even sure she's going
up
on that evolutionary ladder. In addition to coining "the metal rock," she also chose a cringe-inducingly trite fake rockstar pose. Since the shoot's mode was music, the awful tongue action is the anatomical equivalent to the singer from
Feathers
-era Dead Meadow. (Nb. the same singer is the nephew of none other than David Simon.)
---
On the subject of music: I don't why I still get disappointed whenever
ANTM
-- or any other reality program -- leaves out krautrock and indie. I've learned to deal with baffling omissions.
But it's not all a loss because Lauren channeled my first rockstar crush: Shirley Manson, though I don't think Shirley ever went for PVC miniskirts.
---
Wait a second.
Krautrock:
Indie: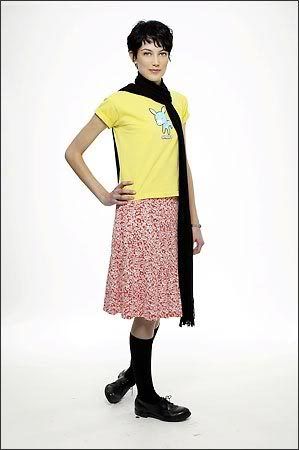 ---
So Lauren's a giantess.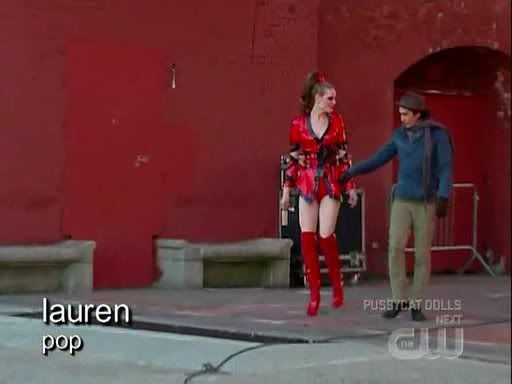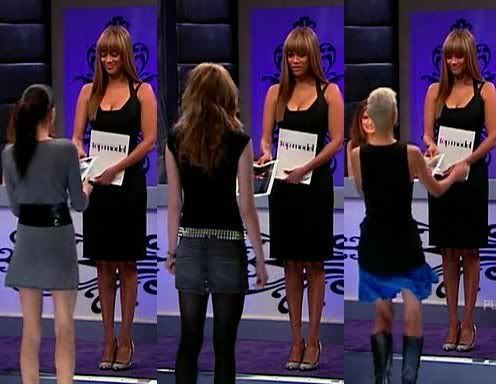 Even when on a lower level, Lauren can still look Tyra eye-to-eye.
---
Word's come out that the girls
trashed the hell
out of their apartment. The itemized damages include:


lipstick on walls

food stains on drapes

mold-infested bathroom

$15,000 chandelier destroyed (truly impressive)

I think I know how the chandelier was destroyed: Lauren was dancing while standing on chairs. Does she really need that extra altitude?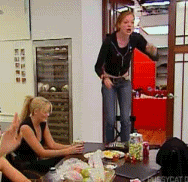 ---
Not too pervy at all.
---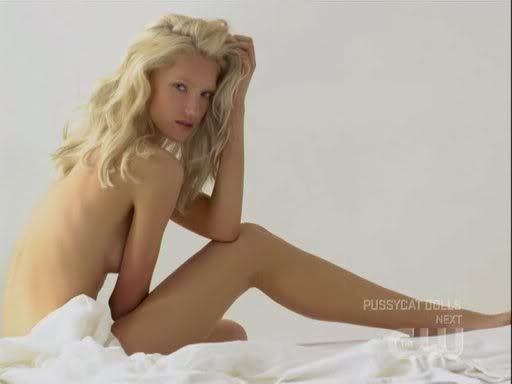 Dear Anya,
I'm glad you're comfortable with your body that you had no problem with the nude shoot, but please...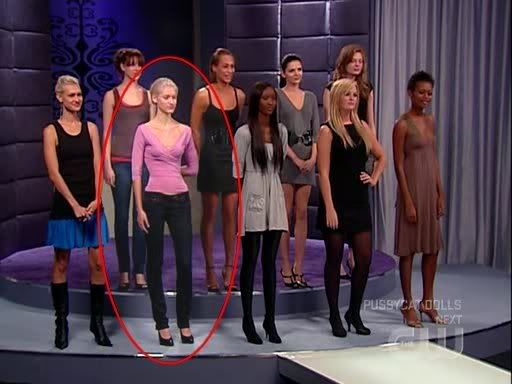 ... eat a huzburger. Here, Dominique brought the buns.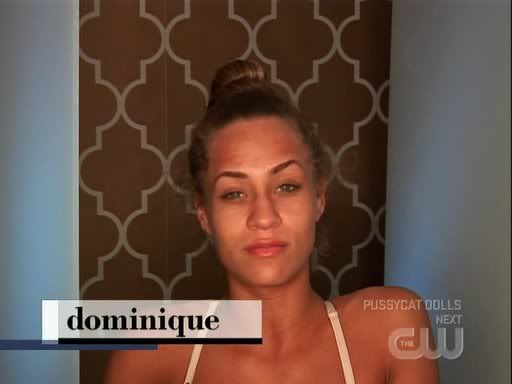 Indie rating: Fugazi - "Turnover"