Here comes the biannual recap episode
, which I've always enjoyed as a highlight of every cycle, partly because of all the previously unaired footage which often shows the girls at their loosest when they weren't worrying about the competition, footage that wasn't important to the narrativeof the competition but instead simply charmed. In fact, recap episodes generally tie into what I've recently been thinking about with respect to reality tv -- namely, why most reality programs (certainly the ones that I watch) characterize their contestants with such overdetermined simplicity that they tilt the moral field of the show and all but invite us to judge the girls as essentially righteous or wicked. (We occasionally see the bad girl who turns good, or vice versa, but redemption/disgrace arcs are similarly shallow.) Ultimately, if our feelings about the girls diverge from these official narratives, if we reverse the show's moral work at depicting these girls as saints, sinners, or miscellaneous cannon fodder, then our conclusions are necessarily defined as willful contrarianism.
Certainly in the canonical segments of the show (i.e. not in the recap episodes), contestants are always reduced or distilled to a flat stereotype, though of course most don't acquire the moral baggage. We hear, for instance, Tyra describe the girls at the conclusion of this episode: Lauren, the awkward yet incredibly photogenic punk rock girl! Katarzyna, the sexy stunner! Whitney, the fat one! You get the story, because their personae are all shaved down to a sound byte.
Why do reality programs err on the side of simplicity? Compare them against their closest competitive analogue: sports. If you're a sports fan, then you usually have some pre-determined reason to root for a given team -- they're near where you live/grew up, they have a player whom you admire, they're perennial underdogs who suddenly become contenders on an improbable Cinderella run. Whatever the reason, that team -- and that sport -- exists at that moment within an unbroken context (i.e. history) that supersedes the current season, a context which can appeal to the spectator. Reality tv doesn't have that contiguity beyond its non-contestant personnel; the contestants arrive each cycle as blank slates without apparent contexts for us to latch onto (well, except for me and my Ivy League fetish) and without fanbases that extend beyond their friends and family. So in the 13 episodes it has per cycle,
ANTM
has to quickly and starkly drop its girls into caricature-like roles -- that drive the official narrative of who will become America's next top model -- because the show can'trisk dwelling on complex characterization that might lead to viewer ambivalence.
(Another reason for the shallow characterizations, though from a producer perspective:
ANTM
is a brand -- we'll leave aside its low currency in the fashion world -- and the winner of each cycle has to be sufficiently marketable to maintain the brand name. On a job interview, you don't want to give your prospective employer too nuanced an image of yourself where they can doubt you -- you might not want to give your prospective employer a nuanced, complex image of yourself; you want to leave no room for doubt as the balls-out best candidate. Same with the would be Top Model, whose image Tyra wants to burnish to help giver her a career, which in turn makes Tyra that much more God-like.)
Back to why I love recap episodes so much: they can show different sides of the girls because they don't have to worry so much about tying everything we see about a contestant into her narrative. I mean, who knew before this episode that Anya was so adorable and hilarious?
The recap episode transformed a borderline-anorexic, airheaded ditz into a healthy, merely ditzy,
funny
charmer who I'm sure could get into Dartmouth if she applied! Funny how that works.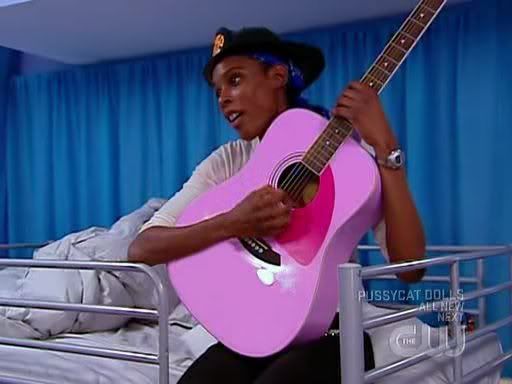 The episode also gave Marvita a personality makeover that suits her way better than the horse mane. She went from a self-doubting hood rat to awesomely annoying troubadour (wouldn't a crust punk fan -- like Lauren sez she is -- appreciate Marvita's stylings?), a
cock-punched
erotic masseuse-cum-exhibitionist.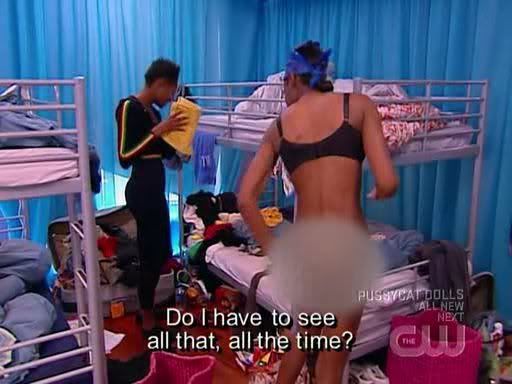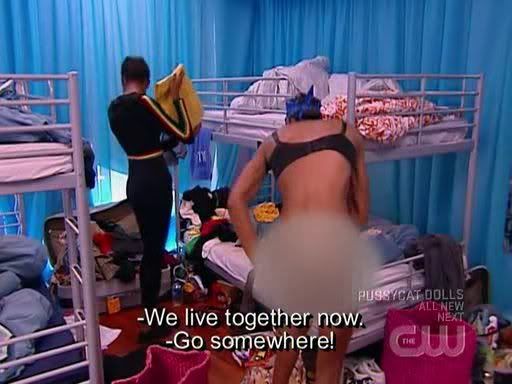 Total
Boston marriage
spat.
While this episode didn't change Anya nor Marvita at a transcendental level, both of their personalities were fleshed out with small but enchanting details, infinitely more colorful than how Tyra chose to define them ("Anya, the ethereal and effervescent beauty!").
---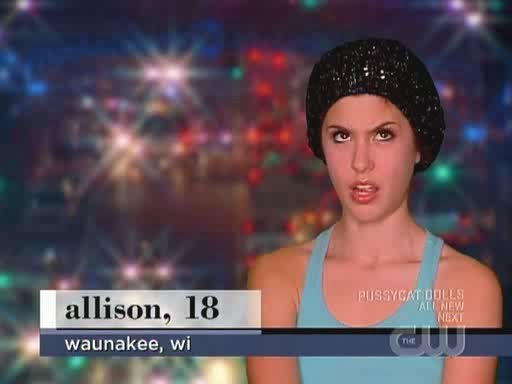 Allison didn't get a recap makeover, but that's because
no-emotion robots like herself
aren't allowed to receive personality transplants, which is truly racist/carbonist. It's enough to make her sulk...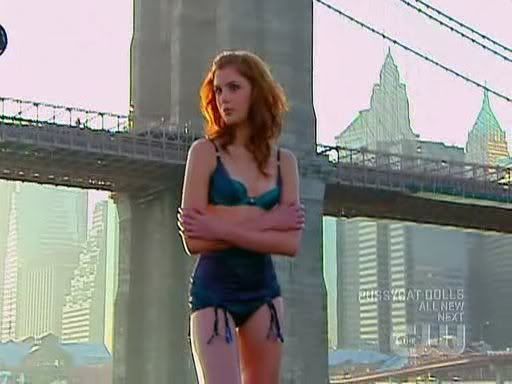 No wait, she's just posing. (That zing was the second-best thing that Mr. Jay's ever done on the show; the first best thing is running expressionlessly on a treadmill so that Anya could call him a silver robot. Hey, it's the robot recap!)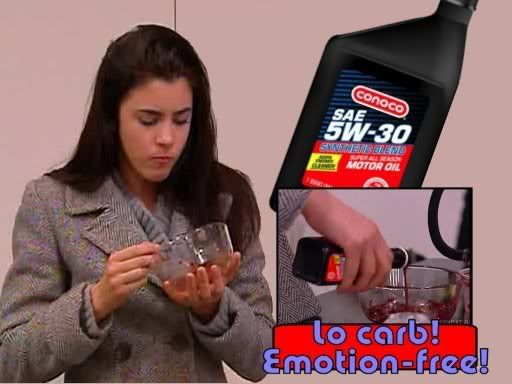 I'm sure that the lack of depth she got was the show's way of half-heartedly wiping its hands of a genuinely execrable person, because calling yourself a no-emotion robot is missing reality by a mile. Sure, she probably lacks empathy (hence calling herself a "no-emotion robot"), which explains why she could so casually lob racist epithets at Fatima, but Allison mostly acquitted herself as a megalomaniac who blamed her shortcomings on others victimizing her. Also, robots are awesome, and Allison was anti-awesome, though if you're into irony, she was awesome at being villainous.
---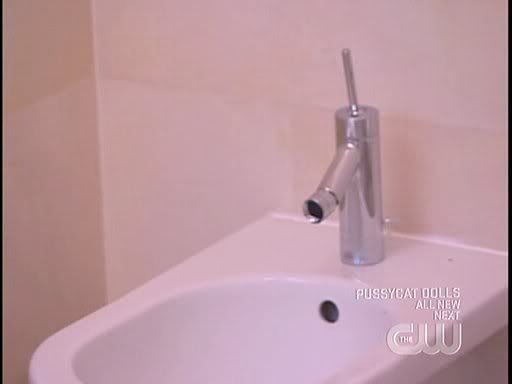 I'd have thought that Dominique would be the one contestant who'd mistake the bidet for a urinal, but then she turns out to be the most Continental of them all. I don't really want to think what that bespeaks for the other girls.
In fact, she's a natural born talker with ambition to spare.
Don't ever change.
---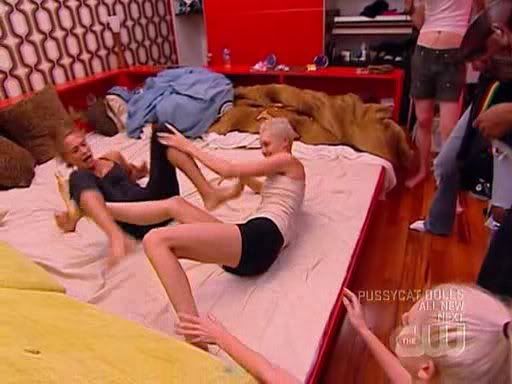 So close to my Columbia-on-Cornell fantasy...
---
Stacy Ann has a future in experimental music, what with that tricky beat she's singing to that Tyra can't seem to find.
---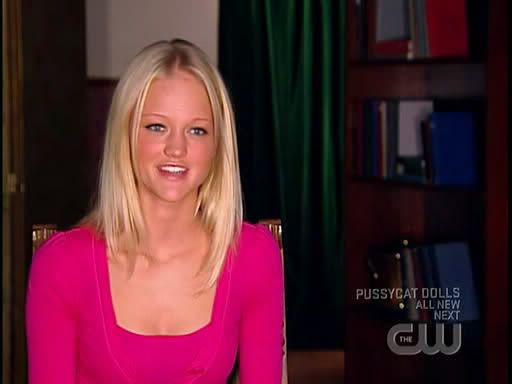 Did you know that Kimberly never lived in a house with 13 other girls,
but she's really down to earth
? I can die happy if she actually sez "I'm really down to earth" after any sort of statement, but the editors could've easily frankensteined this or the original clip (or both) for the maximum brainless hilarity. Still, "I'm really down to earth" deserves to become a worldwide meme, as it's really the perfect rhetorical response that'll get you off the hook in any sticky situation. As Anya might say,
this
is a meme! Observe!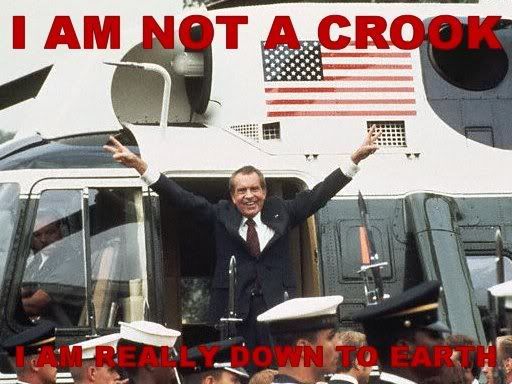 Result: Pardoned.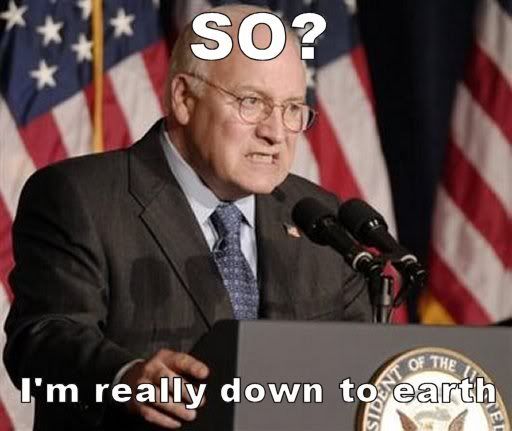 Result: Not impeached.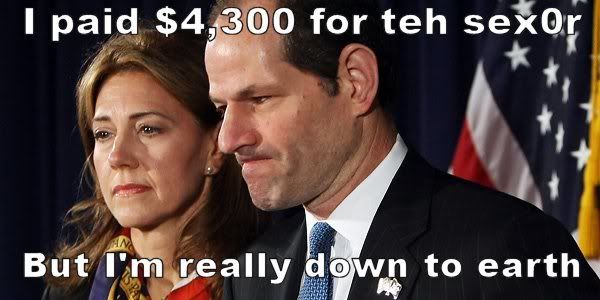 Result: Nationally elevated profile.
Result: Signed by the Raiders in '09.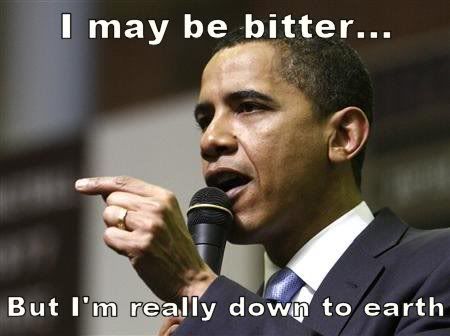 Result: Elected President.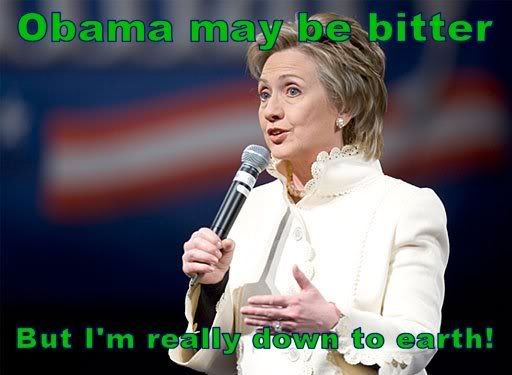 Result: Becomes nu-Oprah.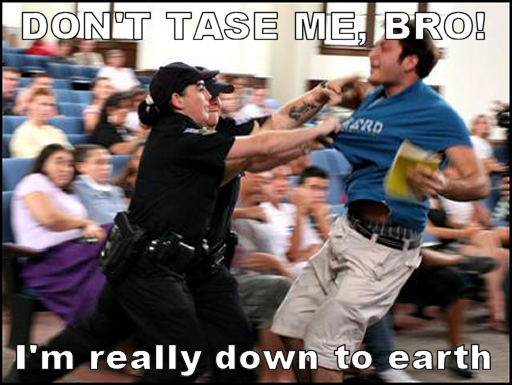 Result: Well, five out of six isn't bad. Better luck next time, Andrew.
---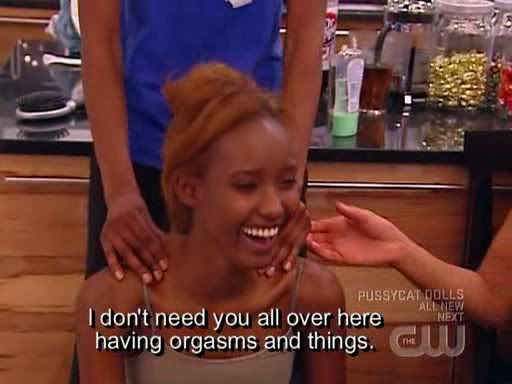 Normally, I'd make a flip remark here -- something about how Marvita felt sorry for her insensitive comment in the semifinals and is giving Fatima the gift of womanhood
-- but I can't see past that hand creeping into the frame: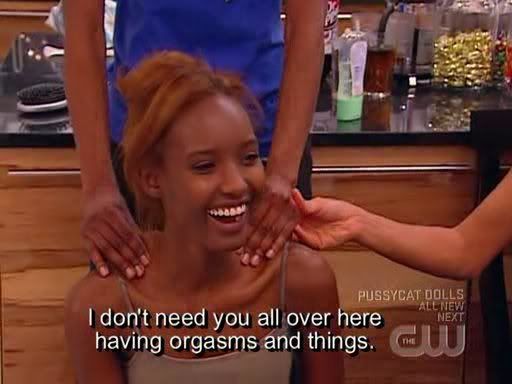 Seriously, wtf?
Indie rating: Shop Assistants - "Looking Back"