Welcome to
So You Think You Can Legs
!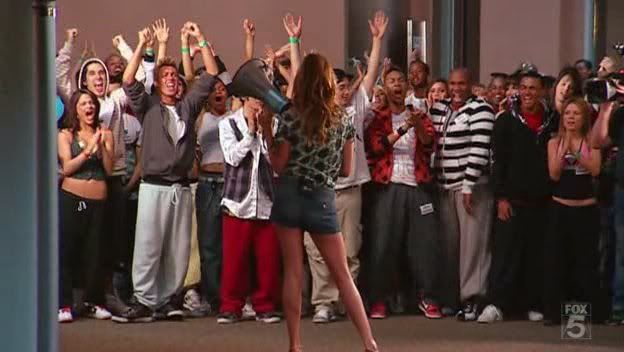 Speaking solely for myself, I don't know how excited I can get about the first top 20 on
SYTYCD
that doesn't include an Ashley (or Ashlee) (or Ashlé), but first, Milwaukee has a few things that need to be put to bed.
Read More
---

MICHAEL KIM! He moves like he's computer-generated.



Download Michael's audition (12.9 MB)


---

I'm fascinated by Janette's look.




If by turned on I mean ridiculously turned on.

Download Janette & Romulo's audition (13.3 MB)


---
---

Philip Courter's audition was pretty good -- the first half, anyway, since I'd never seen that before. Take note of his moves 30 seconds in.




Now peep this:



The second clip showcases David Elsewhere circa 2003. No shame in stealing from the best, I suppose.


---

How cute is Cat? This cute!


---

Finally, then, on the subject of our top 20, I'm not stoked at the pasty deficit of charisma among the male contemporary dancers, all the more pronounced since Brandon Bryant isn't among their ranks. What's worse was that the show positioned him and Gev as the final cut, which has led an otherwise sharp observer to believe that Gev was in direct competition with Brandon, when in fact by the time the judges were going to "decide" on Brandon, they had already put six contemporary dancers through and their decision had already been made. So if you're going to be irrationally angry at his exclusion -- as I full well plan on being -- blame any of the half-dozen other contemporary guys who got through first.

On the girls' side, I'm similarly disheartened by Kelli Baker's elimination, though where she got cut for not being sufficiently PERSONALITY, Chris on the boys' side got put through in spite of his tree-like demeanor.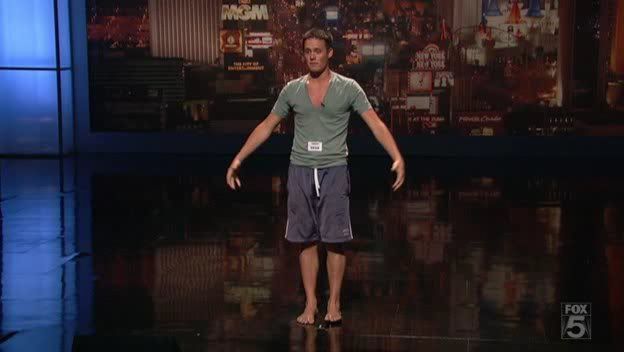 And that's after he found out he was in the top 20.

The problems don't end with the casting; you have to wonder about the editorial decisions that led to eight of the top 20 dancers being introduced in the Vegas episode, as opposed to getting spotlighted during the auditions. After all, SYTYCD loves to drop its contestants into narratives during the season, and I can't really fathom why they wouldn't want to extend that treatment to the audition and Vegas stages of the show, too.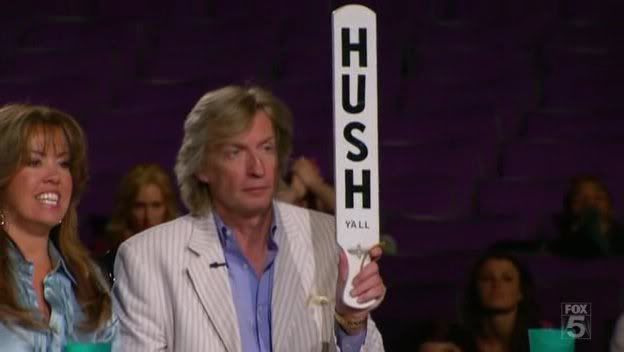 And the judges were already in midseason power-tripping form, unless they merely want everyone to believe that they'd be so capricious as to cut tapper Liz because of her forgettable rambling or Katee for expressing doubts about trying out for the show again because of the televised emotional and physical toll. Here's Debbie Allen, looking like she thinks she's Michael Jackson:





All that said, I'm not exactly raging at these injustices, since I'd be foolish to expect reality tv to be transparent or to practice good reason and judgment, and you've probably read all these complaints before. Instead, as always, controversial decisions gets people talking about any particular show. So do noogies.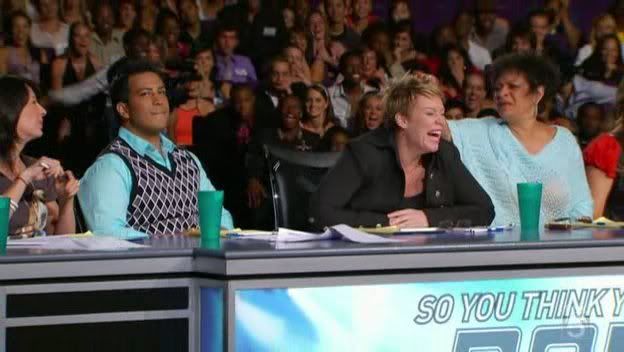 So let me cool down and start over, as I introduce your (not mine! Oh, that didn't last long) top 20, with (entirely factual and not at all made-up) commentary!

GIRLS (are the new boys)

Rayven Armijo (28) > Contemporary/Ballet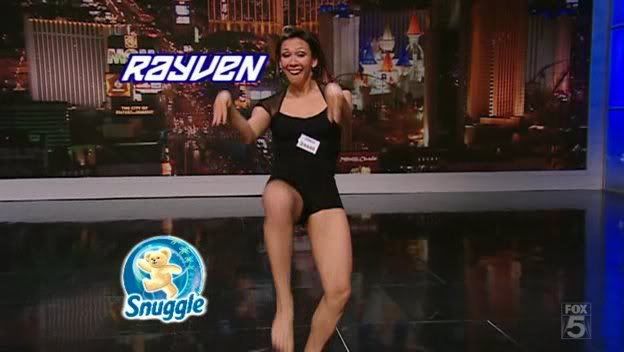 The show hasn't had a ballerina since Jessica from season 2, and if she has a booty like hers, then I'd say both she and we are in good shape.


Comfort Fedoke (20) > Hip Hop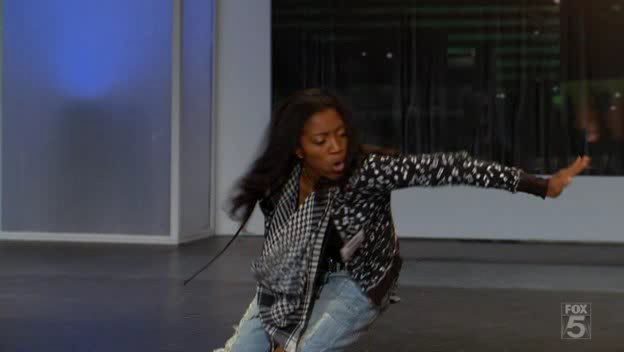 We finally got our first extended look (and her actual name) at what Nigel called the best female hip hopper, except we didn't see much of her in the way of hip hop dancing, so she's got absolutely no pressure on her now. Furthermore, I predict that there will be no turmoil about how the judges are cutting her slack in non-hip hop routines.


Courtney Galiano (19) > Contemporary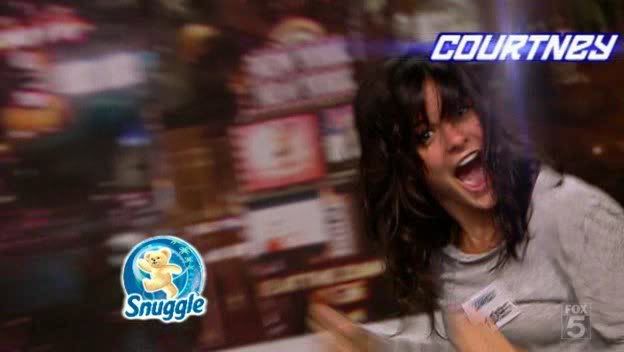 She's the one with the proud grandparents. Not blond.


Susie Garcia (25) > Latin Ballroom/Salsa/Cleavage/Sticking Her Chest Out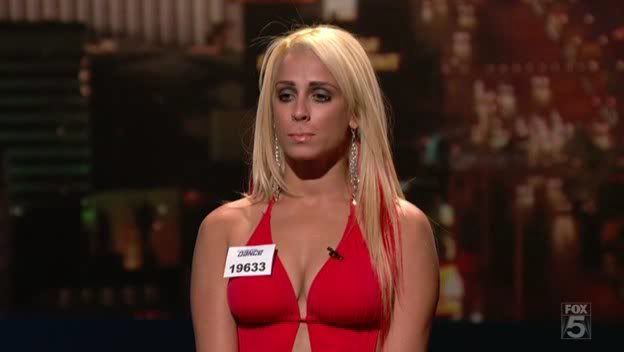 Blond.


Chelsea Traille (23) > Jazz Funk/Contemporary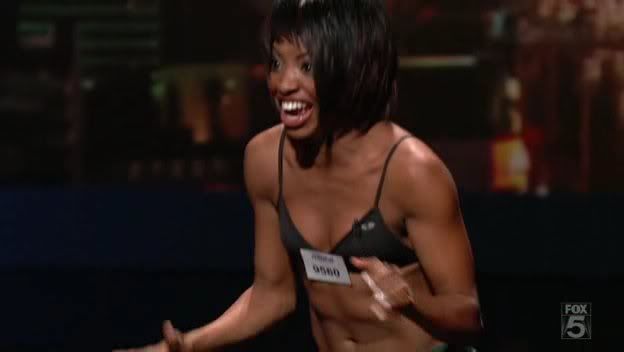 She's kind of buff.


"Other" Chelsie Hightower (18) > Latin Ballroom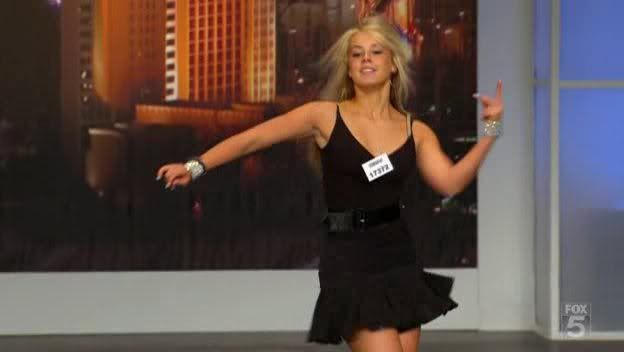 I know what it's like to lose several cars, too, dear. Don't listen to the dirty proles who think your admission was vastly out of perspective!


Jessica King (23) > Contemporary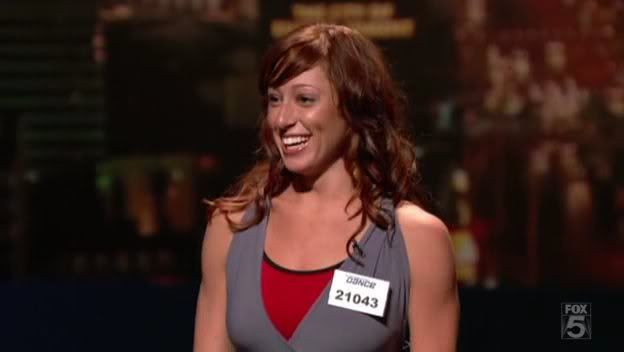 She looks a bit like Cheryl Burke, so I guess that's all right. Also, she's her own censor when she's about to swear: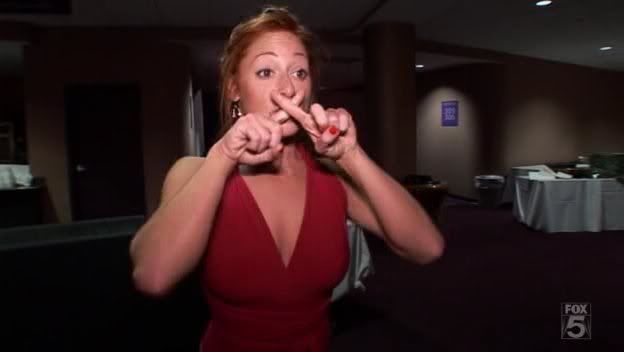 Can't hate on someone who's at once telegenic and aware of it, at least not yet.


"Weird" Kourtni Lind (18) > Jazz/Contemporary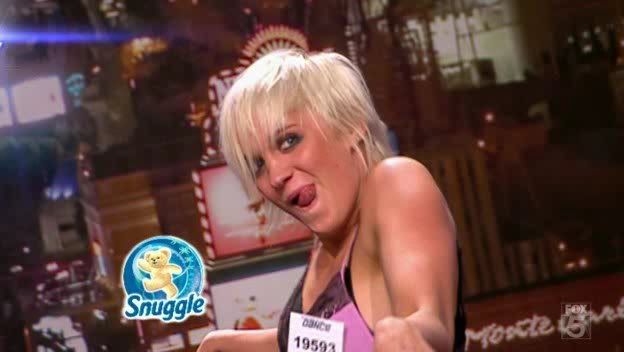 Great potential... to get on my nerves.


Kherington "She Brings The" Payne (18) > Contemporary/Jazz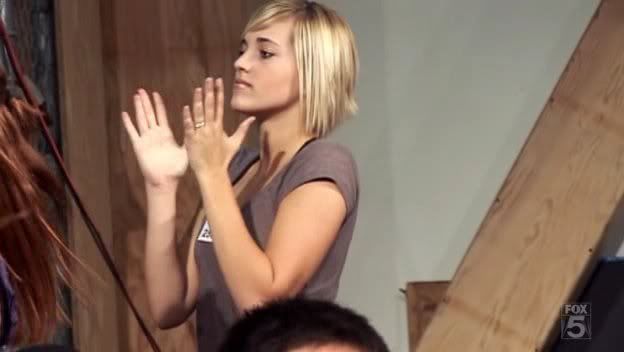 If she doesn't punch someone, I'm going to be disappointed.


Katee Shean (20) > Contemporary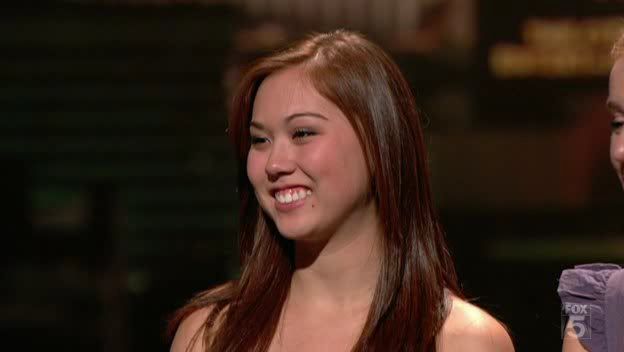 I don't know about you, but I'm done with these cleverly spelled names.


BOYS (are the new girls)

Joshua Allen (19) > Hip Hop/Popping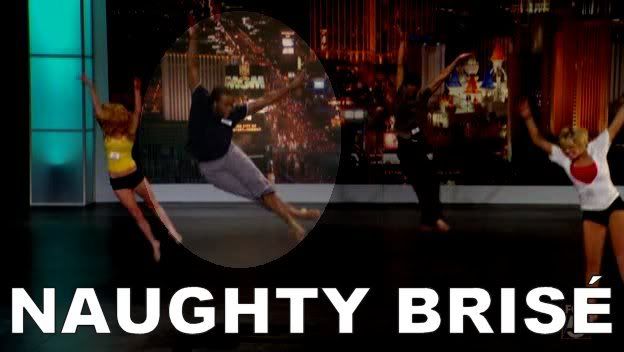 Not afraid to cry during Meg Ryan movies.


Jamie Bayard (22) > West Coast Swing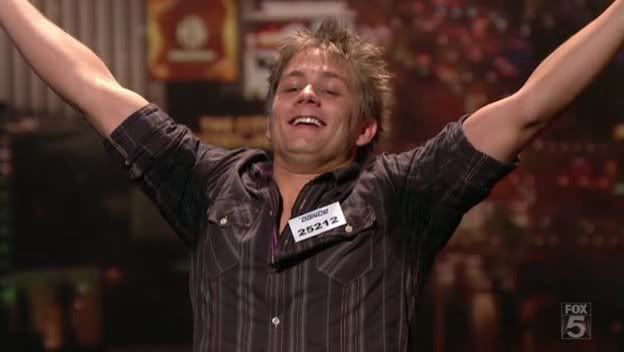 Not Russian.


Steven "Twitch" Boss (25) > Freestyle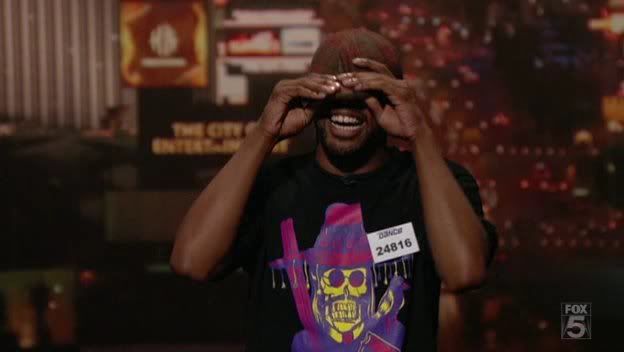 His competition to lose. Don't jinx him!


Marquis Cunningham (18) > Lyrical/Contemporary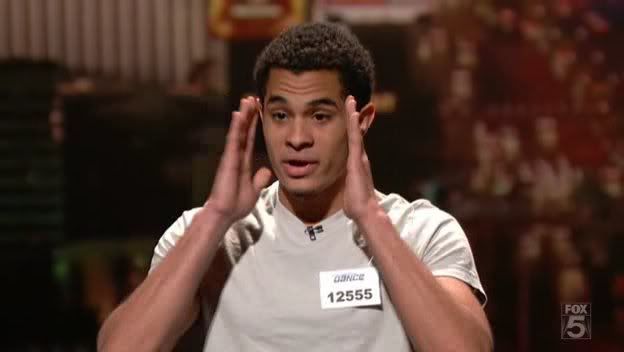 Good at mind reading.


Matt Dorame (22) > Contemporary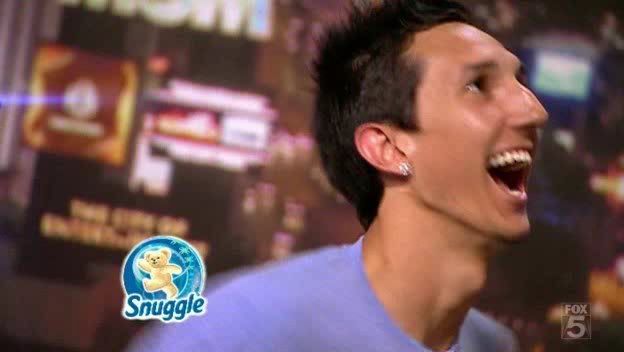 Good at being tall.


Chris Jarosz (21) > Lyrical/Contemporary




Still flush with rosy-cheeked innocence, I yet blame him for crowding out Brandon.


Thayne Jasperson (27) > Contemporary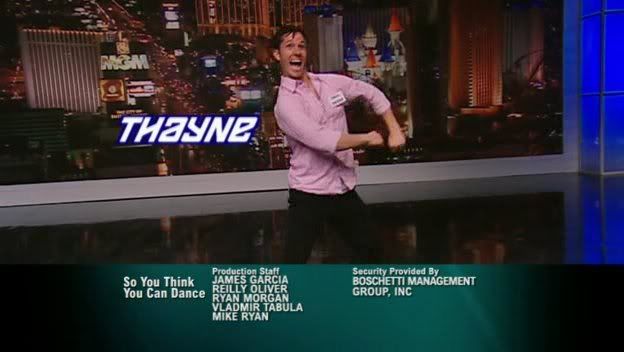 Is it just me, or is it getting muggy in here?


Mark Kanemura (24) > Contemporary




Charisma to spare; he should give some to the other boys.


Gev Manoukian (21) > Hip Hop/Break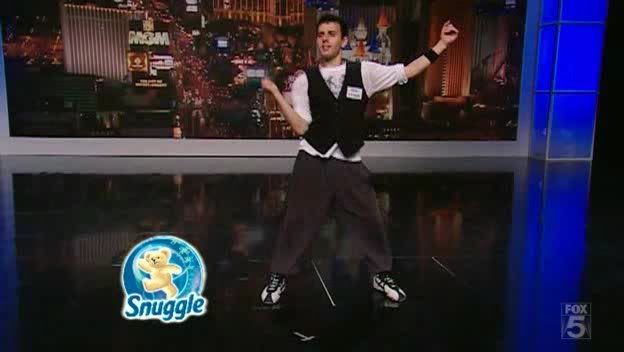 Based on his happy dance, the obvious frontrunner.




Will Wingfield (21) > Contemporary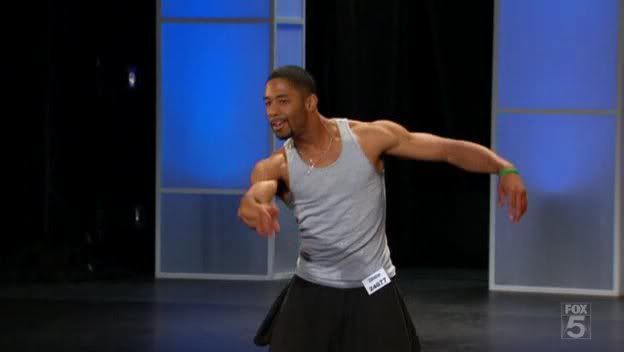 It's either him or Debbie Allen!



---

One bitter parting shot.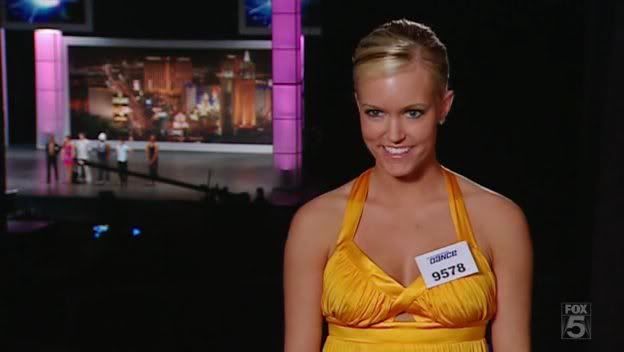 Everyone's favorite flesh-made Barbie on being cut: "I just want to say that Jesus Christ has a plan for me, and this is just a springboard to something better for me. Thank you."

Honey, I think what's in store for you, oh, I'm going to guess 35 years from now, is something like this: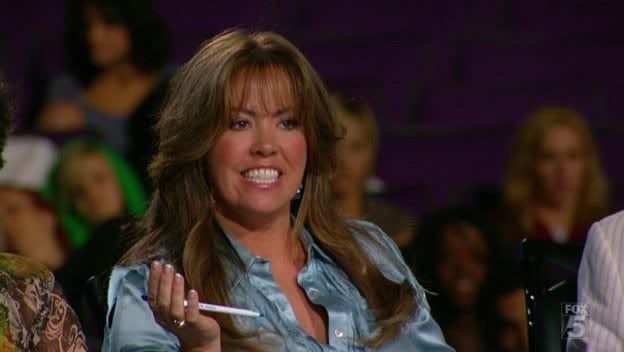 Indie rating: Saloon - "Girls Are the New Boys"