Welcome to
So I Thought I Had This Show Figured Out From Top To Bottom
!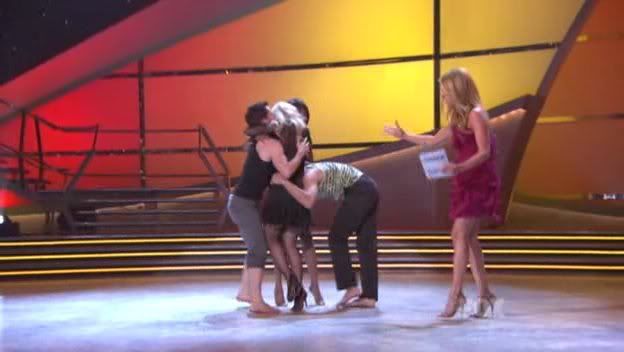 Let me tell you, the first week was a bizarro experience on the order of
Rand McNally
, where everyone wears hats on their feet and hamburgers eat people.
Rayven and Jamie's elimination shocked me because I was convinced that the producers generally eliminate by quota. The fewer dancers of a given style remaining on the show, the better chance those dancers would get extra consideration for staying. As a result, I didn't think there was any possible way that they'd get rid of the only ballerina and their sole ballroom guy in the first week -- not with a glut of contemporary dancers on all sides. But here we are, Rayven-less and Jamie-less. That am Bizarro No. 1.
Second, if you've followed this blog through previous seasons of
SYTYCD
, you'd know that I've rarely been able to enjoy ballroom (which is fully half the reason why I pay no attention to
Dancing With The Stars
). Imagine my surprise when I actually enjoyed the sedate prettiness of Susie and Marquis' smooth waltz; what's more, I really got a kick out of Will and Jessica's tango, slipping high-heels and all. That am Bizarro No. 2.
Lastly, here's me, the contrarian whose entire aesthetic philosophy fundamentally privileges style over substance (if in fact they're distinct artistic qualities), bugging out over Twitch's minuscule bobbles when he lifted Kherington and Comfort's lack of bounce in her jive. Even Nigel expressed surprise at how I suddenly became
a stickler for technical formalism
. That am Bizarro No. 3.
But through all this ideological upheaval, one heartwarming constant remains...
Find out, after the jump!



I'm comforted knowing that I can set my watch to her witless, obnoxious contrivances and braying cliches.

To be honest, I didn't want to whip my favorite goat this early in the competition, but in opening week she was in rare, mid-season form -- impossible to ignore.


---


Beyond the reason stated above, I could hardly believe Rayven's elimination. For one, I liked her solo (though I admit that maybe I appreciated the novelty of ballet on the show) and I even came around to her hip hop after I mulled it over some. (And hey, did you know that she's working on a poli sci doctorate?) For another, the producers cheated her out of a proper narrative arc, only revealing her hard-scrap life -- the details of which played a number on my heart, so that's a good idea of how others would've reacted (in fact, that's how they did react) -- we only got to see her humanizing portrait after she was cut. Well done, producers. Still, the poor way she was handled magnified the sadness: Never having danced professionally, on the downward side of a dancing career that she had to sacrifice to help out her family -- finally getting onto national television only to be the first elimination.

Navigating through these feelings, I realized that her hip-hop routine -- even if it wasn't always on beat, or in sync, or gritty enough, or any other thing you'd expect from hip hop -- was a lot better than most observers credited it for. (To be sure, this opening week didn't have any outright disasters, so we should grade on a curve.) To start with, "American Boy," i.e. the song itself, isn't so much hip hop but a smooth R&B track that isn't so much funky as bouncy. (Oh, and Kanye raps on it.) So really, the only choreography that could go with it is something light and free-spirited, and consequently, Rayven performed it the only way someone in her situation ought to: she had fun. In spite of all the circumstances, the tears, the indifference, and editorial handicapping, she never showed a sign of resentment or self-pity. So I feel for her and hope that she gets something tangible out of the experience.


---

From one hip-hop routine to another, though far more edifying and soul-stirring: Joshua and Katee's. I'm not crushing on either of them, so you know I dig this for real.



Download Joshua & Katee's Hip Hop (16.2 MB)

My favorite part out of the leading candidate for favorite dance of the season (it's never too early!): when Katee slips into Joshua's jacket.


---

Quick words on miscellaneous dances.

Mark and Other Chelsie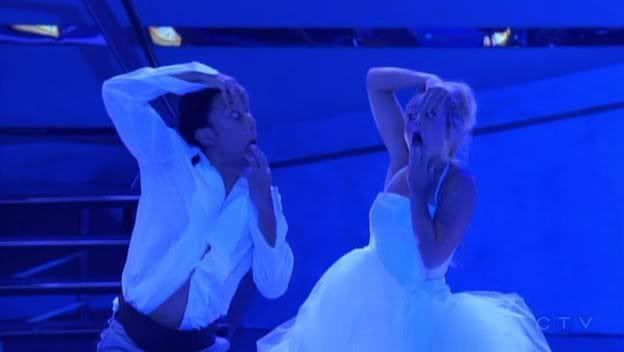 Cute.

Oh, if you wondered what Mark whispered to Chelsie:





Matt and Weird Kourtni - Jazz
Needed more table.

Chelsea and Thayne - Cha-cha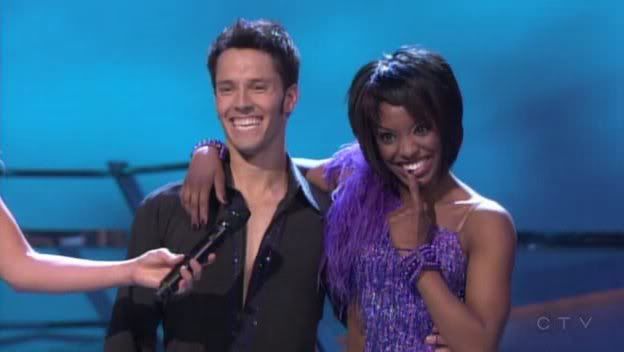 Dan Karaty to Chelsea: "I saw you make eye contact with Nigel, and I don't think he knew what to do with himself." Somehow I believe every one of those word, for real.

Comfort and Chris - Jive



I almost feel bad for Chris; the judges probably paired him with Comfort to mix personality opposites so that they'd resolve into a tepid medium, but she's outgoing to such an overwhelming degree that nobody is going to pay attention to him. If all eyes weren't on Comfort during their jive, then I'm quitting.

Will and Jessica - Tango
OK, I lied; the real reason why I liked that tango:




And: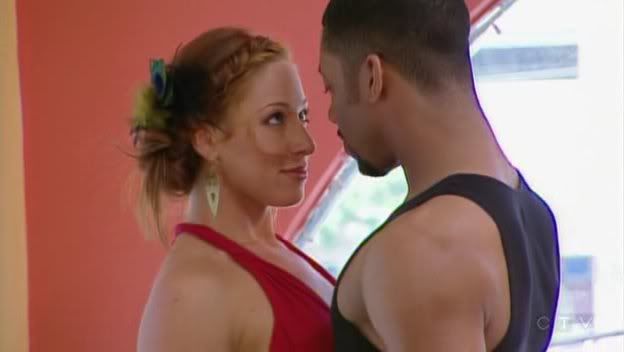 And: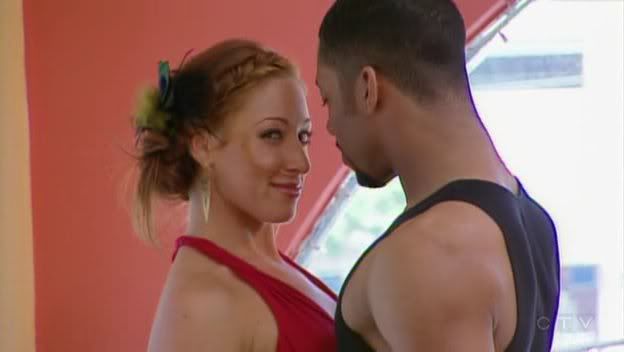 She can smolder with me any time she'd like.


Gev and Other Courtney - Disco
The choreography was disco by numbers, but their performance carried it.


---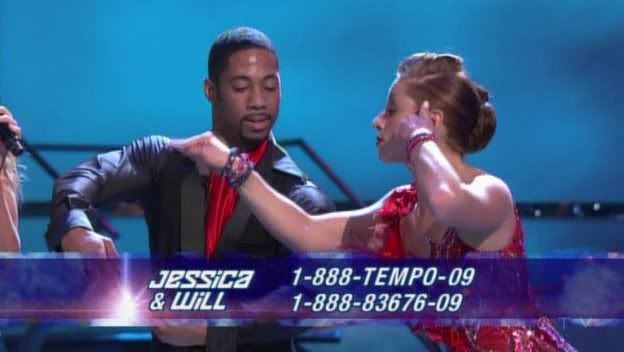 Another reason why I'm digging this pair: Return of the rotary phone!


---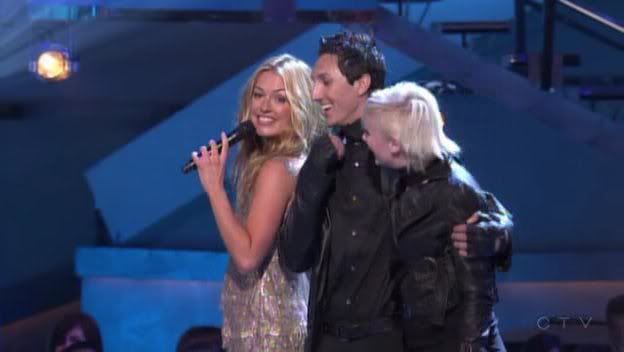 We knew she was 7 feet tall, so it naturally follows that Cat's a size queen.


---

Tabitha is kind of adorable, no?


---

During Other Chelsie's introductory package, we saw Brandon Bryant again, as though the producers didn't want us to forget him, and the fact that he's not on the show.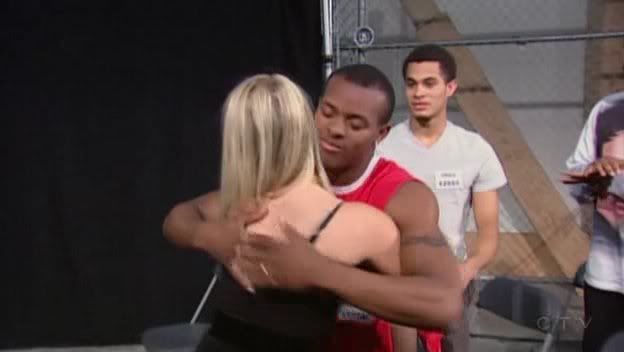 ---

Notwithstanding the results themselves, an unexpectedly messy routine from Wade, and the technical bugs that ran through the broadcast, the Thursday night show offered a surprising number of memorable bits.

I'd been anticipating Wade's one-off group number, but considering the full scope of his work on SYTYCD, it turned out to be merely adequate. Where last year's Busta Mod was unified in steps and in aesthetics, this routine -- with its clash of cyberpunk guttersnipe and guylinered leftovers from said Busta Mod -- didn't feel nearly as tight -- at least as far as I could evaluate any dancing, since the staccato editing and direction too often showcased Nigel being wheeled around in the chair instead of the dancers.

Balanced on the other end, however, were Will's solo and the special guests.

As if anyone genuinely worried for his safety, Will got to show off his soulfulness on a night of otherwise unremarkable soloing.

Download Will's solo (5.8 MB)


---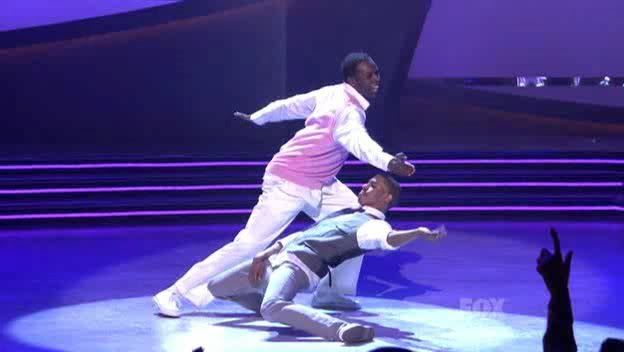 In a welcome development, SYTYCD will showcase a different style of dance each week, kicking things off with Popin' Pete and Shonn Boog's popping demo, which was so hopping -- Shonn's crazy legs! -- that even Cat, whom we know to be notoriously shy about rug-cutting, got into the groove and gave us that adorable little shimmy at 2:26.



Download Popin Pete & Shonn Boog's popping (29.2 MB)

As for the other guests...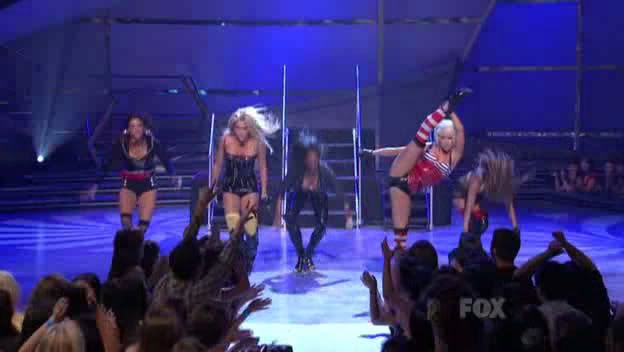 Let me say that I loathe "Don't Cha" for its clumsy, artless blatancy, and I could only handle three episodes of Who Wants To Become America's Next Top Pussycat Doll. But dammit if "When I Grow Up" rocked with its haughty menacing stomp on top of a huge dancehall beat, and the girls trilling weird and high during the chorus because they can (you can hate all you like, they don't care), the raw singing staring down mass-produced Image into a dirty stew of live real. The worst thing I can say is that their moves would've been better accentuated in skirts than plastic hotpants.

(I'd upload the video, but I figured only fellow preverts nobody would actually download it.)


---

The one upside of the wretched happy dances, make that two: Alan Moore got out of the house, and we see what Mary Murphy looked like as a teenager.


---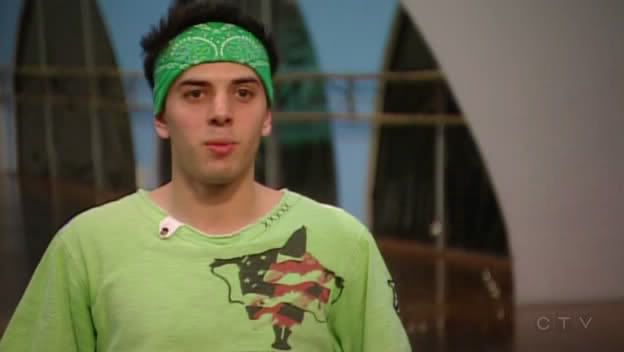 He had the bad luck to draw disco this week, but Gev has very quickly become a favorite, if only for his Abu Ghraib shirt. Which makes me glad that I've refrained from making any Borat jokes.


---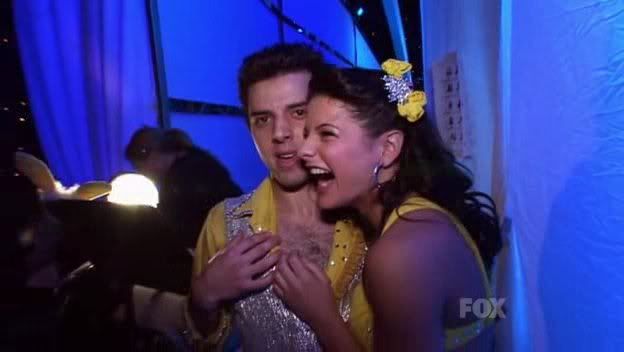 Hey, does he know he has human pubis on his chest? Sexytime!


---
FIRST OFFICIAL LOLCATDEELEY OF THIS YEAR THE YEAR 2008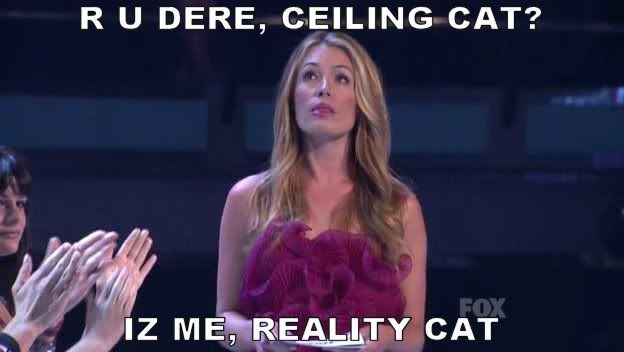 Putting a good spin on all the technical gaffes!

Indie rating: Wondrous Horses - "Non Dicibile