I have decided to
puke
throw some of my thoughts up into graphical form: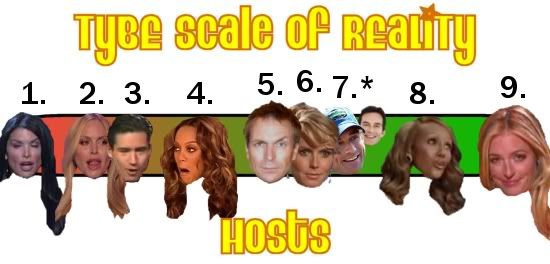 Note: kind of a logarithmic scale there, especially the neutral "middle" in between Leah and Tyra.
The Zombie Sanchez The less said the better.
Leah Miller A producer surely said, "Let's combine the worst aspects of the worst host, with the most dispensable aspect of the best host." And strangely, I'm not that bothered by her, because she's just a cheap copy of the Zombie Sanchez.
Mario Lopez I can't say that he's qualitatively better than Leah, but at least he's obviously hacky and affably stupid enough to be entertainingly bad.
Tyra Banks I'm never absolutely certain if I'm annoyed with Tyra or if her egoism and pseudo-maternal instincts are indulgently hilarious, so thus she and her fat ass straddle the penumbra between good and bad.
Phil Keoghan Unlike most other TAR watchers, Phil doesn't do much for me. Sure he's got the Eyebrow, but he doesn't have much else to offer in terms of personality, humor, etc. (As such, his exhibitionist streak (ahem) did nothing for me.)
Heidi Klum She's cute ("Byeeee!") and sometimes playfully light and coquettish on her feet, plus bonus points for having an accent ("Auf wiedersehn!"). (Phil kind of has one, but he's largely filed it down into some ambiguous Anglophone drawl.) She doesn't hold down the appeal of Project Runway by any stretch of the imagination (Tim Gunn, who navigates designers through the sturm und drang of the comeptition, ûber úber ùber über alles), but she always keeps her show moving without dragging into down into her own psychopathy or indifference. In a better world, she is the minimum standard for reality hosts.
Jeff Probst He's had the benefit of being the face of a reality institution for going on nine years now, during which time he's settled in and let some of his personality come out. He'll make fun of inept contestants and call out inanity and hypocrisy when it presents itself to him. The asterisk? In the Survivor reunion specials, he makes everyone forget that one of the Gumbels and Rosie O'Donnell ever hosted them, because he mixes actual interest and knowledge in the show (remember how after Marquesas, Rosie thought that Sean was merely whispering "balls" because it was like a solemn and unmentionable unmentionable, when he was actually being censored?) with the occasional withering barb directed at some deserving pain-in-the-posterior.
Iman A grande dame of fashion with gravitas to spare who does not suffer fools, and makes sure everyone knows it.
Cat Deeley The alpha and omega.
(No idea where Chenbot, Seacrest, or Bergeron would fit, as I don't watch any of their shows.)
---
Some additional
Canadance
thoughts.
Kim is a hip-hop dancer who wants to prove that hip-hop dancers can do other styles, too. So of course the first style she picks is hip hop.
Stacy Tookey says that her routine to
Of her routine, which according to its choreographer was about "two young dancers are partnered together," Mel M said, "I think it's real symbolic of what we're going through right now." See, only a would-have-been pre-med student can get away with calling such a literal concept "symbolism."
And, uhhhhh... yeah!
Indie rating: St. Vincent - "The Strangers"