Yolanda said she was surprised that her arguing with Ray went from "zero to 120 kilometers in no time." Note to self: Arguing in metric always makes you seem refined and worldly.
But beyond the impressive stupidity of JoMo -- who believe they get the "crappiest luck" because they don't read their clues carefully enough -- I'll cut this regular part of this entry short to bring you expanded homoeroticism.
The Eric/Jeremy SLASH WATCH
Competing in
The Amazing Race
is "like trying to get into a girl's pants. You know, lie, cheat, steal." And part of his lying is that he's hetero.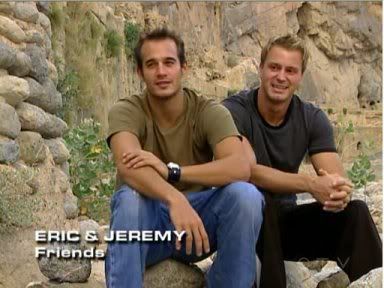 Note that the captioning left off the scare quotes. "Friends."
Because if I were as exceptionally heterosexual as these guys, I know the first thing that I would do to my buddy/"partner" when I reach a cluebox that's in front of a
phallic
memorial.

I'd spank him, of course.
Then, when my buddy and I are going to "bunk" in a hostel that we've re-dubbed the Batcave (Oh, the Batcave, that bastion of
purely
platonic
manly
men
!), I know exactly what to
say
.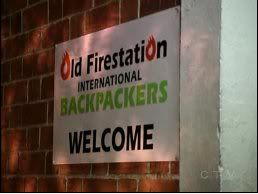 And then, when we've got to change into almost-Speedos to go diving for crabs, I'd definitely let my
exhbitionist streak
hang out.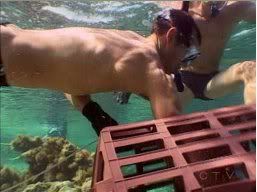 Indie rating: Smoosh - "This is not What We've Become"