Apologies for the lack of updates, but Comic Con really threw me off of my game for the last two or so weeks. Two TV-related bits of Comic Con: I was a total jerk at the
Lost
panel half-deliberately; and I laid down serious game on Kristen Bell. Read the gory details
here
.
As for the one reality program sustaining the core essence that is the desert of my life this summer, I will say briefly that I seem to enjoy most the routines that have the music I like best:
Heidi & Ryan
- Cuban Rumba ("Rumba del Solar" by Angelo Rodriguez)
Dmitry & Ashley
- Contemporary ("Dance Dance" by Fall Out Boy) (Yes, I enjoyed an emo song.) (And there goes all my indie cred.)
Travis & Heidi
- Paso Doble ("Plaze of Execution" from
The Mask of Zorro
soundtrack)
Ryan & Allison
- Contemporary ("Ethna" by Klement Bonelli)
In a given routine, the song obviously determines a lot of the performance value in addition to the dancers, which is partly why I'm not as fond of Heidi & Travis' contemporary, which was accompanied by the subtle vocalizations of Celine Dion. Who knows how I'd react to a routine set to Orbital, Electrelane, or "Escaped and Lost Down in Medina."
Or, I'm crushing on Heidi a lot more than I realize. She's really starting to look like Reese "Elle Woods" Witherspoon now.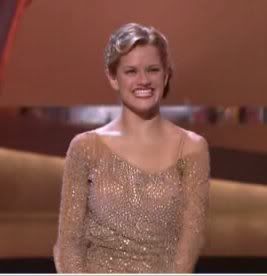 Anyway, I've noticed a few hits from people looking for the zombie dance lately.
Who loves ya, baby?
(NOTE: brand new link as of 7/13/07.) Incidentally, that routine -- which was mentalistically great -- taught me to appreciate Roisin Murphy. What a helpful show, yes? Especially since it features a choreographer named Tasty Oreo?
But how could America be so dense as to vote off Allison?
Indie rating: Drive Like Jehu -
Yank Crime