What happens in Vegas...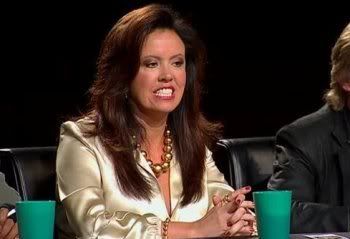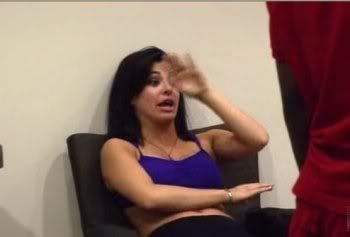 ...is your face gets screwed up. In Mary's case, that's by
design
botox. For reference:
If she weren't clapping, would you know that that picture wasn't an animated gif? In that picture, she was also
laughing in a mechanical (and if you ask me) creepy
way, which brought to mind another person with a disfigured but always smiling face.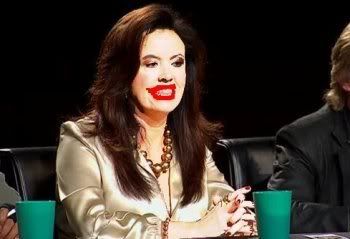 ---
SYTYCD
has used a third process in as many season to determine who its top 20 finalists are. This season, dancers go through a round of choreography that focuses on a specific style, starting with hip hop, then ballroom, then lyrical; after each round, the dancers are cut. I'm not sure this method is any better than previous methods, since a dancer might not get a fair shake if s/he isn't good at hip hop but is a marvelous ballroom or lyrical dancer. What's more, this method puts certain dancers who were just scraping by in the position of dancing for their reality "lives" after every round of choreography, like Evita the lindy hopper. Repeatedly watching Evita perform a lindy hop -- and I'll ignore whether her lindy hop was any good or not, since I'm not a good judge of dancing, but rather a
good voter
-- wouldn't and didn't accomplish much. So the judges saw her lindy a couple-few times, what did that prove? Only that she could (arguably) lindy hop. So in the end, I have to say that this season's Vegas method was awfully redundant.
The group dancers, however, were a nice surprise, if really hit or miss. A big hit was definitely the hip hop choreography, to which my new boo Lauren Gottlieb choreographed.
Download (19.47 MB)
I have to remember that she hasn't been 18 for very long, and that a more age-appropriate crush object would be Jessi Peralta, but like you can see up top, Jessi is a little:
The biggest disappointment was that Hannah-Lee's solo didn't get her into the final elimination round, and I have to think that she out–post-moderned Nigel and Mary when she self-reflexively highlighted her busted ankle. But looking at her competition, I don't think she would've made it to the final 20 in any case (especially since there's about 1 girl of the top 10 who can't pass for white).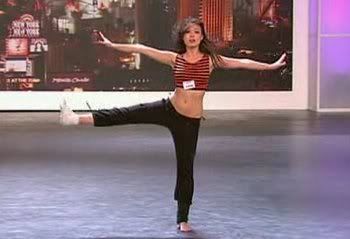 Download (7.79 MB)
Indie rating: Stilluppsteypa - "Confused bear thrown into the sea"