Welcome to
So I Think I Can State the Obvious
!
Why I Hate Danny, Part III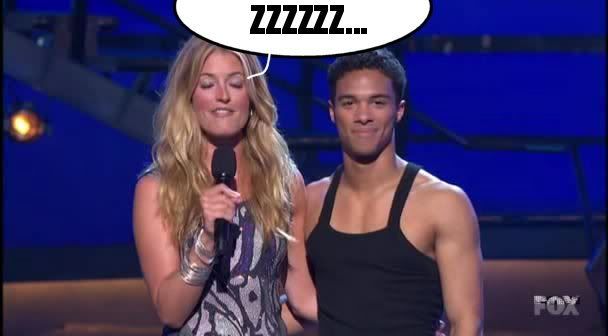 Obviously, I don't hate him; he merely leaves me cold, especially since I'm just a vulgar unwashed reality tv junkie and not part of the dance cognoscenti. More interestingly, though, his presence on the show illustrates "high culture" colliding with (and often on the verge of losing to) "low culture." Danny on
SYTYCD
embodies a weird mix of reality tv and the dance world, the latter of which is among the last bastions of elite/class-based high culture. Here's a guy who's all but sainted in the contempo-ballet community, and he's plunged into the fulsome world of reality tv–surfeit where he's at the whim of viewers who've been primed not for the restrained conventions of classic dance, but for brash phantasmagoric simulacrum of reality tv. Being on
SYTYCD
, Danny haphazardly navigates a fickle environment, with skills and a demeanor that require far more stationary values than are found on a reality program.
Even though the contempo-ballet community surely demands a cold-hearted and cutthroat business-first attitude, it probably doesn't match the microscopically dissected and capricious scrutiny of a televised primetime phone-in competition where perceived failings, both professional and personal, are meted out before a raucous crowd of benighted teenybopper strangers and aired before millions of the same, as well as in front of one's colleagues and peers. In the dance world, Danny probably acquits himself with professionalism and cocksure self-assurance, qualities of which are, to be dangerously reductive, noxious and untelegenic on reality tv, where he's coded as "arrogant."
What's more, Danny gets caught in the glare of the camera and of the screaming audience like a headlight-lit deer; as an otherwise grossly self-righteous, sneering, and execrable
NY Times article
observes, "When it comes time for him to pose while a phone number for viewers' votes flashes on the screen, he never mugs for the camera," and thus expresses the values of the classical dance world (and, concomitantly, the world of traditional high culture): restraint, introspection, technical mastery, and emotion. Emotion in this world, of course, is a totally different breed from the emotion for which the judges on
SYTYCD
search (and again, the same holds true for other reality programs), which exists only when it's patently apparent to onlookers. As a result, emotion becomes a costume that the contestant wears. After all, reality tv is about surfaces; it is oriented outwards, towards extroversion, pleasing the viewers, judges, or peers. However, Danny usually keeps his emotions for himself, by which I mean that it's not for our benefit that he shows emotions, it's for himself -- see that kick in celebration of being found safe, or the night where he giggled uncontrollably the reason for which he didn't bother to explain on the show.
During a different elimination lost to time and the fog of my memory, his emotions burst through once again: to show his lightheartedness as he awaited his fate, Danny shook his knees to approximate that human emotion of nervousness. Yet by my reckoning, his mugging failed to express charisma -- certainly not when compared to a class clown (I use the term with affection) like Dominic -- like he was straining to break out of his putative shell and show some vulnerability or warmth but didn't quite know how to pull it off.
Consequently, to make up for his emotional introversion, the judges feel compelled to resort to that old reality standby: the narrative arc. In Danny's case, he has the arc where the robotic technician breaks his emotional defenses to achieve a kind of earthly dance apotheosis. If that's too flighty for you, then there's the arc where he finds, hiding beneath all that technique, nothing less than his Self. In either option, he's close to the arc's apex, yet a problem underlies both: the arc can make you see what's not there.
Such arcs are so seductively convenient that Danny himself might have bought into the fiction of finding the Self through extroverted emotionalism, to tepid reality tv results as his mediocre attempts at mugging have shown. What's more, self-discovery on a reality program is difficult to say the least, and much more so on
SYTYCD
because as much as it emphasizes its dancers-as-characters, the show devotes too much time to other dancers, their rehearsals, and their routines to spend any extra seconds on character development; consequently, true self-discovery must remain internal, hidden and unremarked upon by the camera -- which, in the reality formula, isn't in the reality formula. Instead of self-discovery, we witness self-definition of the most postmodern variety, where no interiority exists, and what we see on the surface is the most real thing.
(While the literary and art aristocracy have privileged substantive interiority over external style, there remains nothing wrong with the superficial ephemera of reality tv and contemporary pop culture. Substance and style -- to use a shorthand shibboleth -- are merely different representational modes; they're different from each other, and so you can't really judge the one by the values of the other. I've got more to say about style/substance, but that'll be for another time.)
Danny has been a limping success, hitting the bottom 3 three times but hanging on because the judges have his back; then again, last week he outdrew the show's exemplar of self-promotion, Dominic,
and
the contestant with a prefab Tigerbeat voting bloc, Neil. If I want to continue to run with my original thesis, then I'd suspect that with the show in its homestretch, the common
SYTYCD
fan feels the hierophantic pull of high-culture priests and priestesses, and because high-culture signifiers mark high quality and worth, the fans vote for Danny out of aesthetic or even moral obligation.
---
The classical dance community seems to come from a world that tries to build a canon, a canon which entails Art and all its permanence. Classical dance pursues an ineffable but permanent place in the history of Art. Think of how the vocabulary of any artform strives for permanence: legendary, best of all time, etc., terms that try to become unchanging touchstones against which other (future) texts are compared in a matrix of artistic worth.
Danny brings in legitimate artistry, but
SYTYCD
is more than mere reality ephemera that swirls around Art's core values -- the show reflects capitalist principals that'd make Ford blush with envy. Underneath its putative goal of broadening the appeal of dance,
SYTYCD
is a capitalist vehicle, a Model-T if you will: the show produces dancers as commodities, year in and year out (at least, that's the goal), and you can get them in any color you want, just as long as they're black. To be less glib, the dancers come in a few more varieties: the underdog who grows, the overdog who connects with his humanity, the tomboy, the sexpot, the breaker, the ballroom stud/studette, etc. (i.e. packaged character arcs), all brands that chisel away the particularities of the dancers themselves, because next year, or at the most the year after that, this bunch we've come to care about will be replaced by another batch whom we're to repeat our love -- a veritable assembly line of dancers that we buy again and again.
---
Shifting gears from Marxism: Unlike narrative shows,
SYTYCD
and other reality programs can self-reference themselves without falling into navel-gazing metafiction because they foreground the show-as-competition or the show-as-an-end-to-itself. Think of how often a judge or contestant mentions "this competition," and how natural it sounds, whereas when a character in a fictional program refers to "this show," then the diegetic world is pierced and compromised. The difference is probably obvious to the rest of you, but I'm in Captain Obvious mode today.
---
Never mind the pseudo-intellectual bollocks, here's
The LOLCATDEELEY Moment of the Week
Using TECHNOLOGY, I managed to uncover Cat's split-second subliminal message!
---
Unlike people with actual taste, I wasn't impressed with the whole of the last performance episode, either the actual routines or for more in-show spectacles. (I expect that the results show will be more fertile for dopey screenshots since it'll have more time to let dancers, judges, and hosts mug.) Nevertheless, I immensely enjoyed the following two dances:
1. Pasha & Lacey - Hip Hop - Download (19.85mb)
What can I say? Lacey made a convincing mannequin.
2. Neil & Sabra - Jazz - Download (17.32mb)
Really wowed by the lift in this one.
---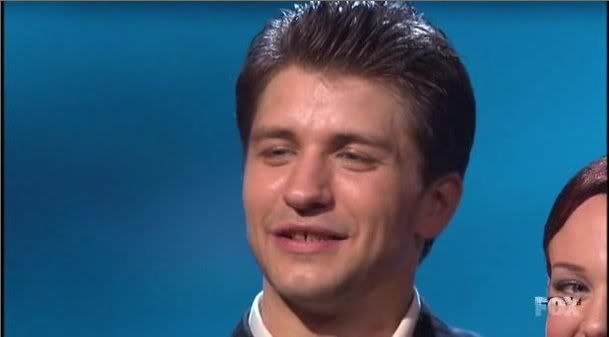 John Travolta?
---
Hey kids! Wanna be cool? Forget dropping it like it's hot...
---
SPOILER ALERT!
Nigel dies in the end!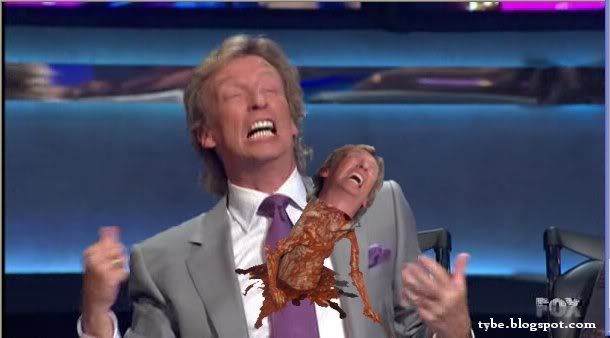 Indie rating: Masaki Batoh - "Death Star"