Normally, Tyra, she of the big weave and
fat ass
big heart, lets an eliminee say a parting piece as a reality epitaph that's gently circumscribed by the ethical parameters of the competition: I still want to pursue what I was pursuing on the show, except I'm going to work harder; I'm going to miss the other girls; etc. However, Tyra may have overplayed her hand when, on top of giving Ebony her final say ... well, it didn't turn out to be her final say, because this episode ended with part of Ebony's audition video, in which she sells herself to Tyra with previously unseen enthusiasm.
Compare her effervescent demeanor in her audition video against how comatose she appeared in-show, and in this difference you can find Tyra getting the last word in, albeit implicitly because she wants to contrast the difference between these two images of Ebony. In so doing, Tyra tacitly rebuking her for being insincere, ungrateful, aloof, and irresolute. On the show, she was withdrawn and defeated: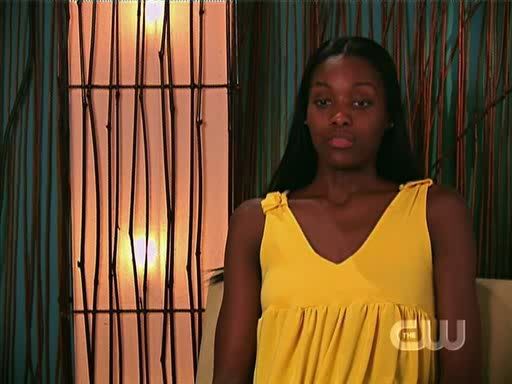 But in her audition video, playful and
smiling
: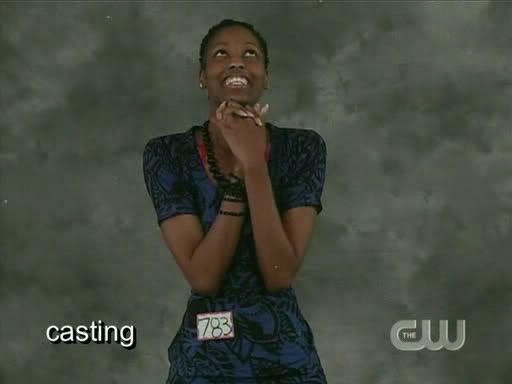 With Tyson Beckford in the house, goofy and ecstatic:
(Non sequitur.)
Not only did Tyra feel undercut by Ebony quitting the show, she probably thought that the smiling, laughing girl was the Trojan horse that let the scowling, fidgety, girl who bucked authority onto the show. As a result, by ending with the audition video, Tyra basically told Ebony, "You were literally begging with desire for a chance to be on the show, and when you were on the show, you were nothing but sour and middling and now you want out? I'm going to show how ungrateful you were, and the chance you frittered away."
But you have to wonder if the deck was stacked against Ebony, at least in the way she was depicted on the show. Since Tyra knew that she was going to quit, most of what we saw of Ebony could've been selectively edited to show her at her least energetic, her least sociable, and then, in a final twist of the knife, to show the exact opposite with her audition video. Some deep feelings of betrayal there.
---
Approaching the Ebony fall-out from another angle, you can read her travails in the competition as a struggle to maintain her individuality against institutional authority, namely, Tyra and her control over the show, all being played out through
Top Model
's narrative. The judges stand in as the superstructural force that normalizes its contestants -- it assigns values to the girls, then breaks them down to finally recast them in a judges-approved form (see
Danielle's
Dani's new boring accent).
Ebony didn't want to submit herself to the judges, which the show's institutional structure didn't appreciate, naturally. She openly disdained the institution and undermined its authority -- authority which is based on the contestants yielding to the conventions of power that the ritual elimination reenacts and re-perpetuates -- and in the end, she finally understood that she couldn't operate within the ideological apparatuses of the show without giving up her autonomy to define herself. The institution controls the narrative framework, and with such an uphill battle, Ebony instead chose to exit its narrative framework.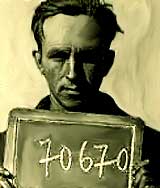 ---
Between Bianca's flubbed line and Saleisha advocating AIDS prevention,
I Am Africa
(which I originally heard as the
IMF
-- hey, it's the social consciousness season!) got stuck with Heather, Ambreal, and Jenah's barely usable PSA (how could their lackluster reading be of any use when their
fact cards
struck the ground with loud, resounding cracks?). I was surprised at what a dealbreaker prevention was, but given how contentious using condoms as birth control is, you could understand why the Keep A Child Alive lady
recoiled
at the word as if she'd been burned by fire.
---
TOP MODEL RECYCLED RANKINGS


Indie rating: Carrie Rodriguez - "Never Gonna Be Your Bride"