THE TRUE SECRET TRUTH OF PROJECT RUNWAY
Like Nina Garcia, I'm not sure what to think about the fourth-season premiere of
Project Runway
.
I could complain that the lack of wow from the designers translated into a lack of wow for the premiere (I was less impressed with the pieces than the judges were -- I certainly couldn't imagine wearing any of them), a dudness of which is completely unremarkable in the historicized context of reality television premieres. (A reality program invariably begins each season under the auspices of the mundane and unspectacular.)
Or I could complain that the most sensible and, judging from this single episode, articulate contestant was the first to go home. (Also: What is it about female San Franciscans being the first eliminations?)
But the real
football in the groin
would be marionette-maker Elisa, to whom I was immediately drawn because of her unconventionality and off-kilter, unbridled free spirit, which I then had to reconcile with the likely fact that she's a pathological liar. But dear reader, look back at the beginning of the previous sentence, which is in the conditional mood, since I quickly made a startling discovery. I apologize in advance for spoiling what's undoubtedly a plot twist the like of which represents the combined mind-bending of
St. Elsewhere
,
The Sixth Sense
,
Fight Club
, and
Mulholland's Drive
: this season,
Bravo is airing not Project Runway, but -- Elisa's psychotic hallucination
!
The smoking gun -- or smoking Gunn, if you will -- is none other than the figure of Tim Gunn, which in the scope of Elisa's psychotic break
from
into reality, is actually an externalized personification of what Elisa calls her "intuition." Let's recap.
During the challenge, Tim voiced his concerns about the lack of finish on the train, to which she reflected in a confessional, "When Tim came in, and saw that I was actually done with my dress, he felt that I had a lot of work to do. I don't want to make compromises. I want to be able to do my idea the way I planned it."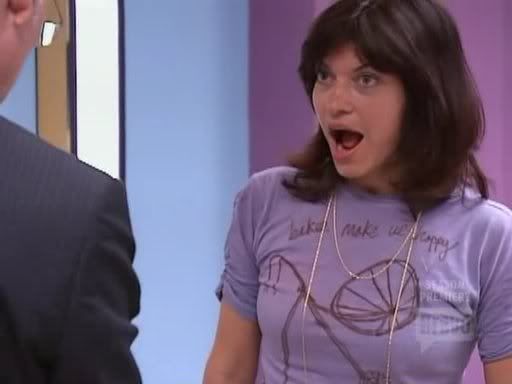 But later at the panel, the judges excoriated her for the train on her gown. She explained, "There was an intuition, which now confirms that I should always listen to my intuition, which was to take my scissors and chop it all off at the bottom. Khaaa!" Clearly, by "intuition" she was referring to Tim Gunn, or should I say -- "Tim Gunn"! Michael Kors seemed in on the joke and added, "Every designer should listen to his intuition." Translation: Always listen to Tim Gunn, duh!
With this revelation in mind, take another look at the yawning picture, and -- the truth!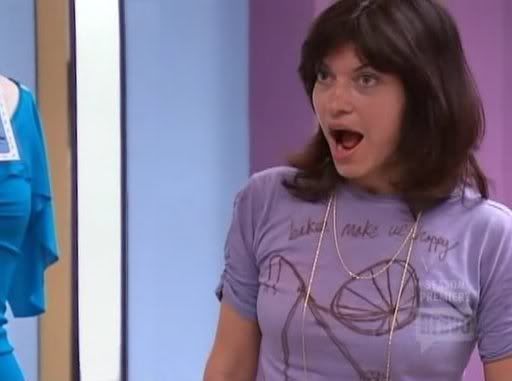 In objective reality, there was no one there, which makes perfect sense: nobody -- not even a lunatic who hallucinates an entire reality program -- could yawn in the face of the real Tim Gunn while he dispenses advice.
If you're still unsure, then explain why so many of this season's "contestants" are really actors and celebrities. We've got perhaps the most sought-after, hottest pop-culture luminary in famous person Miranda July: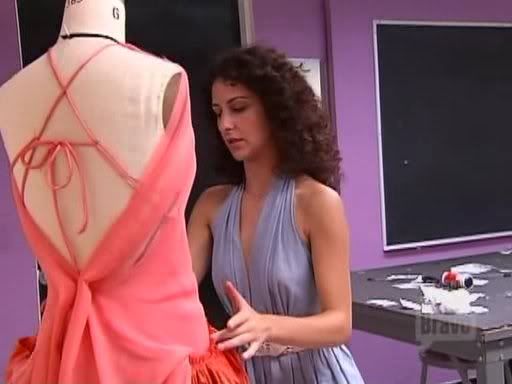 She's not all. Check it: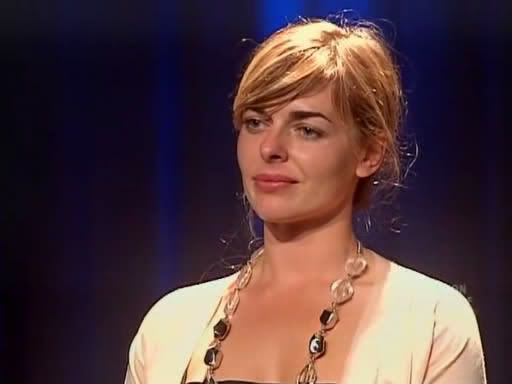 Allison Janney
A butched-up Joey Fatone
A juiced-up Jim Carrey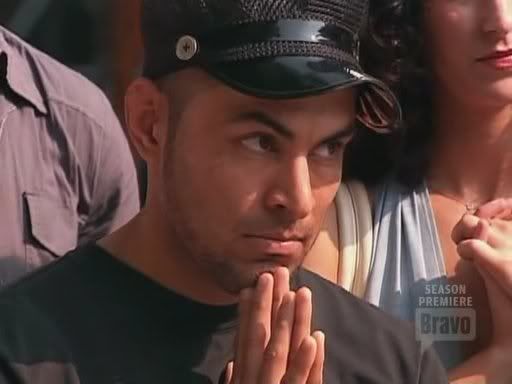 The Scorpion King/Abu Fayed from 24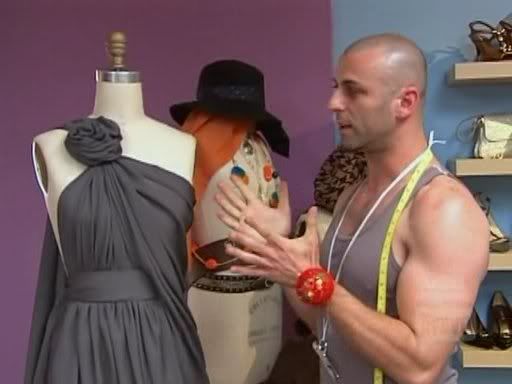 Vin Diesel
Ricky Gervais
French Stewart
I could go on listing such vital stars of the Now, but you get the picture: Elisa has populated the cast of this show with faces from popular media of which she may not be consciously familiar but which are inescapable in American society. And in fact, I'm not entirely convinced that Elisa really is a marionette-maker; instead, she could well be model/actress/space cadet Milla Jovovich.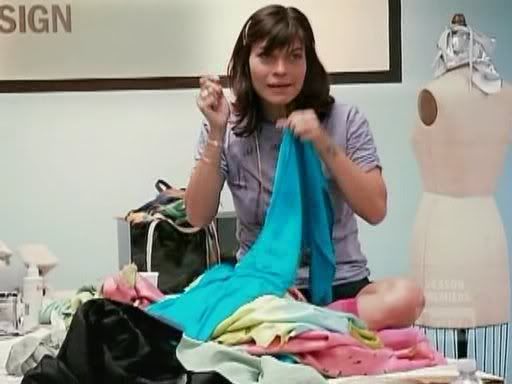 Indie rating: Acid Mothers Temple with Kinski - "Planet Crazy Gold"