My review of the San Jose show is separated into two parts, the performances and the meet-and-greet, for which I have to thank Lisa who not only hooked me up with a pass, but also introduced me to the dancers. Yes, I got into the meet and greet. It helps if you write an awesome blog that impresses someone with connections. (Frankly, I hope one day to write such a blog.) Also, all the action pictures below were taken by her. Obviously she rocks, so check out her Flickr gallery, which spans tour stops on the East coast and West, and which uniformly look great. She is not related to me, so you know she earned this praise.
---
Before I start, I should also note that I was (and still am) sick, which was compounded by the fact that I didn't take notes through the show. (I actually had a notepad with me, but in a stroke of pure genius, I forgot to bring a pen or pencil.) As a result, the experience was a collection of small moments that flashed -- not
this kind of flash
-- flashed through the dark haze of a cold-addled memory, but what I recall of the performances basically falls under how they fared live against how they were on TV.
On TV, viewers have to deal with the points of view determined by the show's director, and we usually saw the routines from a pretty good angle (sometimes we got too many good angles too quickly, but that's a whole different matter). On the other hand, any given attendee at a live performance has his/her own unique vantage point, which, depending on the person, might literally be far from their ideal perspective. For me, I sat almost as far stage left as was possible, and while I still had an unimpeded view of the stage, so much of the choreography was intended for a quasi–front-and-center perspective that I often felt like I was missing out on something. (I did get to see Neil pinch Lauren's behind, which was easily the best advantage afforded by my seat.)
For instance, Sara, Hok, and Dominic weren't exactly lined up like the Rockettes for the breaker routine, but no doubt they presented their b-boying and b-girling most clearly to people seated in the middle sections. (So if I could go back in time, I would have tried to have gotten seats front-row center. That is, after killing Hitler before he ascended to power and then making sure that I got in on Google's IPO.) Same went for Sara's solo, much to my dismay.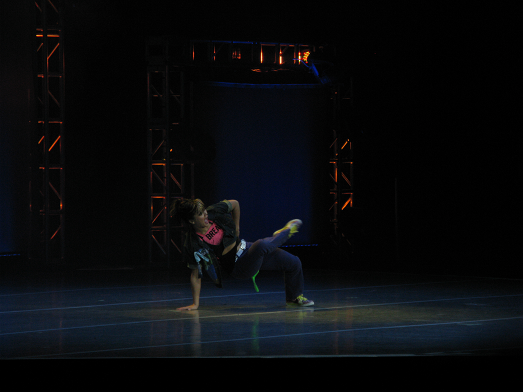 But viewed from a better vantage point:
Hoorah!
In a similar vein, Wade's routines also suffered. In their original forms, they appealed to us so well because in addition to their inherent Wadeness, he made sure to infuse them with a strong televisual component that accounted for the cameras (or so I assume he had input). Of course, unless there were some people who managed to score flying seats, watching any of his routines in person lacked that aspect of a dynamic camera.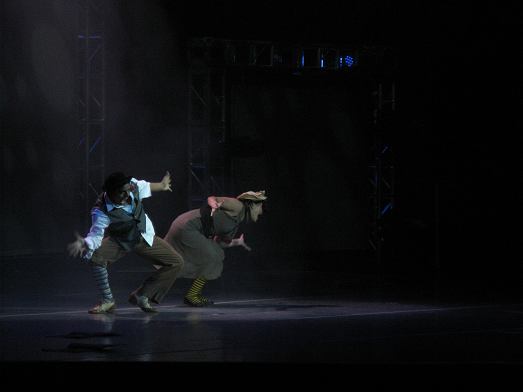 "Cabaret Hoover" was no exception because it especially depends on seeing -- from an ideal perspective -- the goofy angles that Sara and Jesú make.
You'll also notice from the video that towards the end, Sara doesn't have her newspaper anymore. If you've seen other performances, you'll know that both of them are supposed to step on the paper so they know where it is when they have to pick them up again --
while doing turns and spins and stuff
! I actually saw Sara kick hers away, which compounded the scariness because it's not hard to imagine either her or Jesús slipping on the paper and spraining an ankle. Later at the meet-and-greet, she said how much she ruined the routine because all of Paso Robles turned out for Jesuús at the show.
Cat Deeley
isn't the only one with a highly evolved sense of empathy! But really, you could hardly say "Cabaret Hoover" was spoiled at all, because: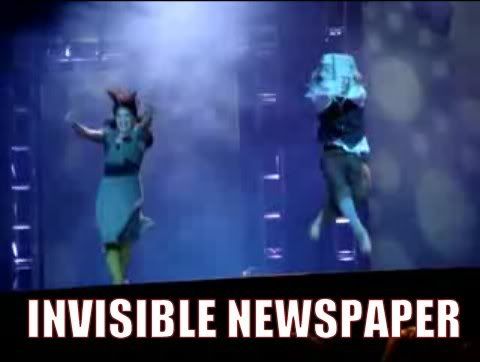 Then there were the routines that came off better (for me) in person than on TV, which were brief yet bright snatches of light which shimmered in my mind. These routines tended to be either ballroom or contemporary. The solos for the female contemporary dancers, particularly Sabra's and Jaimie's, came off better in person -- I could appreciate them more for the sheer athletic tumbling involved, and the way they used and how they gracefully covered the whole stage.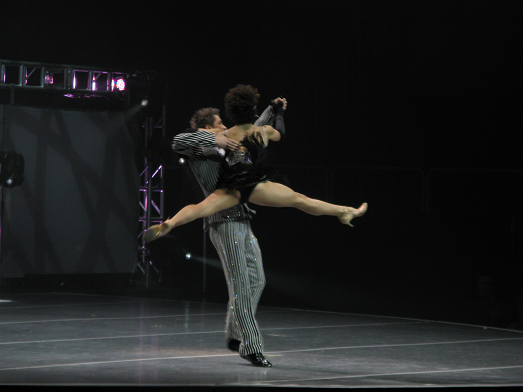 While I originally enjoyed Pasha and Sabra's Quickstep, all the camerawork on the show performance didn't capture just how fluid the two of them were. For one, I was amazed at how steady and level Sabra kept her shoulders -- had I watched only the two of them above their waists, I might've thought that they were performing on roller skates over gentle slopes. Is that what a top line is?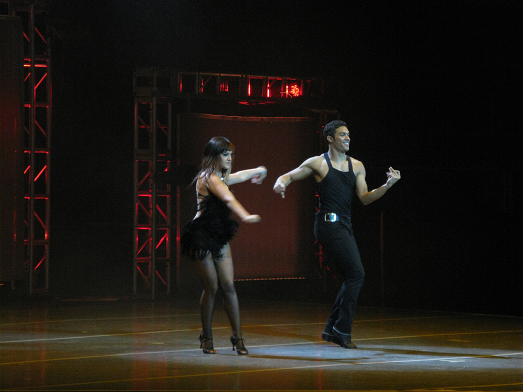 Maybe it was my fever informing my experience at the time, but Lacey and Danny's samba was much hotter in person than on TV, especially when Lacey was doing those mesmerizing Latin hip twists. I think she had some sort of built-in motor or something.
But in the end, like an inextinguishable flame rocked the Two Princes, great on TV, great in person, as punk as an entity like
SYTYCD
is ever going to get.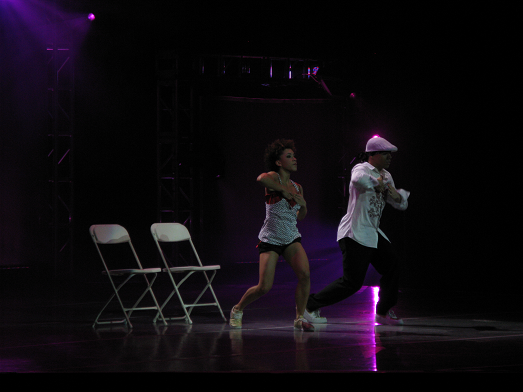 Not far behind was Sabra and Dom's hip-hop
pas de deux
, which lost none of the spark of the original. Geddit, "spark"? Because it's a Shane Spark routine? (Omigod, I stole this joke from Neil shoot me now.)
---
Pasha's solo had no room for subtlety -- he did the shirtless paso doble cape thing to Orff's "Carmina Burana."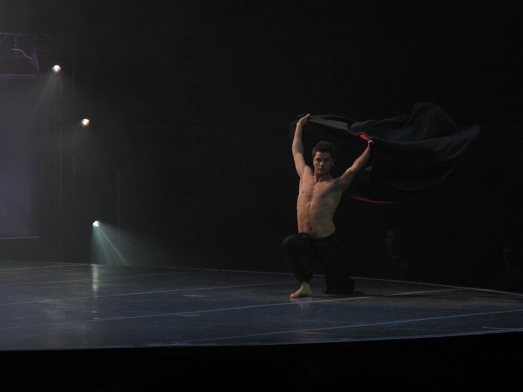 If I were a girl, my uterus would've been throbbing.
---
The breaker routine -- as you can imagine something I'd been looking forward to, and which I'd deliberately avoided spoiling for myself aside from peaking at one of its earliest performances that made it to YouTube -- turned out to be my night's biggest sore point, but not for anything that Dom, Saraaaa, or Hok did. No, an overzealous arena usher tapped me on the shoulder about a third of the way into the routine -- seems that he saw my digital camera and its lens extended to glorious, unbeatable 3x optical zoom poised at the ready to take still photos of awesome breaking, and he assumed I was recording the dance to video. So by the time I was done explaining to him that he was a moron, the routine was two-thirds over, and I was steamed for something like three more dances afterwards.
The upshot of this brouhaha was that I reconsidered the whole enterprise of taking pictures at the show. I'm old-school, I can't split my attention between the live performance and trying to take a picture of it, and invariably the camera grabs the bulk of my focus. So I think after the "Cabaret Hoover" performance, my camera stayed off for the rest of the show until it was time for the meet and greet.
---
Remember the minor fuss made over Sabra when she screamed during Wade's solos? Like, she was really loud? That's because she's naturally loud; of all the dancers who got mic time, she was the only one who nearly blew out the PA system.
---
With a huge Paso Robles crowd out to see him, Jesús got to do a solo. Again, it was a performance that improves with a better vantage point.
---
One thing that applied to just about all the performances -- they didn't last long enough!
---
So the meet and greet.
It was hotter than
sex on a stick
where we met the dancers because it wasn't well-ventilated and because it hosted a buttload of people. The crowd wasn't Comic-Con–thick, but there were enough people to soak in sweat.
In mostly chronological order, or as far as I can reassemble the order:
Below is a picture of a suave and debonair young creative, and Danny Tidwell.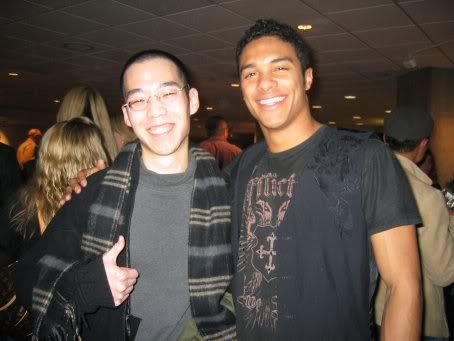 But seriously, the turtleneck, the scarf -- am I actually stylish, or was I just recovering from a cold? Maybe this will help you decide: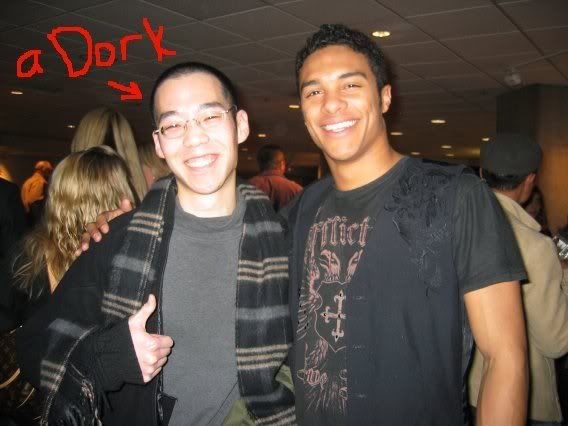 I was gauche enough to ask him about
the loud knocking sound that time Lacey hit his goodies
-- he said it was the sound of a mic, which I presume was Lacey's, unless the audio people on
SYTYCD
were kinkier than I realized.
But seriously, this time for real, I'd be remiss to not mention that Danny was relaxed and incredibly at ease at the meet-and-greet.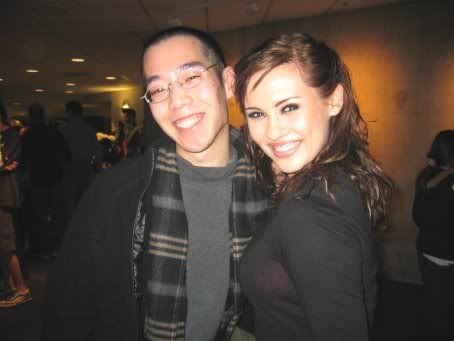 Anya was, surprisingly,
really
short -- like Sabra short -- which doesn't come across at all while she's on stage. One slight disappointment that she was involved with was the lack of the Cookie Monster costume for her routine with Pasha: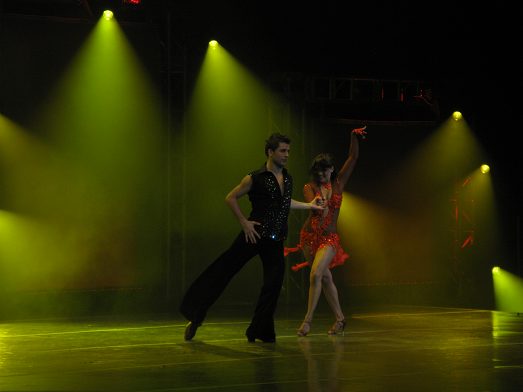 But soon enough, what minor disappointment was soon salved away...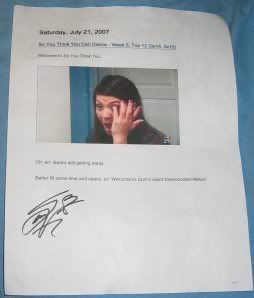 See, I printed out a page from my
Week 5
post and had Sara autograph it! I am such a dork.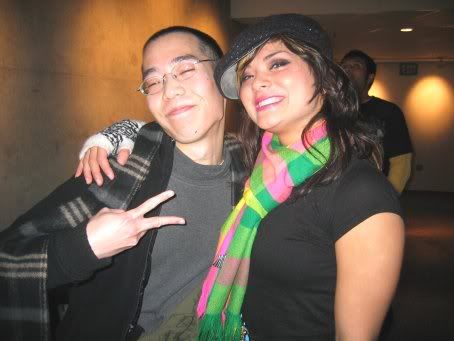 I actually printed out a copy of the whole post for Sara to read at her own leisure, but like the unmitigated genius that I am, I didn't include the url, though if she googles
san jose dork blog sytycd
I'm sure she'll be able to arrive here.
Jumping ahead, Sara and I also took this shot with Dominic and Lisa: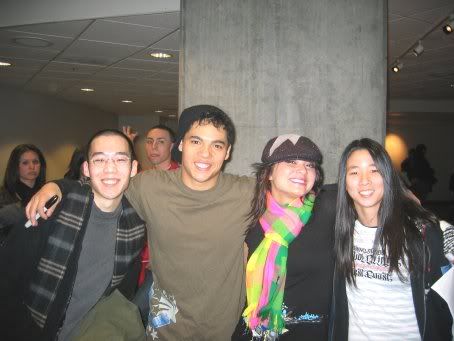 Next, Lauren. Remember her Asian kerfuffle? Well, she's consistent, because this time she asked if Lisa and I were related.
As the conversation got around to my blog, Lauren said that she tended to stay away from blogs in general, and I can
totally
understand
why
, and when we took a picture, I did a poor job hiding my discomfort/hypocrisy.
She does clean up nicely.
Shauna, in her neck of the woods: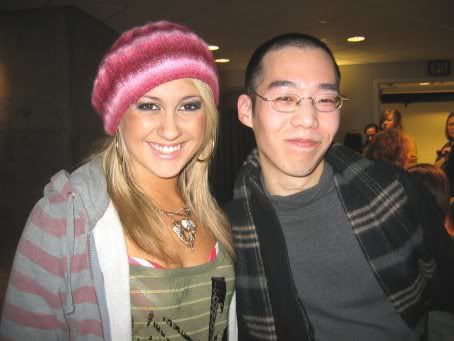 Moving ahead again, after the indoor meet-and-greet was over, most of the dancers made it outside for fans in line who couldn't score meet-and-greet passes, i.e. the peons. I didn't know where to go, so I just followed a bunch of other people, people who turned out to be Shauna's mom who was a cool lady.
Champion Sabra: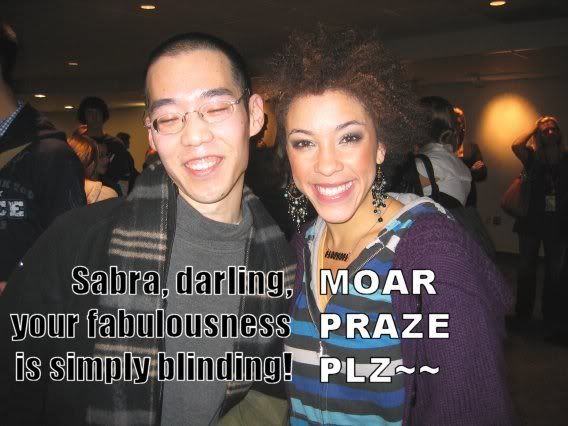 Was I more tired than I realized? I congratulated her for winning the competition, adding that maybe it was a little late for congratulations. But in fact, that was OK by her; belying her comedic aspirations, she was all, "Gimme gimme gimme!"
Agent Sparkly Pants: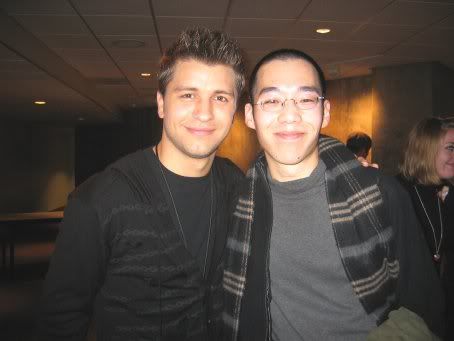 I blathered something about how his and Sabra's Quickstep was my favorite Quickstep routine ever on the show. Pasha was all, "Yeah, I know."
Jaimie: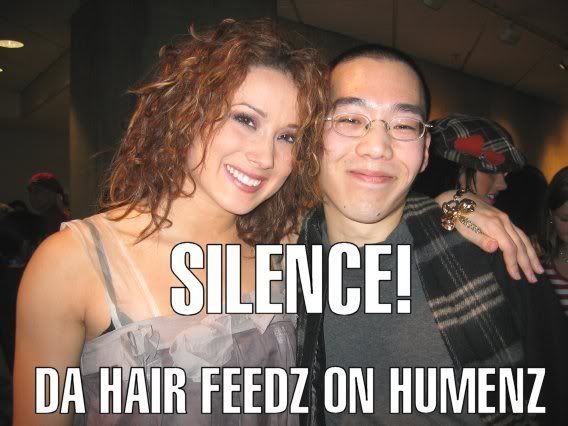 Jesús: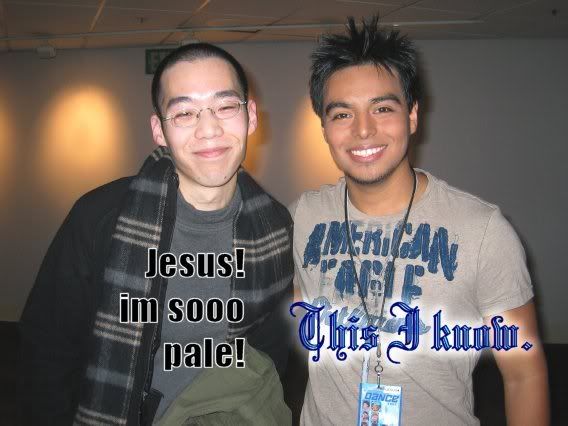 At this point, I forget exactly what I asked him, but I did find out that Paso Robles was only 2.5 hours away from San Jose. And there I was, thinking it was in Southern California.
At the very end of the indoor meet-and-greet, the guy I assumed is the tour handler was prodding all the dancers to get ready to go outside and say hello to the peons, and by "all the dancers," I mean Dominic, who had gotten into an impromptu dance-off after a fan threw down with a windmill. Dom being Dom, he responded with his own windmill...
... into a headspin. Let's not forget we were on thin carpet the whole time.
(To be accurate, Dom wasn't the only dancer lingering inside with fans -- Sara and Jesús also had to be pried away because they are sweeeeties.)
Outside in the peon line, I managed to get pictures with Hok and Lacey.
Hok: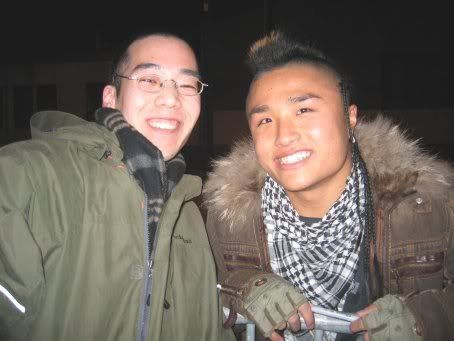 Meeting Lacey was quite charming even if it was brief because she's exactly the same in real life as she was on the show, which for me was great because I'm shallow. I hung back while she and Lisa chatted, and when she called me over, I shyly waved back from a distance, which prompted her to say, "Come on! I won't bite!" I can't stress how tickled pink I was that she's always on. Anyway, my winning riposte: "I don't know, your
fox routine
was pretty convincing."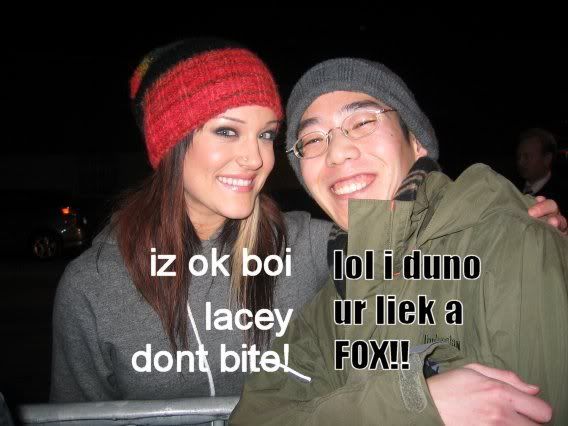 She lolled!!
Indie rating: Fleetwood Mac - "Sara"