I know I haven't been on top of
America's Next Top Model
(I mean, America's next top model is Saleisha right now, whom I wouldn't be enthusiastic about being on top of), but don't mistake my blogging lapse for apathy -- because as long as Tyra casts art-punky outsiders, I'll be kissing her fat ~*grits*~.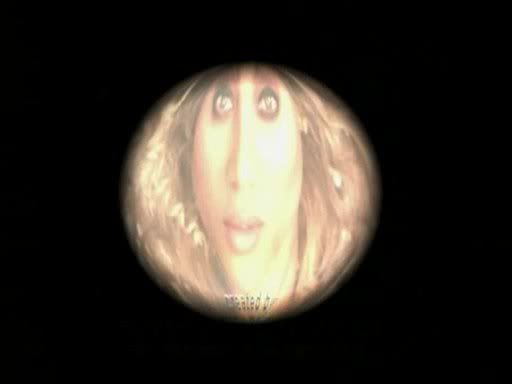 (Be aware, if it isn't already obvious, that if I manage the time to blog on
ANTM
, each installment could be monstrously late.)
Nice timing on my part -- I don't mean timeliness, but jumping back into the blog game with the makeover episode that featured the worst and least inspired makeovers that I can remember on the show, not to mention that so many of the girls are categorically unpretty, and not even in the model way. With the exceptions of Marvita, Stacy-Ann, and Claire (and her original hair was more out there than her made-over look), almost everyone's new dos could be described by the simple linear function
f(x) = x * weave + dye
where dye is a constant.
(And that stupid pop-up Tyravision? Made me realize that half the fun of the makeover episode is to see Tyra and the contestants play off each other. All the contestants dreading the unknown isn't nearly as interesting as a group plotzing with the inevitable, unlucky girl who spazzes out because she knows she's going to get her hair cut short/off.)
Most of the makeovers were nondescriptly dull, but Stacy-Ann was butchered with that lopped-off spiky look...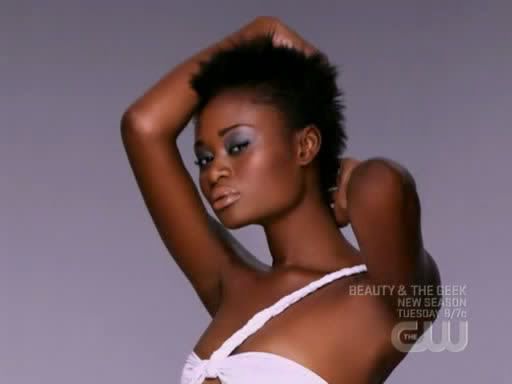 while Dominique... well, I guess Tyra opted to give her the soccer mom cut because no self-respecting drag queen would go for something so bland.
Seriously, though -- Dominique? First, like I said, all the contestants are on the homely side this cycle (
Amis
was selected as a finalist over
Jenna Impala
? I'll never forgive Tyra for her omission), but Dominique is the
withered
,
leather-faced
cherry on top of this fug sundae. I initially thought that her makeover
feminized her a little
, then Tyra had the nerve to get on her bad side and call her "commercial." At that point, things could've gotten ugly -- well, uglier had there been a cattle prod handy.

For real, though, making fun of Dominique is shooting fish in a barrel, especially when she says things like this:
The look on Aimee's face (or whoever that is) is priceless.
---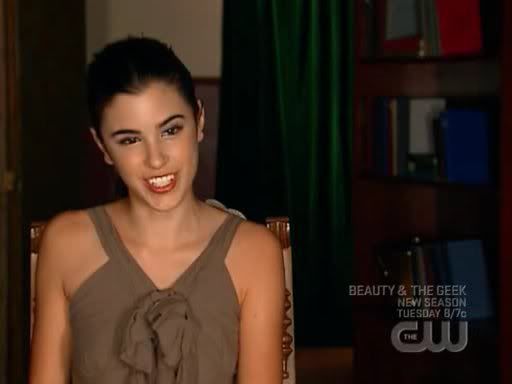 Allison, then. In between looking like a vampire version of Sarah Silverman, talking about how much her past modeling experience would give her a leg up over her competition, and letting people know she used to have an eating disorder, Allison resorted to race to get back at Fatima. Without rehashing the reason why I generally avoid calling people racists (well, ok, it's simple and brief: people (by which I mean white people) get so defensive that any hope of a productive dialogue is dashed away), Allison's resemblance to Sarah Silverman prompted me to wonder if she used impersonal racism (i.e. she doesn't necessarily believe in what she said) to attack Fatima. Note that I'm not defending or excusing her, because deliberate race-baiting is an especially sociopathic brand of douchiness. I also don't believe she could be capable of that level of douchebag sophistication, not if she's so comedically uncouth that she constantly slouches in her seat.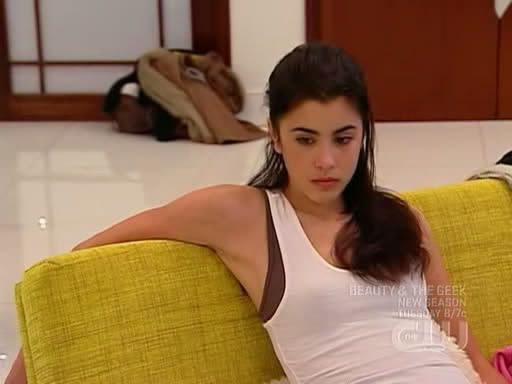 Given her history of eating disorders, however, I felt uneasy when I delighted in her well-deserved elimination, in part because she seemed to be in the perfect state of mind to immediately go into sequesterville and start bingeing and/or purging.
But then I felt even worse because the most promising (and I use "promising" loosely here) villain in recent
ANTM
memory was booted so prematurely. (Shades of Monique.)
---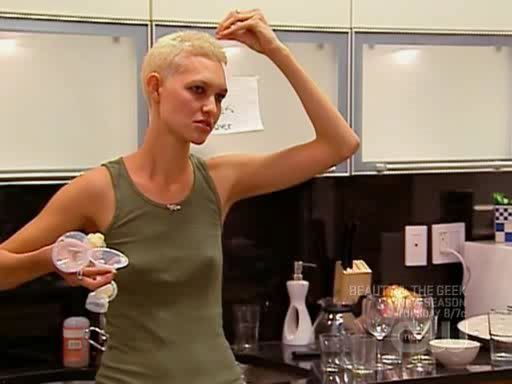 I've been thinking about Claire ("thinking"), specifically why she's topping off her own breast milk instead of, as Tyra et al initially thought, shipping it to her kiddy. Being a self-described global warrior, she obviously wants to avoid the vast carbon expenditure that would be entailed by Fedexing her mother juice.
---
Lauren's outsiderness is already enough that she's automatically my favorite contestant so far, but when she can take something like this: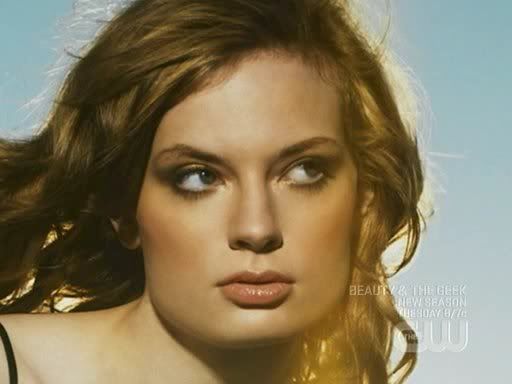 then I hardly care if she
stumbled into the fierce
. Plus, those eyes! Reminds me of: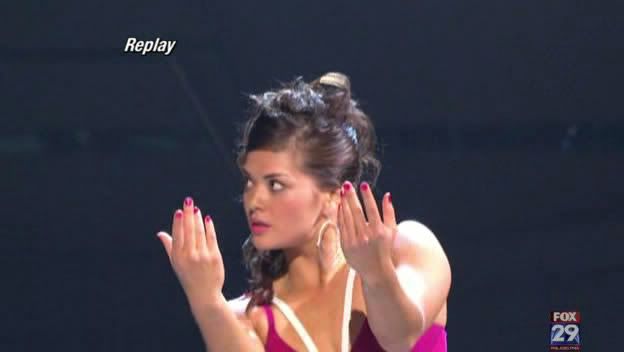 ---
I've always had affection for the outsider, which is probably vestigial cultural snobbery at play. I know for certain that I appreciate how girls like Lauren are a break from the sugar-rushing teenyboppers screaming whenever Tyra so much as farts, though at the same time avoiding the
affected too-cool-for-school aloofness
that girls like Allison adopt.
---
I was all set to defend Anya, you know, like she talked in maybe a lilting Hawaiian sort of way, but when she takes shots like these, she's on her own.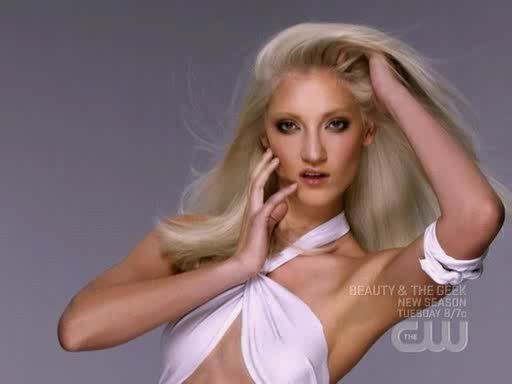 ---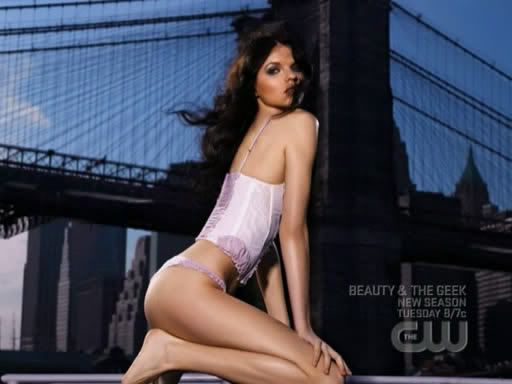 All I can say is that I missed out, not going to an Ivy League school. To return to my math motif,
smart + easy = me happy
It's like some slutty Eastern European gene kicked in once she got onto the show and kicked her booty outwards.
Indie rating: Boris - "Buzz-In"