I should apologize for the quality of the pics in this recap; they're all on the low-res side, through no fault of my own.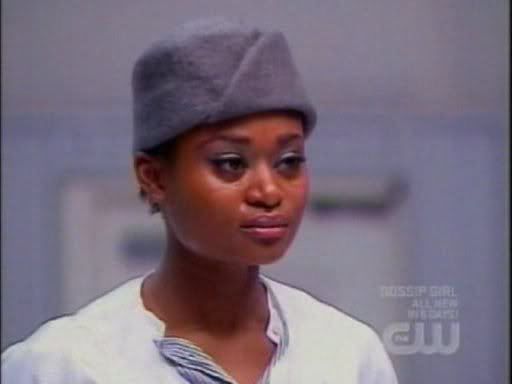 One of the constants of
Top Model
is its brattiness, but this cycle has added charming naivete to the usual menu of catfights and name-calling over
borderline granola thighs or something (on top of reincarnating Jade into the body of a 45-year-old drag queen). Between Stacy Ann and Anya, we've had a potent if under-utilized sense of wide-eyed, child-like awe at every new thing they encounter.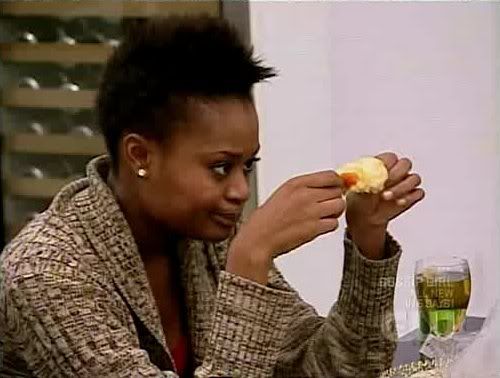 That's what us adults call a
cob of corn
, Stacy Ann!
Later, during that hair-raising moment when Lauren sliced off her thumb, Stacy Ann's whole set of reactions was priceless: she's playing around on the floor (not pictured: her building blocks), and you can tell from her facial expression that this is the first time she's ever heard the cries of pain.
I also enjoy her 24/7 fun-loving ways, which we first saw in the recap episode.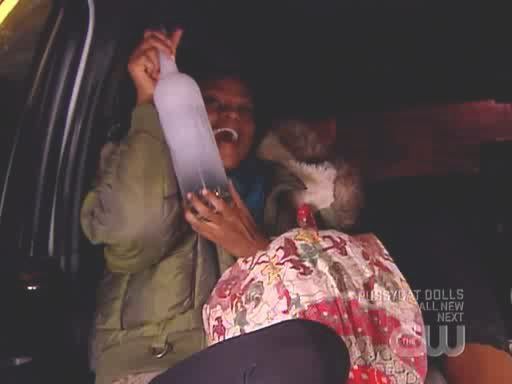 It's like there's a party in her jacket, and everyone's invited. This time, even when it's blisteringly cold out, she just
can't stop doing the Monkey
. God bless our little trooper.
---
Stacy Ann's pictures have largely been mediocre and over-praised -- her
meat picture
was the best one she took on the show -- but as fond as I am of rooting around the trivial and the annoying, her voice appeals to me. The helium timber, the
wild, impetuous inflections and tempos
,
how tenuously her words are connected to the subject at hand
-- her bons mots are a warm box of chocolates. You never know what you're going to get, at least theoretically, but while the shapes will be unique and moderately interesting and it'll still be sweet, realistically, you'll merely have a half-melted, misshapen lump with a horrible haircut.
---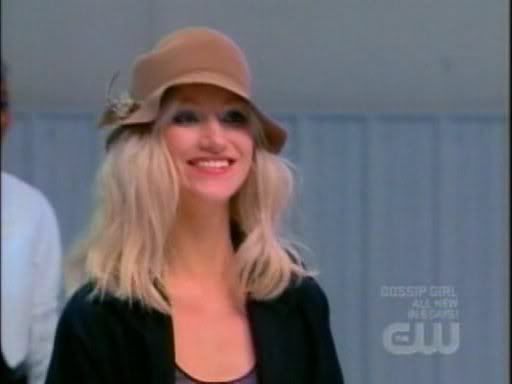 At least we still have Anya and her floppy hat, who together have become the heart and soul of rainbow innocence that continues to hold down
Top Model
Neverland, even if her eyebrows need to be bleached again -- in which case I'd suggest that instead of going for the translucent platinum again, she should opt for something a little more colorful to better reflect her resplendent personality.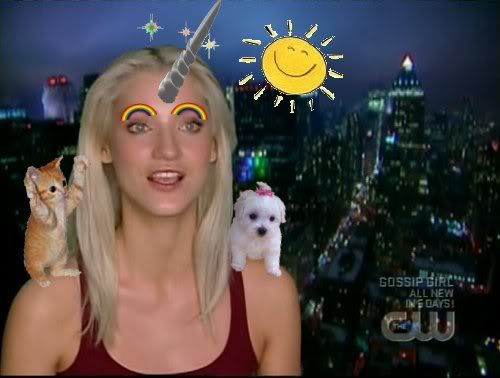 When the girls found out that they were headed to Rome, all the butterflies
flew out of Anya's stomach and so excited her that she just had to hug
something.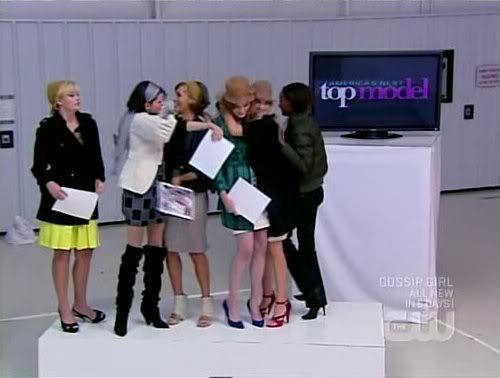 Anya thus proceeded to enlist and then (adorably) maul notoriously anti-celebratory and overall killjoy Lauren like the latter was a six-foot tall, slightly unwilling teddy bear.
---
Though how could anyone resist hugging Lauren when she's never been so adorable herself? When the judges remarked about how her presence this week had improved dramatically, she had the cutest look of delight and pride!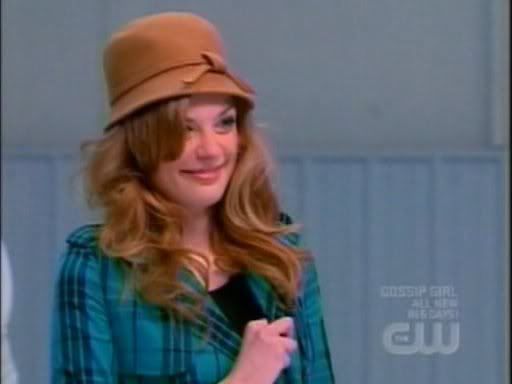 ---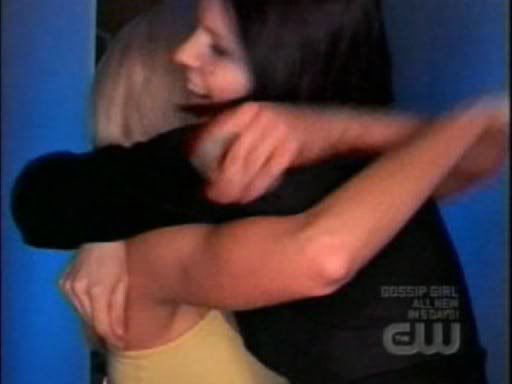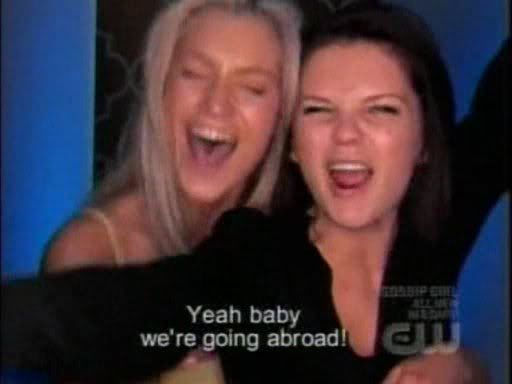 I'll leave the rest to your imagination. Or better yet, my imagination.
---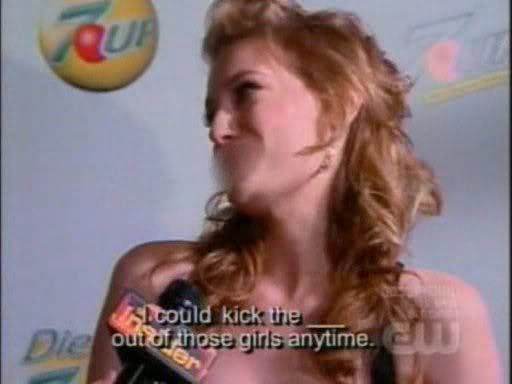 If you watch Lauren closely, you'll notice that any time the other girls have a celebratory freak out, she's always just meekly smiling in the background.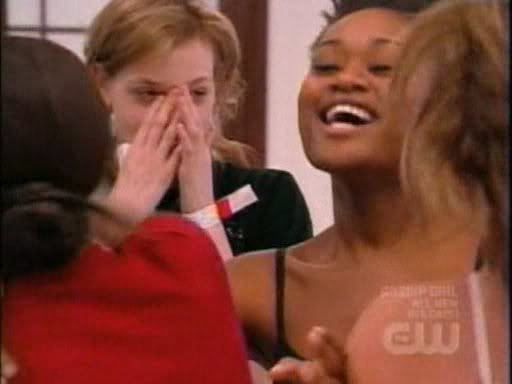 I have to credit Lauren -- she had to have been a studious viewer of the show to know that Tyra loves to jerk around the girls' expectations. (Some punk girl! Watching reality tv demotes her to merely "indie" now.)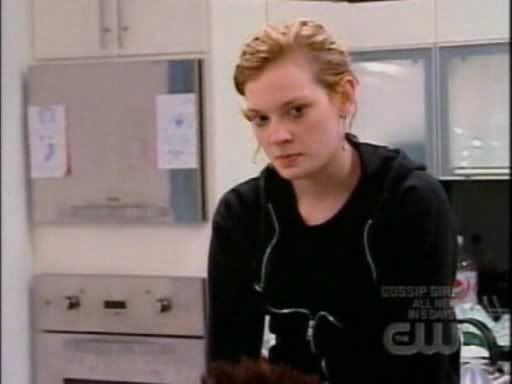 But instead of merely killing joy, she's probably biding her time before she goes through with her assertion that she could kick the blur out of all the other girls, because you know how serial killers and mass murderers practice their craft when they're children by torturing animals?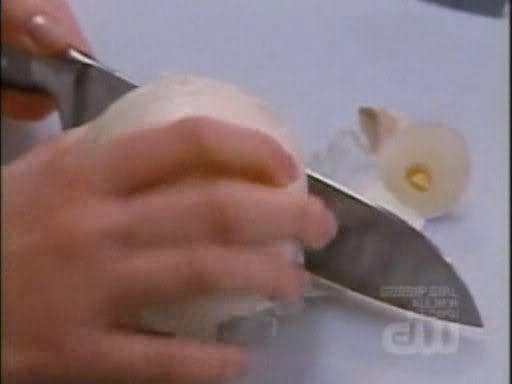 Lauren's doing it on her thumb.
---
Sandwiched in all the juvenilia was the decidedly more grown-up problem that bore down on Fatima, and over which Tyra was ready to pull a Tiffany because fashion takes priority over common sense. If Fatima attended the photo shoot instead of going to her meeting at the consulate, it didn't matter how well her picture turned out, she wouldn't have been able to go to Rome. Neither of the choices she had was great, and she picked the one that gave her the best chance of continuing in her hopes of becoming America's next top model.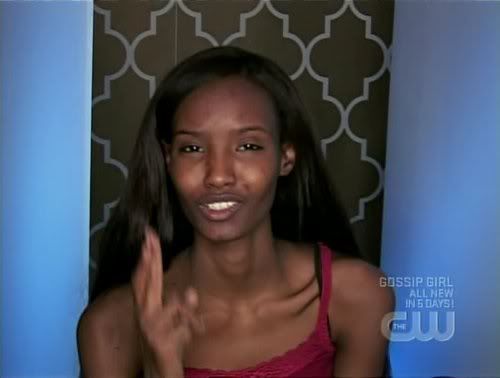 She needed all the help she could get, too, because her skin was looking pretty gross -- stress-related acne, surely. Her weave also could've used some more attention, as it was looking pretty raw by the time Tyra made her grovel in thanks for letting her be eliminated in the first Italian challenge (second, tops).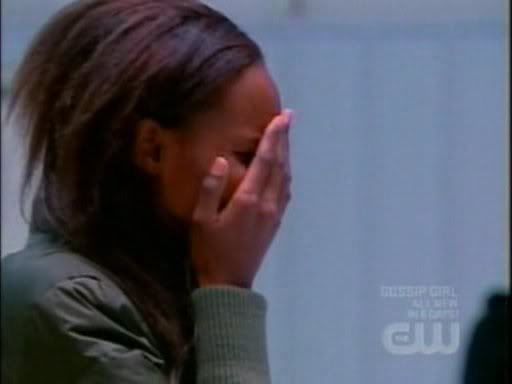 ---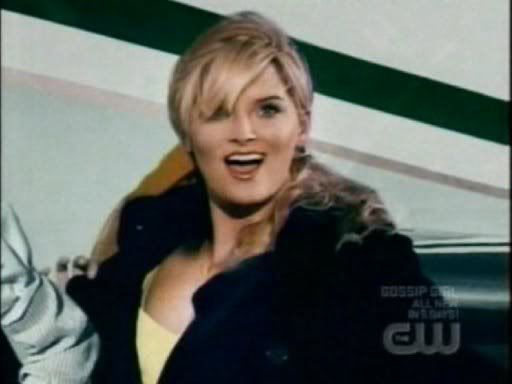 Was this relentlessly cheesy shot the best one that Whitney took?
While she's pretty entrenched near the bottom of my regard, I was surprised that the panel piled on her for what they perceived as pageant inauthenticity -- hasn't she been carrying herself pretty much the same way throughout the competition? And even though her performance in Paulina's mock interview session sounded rehearsed and was bled of charisma -- ol' Whit could take lessons from our mistress of
elocution
-- she at least articulated them cogently, which is at least a nice change of pace from the equally stock answers given by the other girls.
Whatever the case, it's time to take out the trash.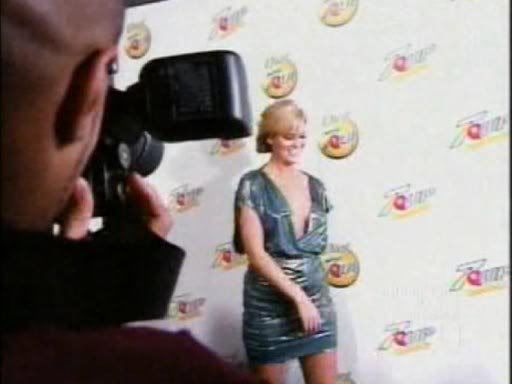 ---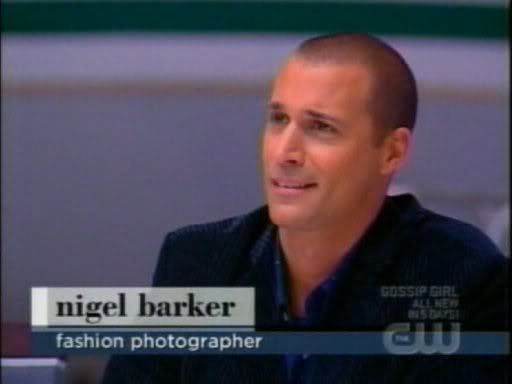 Nigel was just a leisure suit short of turning into the drunk and occasionally inappropriate uncle that we know all judges named Nigel to be.
---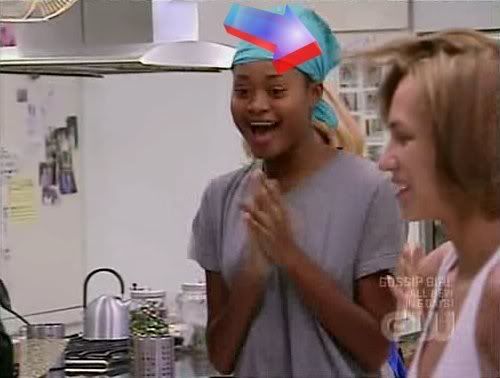 Where Jaslene walked like this all day, every day, Dominique's hair gets the
There's Something About Mary
treatment all night, every night.
---
Drag Watch!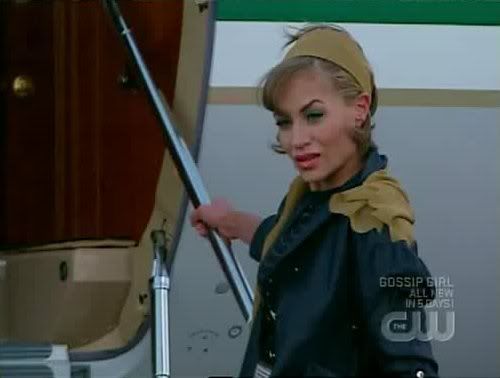 So much for my hypothesis that her femininity was improving as the cycle went on.
Fortunately, Dominique's walking disaster didn't stop the other girls from looking utterly fabulous at the photoshoot. (Though by other I mean Lauren, Anya, and Katarzyna.)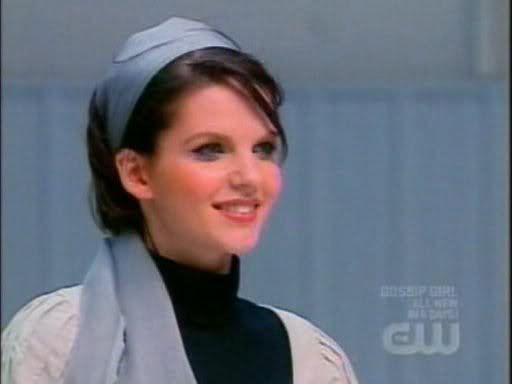 Take a gander at the pics of Katarzyna, Lauren, and Anya (upthread) and tell me that women shouldn't dress like late '40s/early '50s jet-setters.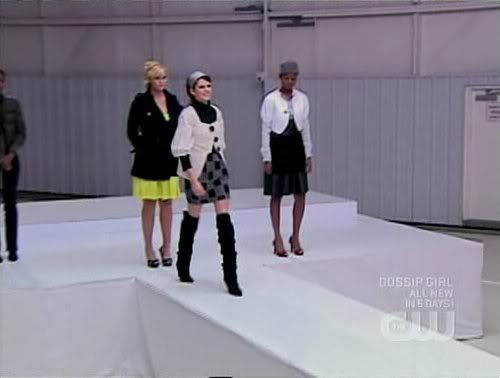 Paulina said that Katarzyna had killer gams -- I don't necessarily disagree, but those boots! I would give up my tenuous hold on heterosexuality for those darlings.
Indie rating: The Pipettes - "Just Be Yourself, Baby"