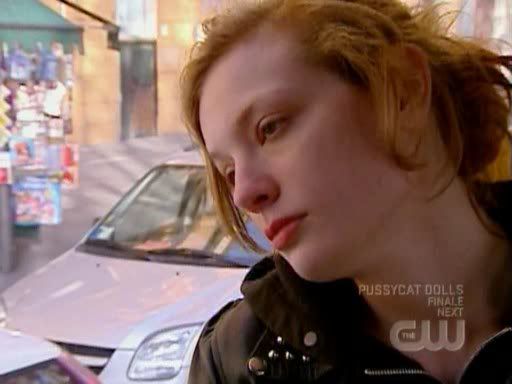 We all knew Lauren's elimination was coming, though not so spectacularly painful to watch. By merely being this cycle's outsider (or as someone else put it, its science project), she never had a real shot at winning or even reaching the final catwalk. And if you took what appeared to be her crippling lack of self-confidence into account, she was kind of lucky to make the trip to Rome, since some of the judges have had it in for her for some time now.
But the one good thing wrought by Lauren's elimination is that I retroactively realized that she went home far too soon, and what's more, the show didn't seem interested in (or capable of) showcasing her
charm
,
realness
and
articulateness
(though she seems to enunciate quite well while standing on chairs and screaming). Instead the show portrayed her half-paralyzed by doubt, barely capable of adapting to modeling standards without announcing that she's a punk rock chick every half hour -- which was a disservice to both her and the viewers, especially since she already knew how
Top Model
tends towards the ridiculous:
"I loved [the show] for the fact that it was a train wreck, but I never thought I would be on the train wreck. That's why I was a little scared at panel, I was wondering when the theatrics would come in."
Her ironized fanship is perhaps the biggest loss for us viewers who appreciate
ANTM
's particular brand of trashiness (in addition to its other aspects, however atrophied they've become); we actually had a proxy on the show who could have observed and related its sublime absurdities up close and within the narrative of the show itself, but apparently the editors' mandate to distill its contestants into prefab archetypes denied us that postmodern wet-dream.
---
If I haven't been clear this cycle, I'm not a fan of Whitney, which led to some seriously conflicted (if unreported) feelings about Lauren's possible affiliation with her, especially during that infamous gang-up. But as the truth has outed, I'm heartened by the fact that Lauren actually called Whitney out for being part of
the malicious crew
on the show and counted her among the fakest and least sincere contestants who's nonetheless been pegged for the final three.
---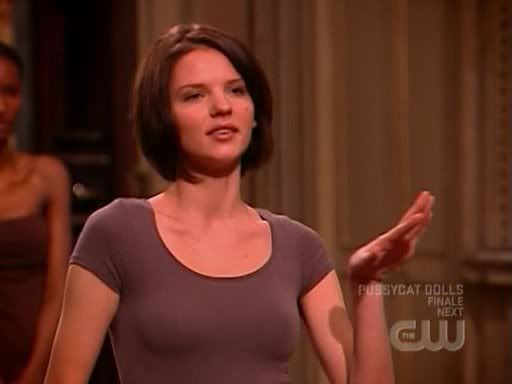 Katarzyna gave Tyra back some serious lip at panel, which in turn gave us the chance to see (or better yet
hear
) Tyra at her least invested in the girls and anything about them. But in spite of that revelation (and her enduring Cornellness), Katarzyna still bugged, and her "Oh no they din't" was only the start. You'll notice when the panel played back Lauren's commercial, Katarwhateverdarling was cracking up.
Classy!
---
As painful as it was, Lauren's commercial represented one of the few times that reality tv breached the territory of genuine art because of how it could provoke such an intense emotional reaction, whether the commercial's obvious painfulness doubled you over with the giggles or defied you to look away.
---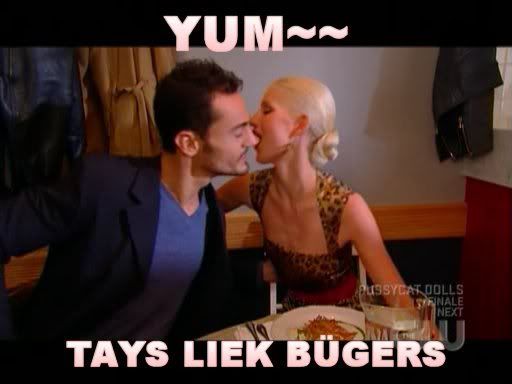 I've been thinking more about why a serialistic narrative like
ANTM
has such consistently rudimentary, uncomplicated through line, especially in spite of how the show is so fond of a sense (or illusion) of diegetic progress (i.e. growth, maturation). This week I've decided that the show approaches its episodes almost as discrete units of narrative rather than more integrated portions of a longer serial story, the latter being the one you'd expect a competition-based program to use. Of course, we instead get the former constantly reiterating the same plot points over and over again, effectively reinforcing the primary characterizations of the girls (e.g. Lauren is always the punk girl, Whitney the plus-size girl, etc.) and all but forcing viewers to respond to these characterizations. Viewers can react positively or negatively, I doubt the show cares as long as they have a strong feeling one way or the other, since apathy annihilates reality tv like matter and anti-matter colliding.
All of the repetition on
ANTM
also occupies narrative space/time (really, in storytelling terms, those dimensions are the same thing), allowing the show to crowd out competing ways to characterize the girl and assert its narrative agency, over the contestants and the viewers.
---
In one of her
interviews
, Lauren briefly mentions her fondness for Anya.
Anya, precious little Anya. She lives in Candyland and I appreciate that. I remember Anya was confused when Fatima didn't have her visa because she thought she lost her credit card!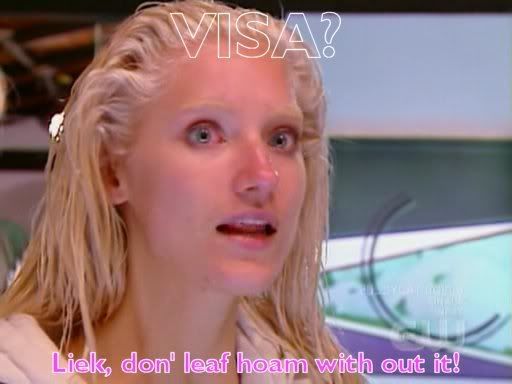 ---
It wasn't all fun and games for Anya this episode, though.
Poor Anya didn't stop at pavement cuisine. (Coupled with Lauren bailing on her Segway
, this episode had the most skinny women pratfalls since Ally McBeal went off the air.) Not only did she have to weather Whitney's baffling "so blond" diss -- aside: Whitney's not a natural blonde either, but I'm willing to give her that honorary title solely for her malapropism and because she carries off being a pernicious blond bimbo so well: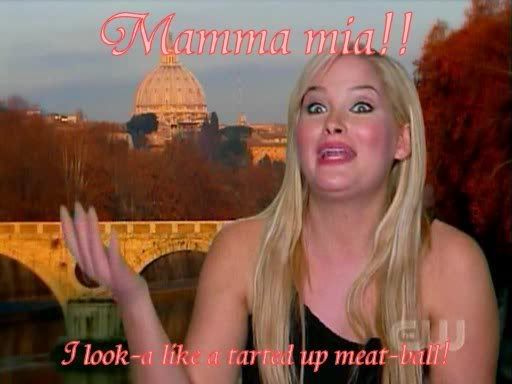 -- but anyway, Anya hadn't yet been fully worn down by Fatima's passive-aggressiveness and actually nursed her back onto her feet.




She's really too nice to be human. She's more like... like a robot! A platinum robot!


---

The Segway tour of Italian fashion was laughably staged. Right, modelesque women in Rome just loiter around the streets in couture, possibly eating a gelato while showing enticing cleavage. No, I refuse to believe there's any such heaven on earth for fear of crushing disappointment. Rather, we were undoubtedly treated to a parade of ringers.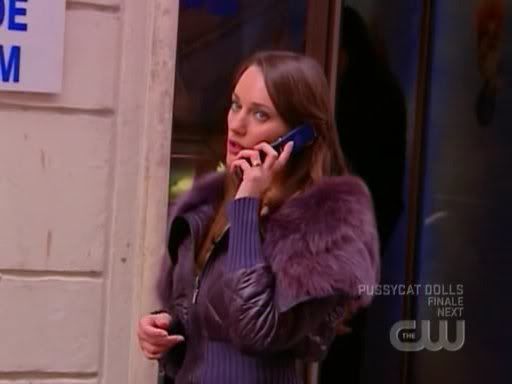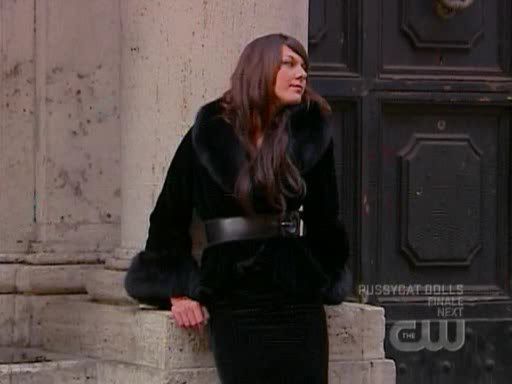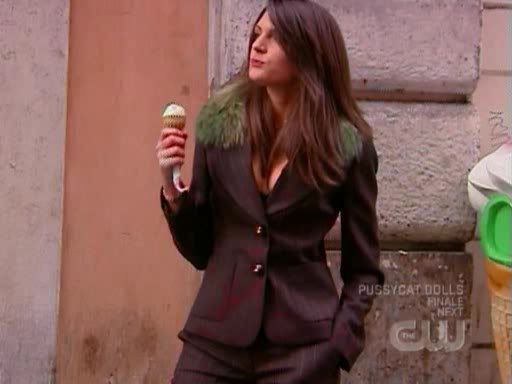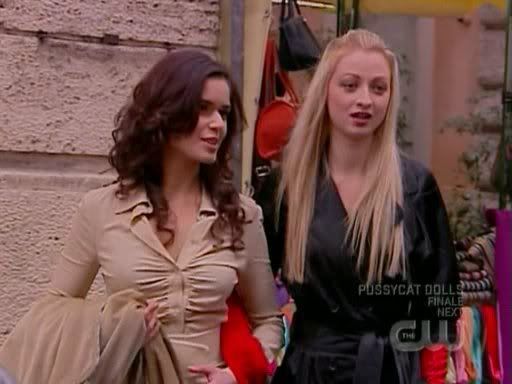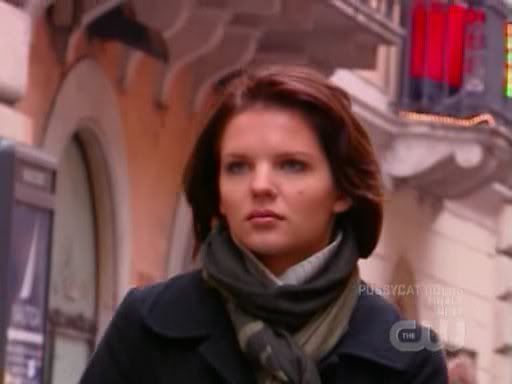 Whoops, looks like the show tipped its hand.


---

Why bother with the lipstick?




We've got a queen collection right there.


---



The way the judges received Dominique's commercial, and then how she played along/shamelessly sucked up, shows you how scorched her ego is because of how quickly she appropriates institutional opinions for her own. If the judges find the high camp of her commercial hilarious, then Dominique is going to double over in scene-chewing sycophancy, shamelessness which actually justifies her continued presence on the show, when in fact nobody should amuse themselves this much.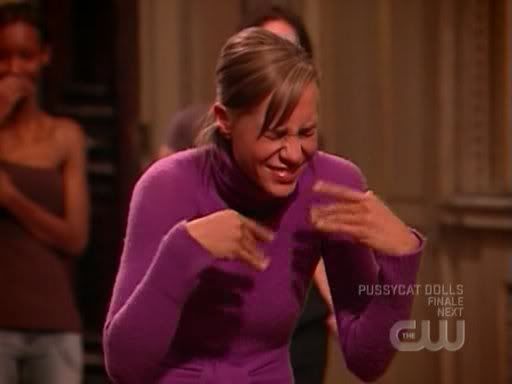 ---

Teachable moment!




Fatima coughed into her hand, which is actually an excellent way of spreading germs. Think about it: cough and the germs go into your hands, and what do you do with your hands? Everything.

Instead, cough into your elbow, or your shoulder.

Though I suspect that with Fatima's rising star, these other girls are going to want what she's got, even if it gives them a purple face, or some extraterrestrial infection...



To be continued...?



Indie rating: Portishead - "We Carry On"