This is obviously a rushed entry in an effort to get back onto a more normal schedule, but the show is also turning for the mechanically mean-spirited and pedestrian, spiced only with the occasional Brazilian flourish from Dominique, or when Anya does/says something adorable. Anyway, if the show's going to be lazy, then I'm taking the easy way out too, so on to the entry-proper:
Earlier this cycle I officially gave up on predicting the course of the cycle (or maybe I just made a mental announcement, now that I can't find it), then promptly predicted that Lauren was destined to go far but well short of the final three, Fatima would be gone within two eliminations of going abroad, and Katarzyna was this cycle's ringer/inevitable winner. Well, one out of three is pretty good in baseball, though I should've suspected Katarzyna's fate each time Tyra refused to pronounce her name correctly.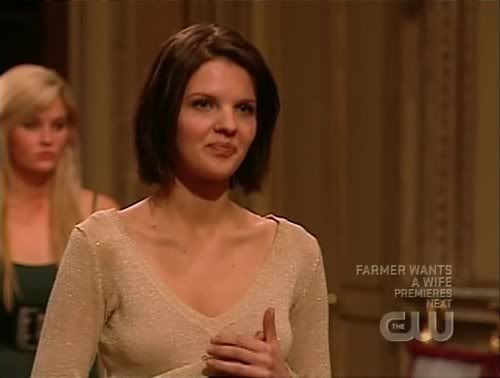 As pretty as she is, I could never embrace Katarzyna beyond her fetishistic signifiers, which I won't bother listing again (even if it's a short list). To be kind of retroactive in my reasoning, the way she responded at panel to one of Tyra's comments reminded me of some of the small seminar classes I was in as an undergrad where the professor encouraged or mandated everyone to participate in class. Of course, not all the students were as brilliant as me; they kept quiet until late in the semester when they were pressed to bolster the participation part of their grade, but without a distinct opinion or argument to make and to make grade, they simply rephrased the question or topic.
Tyra: "You have so much potential. You have this beautiful face and cheekbones and lips, there's so much to work with. But you just get stuck. You have to push yourself, KaTARzhin'."

KAtarJINna: "I tried to do that but I guess it's just not enough, I got to really push it."
This is what she comes up with when to address her personality deficit? But to her credit, Katarzyna carried on Lauren's legacy, which is +2 in personality.
---
I think all of us who have in some way criticized Fatima are, essentially, doomed, because until now, we never knew what she had to go through to get to where she is today.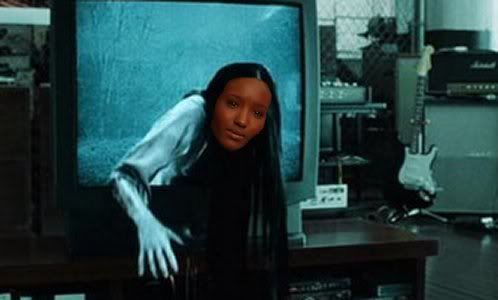 (Did I do that right? I've never watched
The Ring
, and almost went with an
X-Files
black oil joke instead.)
---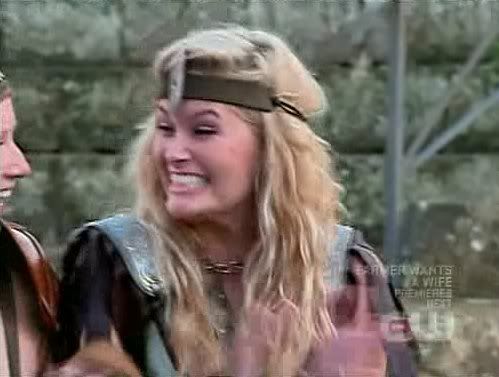 Do you think that the nude shoot prize for the gladiator posing challenge was switched to a shopping spree once they found out that Whitney was the winner?
---
So hey, while I'm referring tangentially to Anya, I might as well make another bold prediction:
Anya will not win this thing, and will be lucky to make it past this upcoming elimination
.
But every second she's still in the running towards becoming America's next top model represents a chance for her to continue to shine brightly with unadulterated good cheer through the veil of cynicism, disingenuousness, and unchecked ambition that enshrouds the show. (Not that that litany of things is necessarily a horrible thing in the context of the reality genre.)
Here she boogies upon seeing the gladiator while the other girls feebly try to hide their dread:
(While Mr. Jay is grateful for deep pockets.)
Here she volunteers with unrepressed enthusiasm to be the first to face the intimidating gladiator: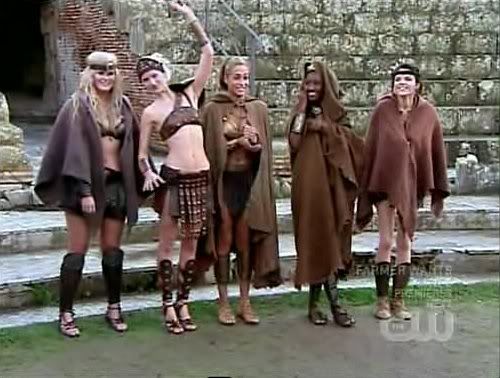 Here
she tries to decipher
the cryptic meaning hidden within a Tyra Mail.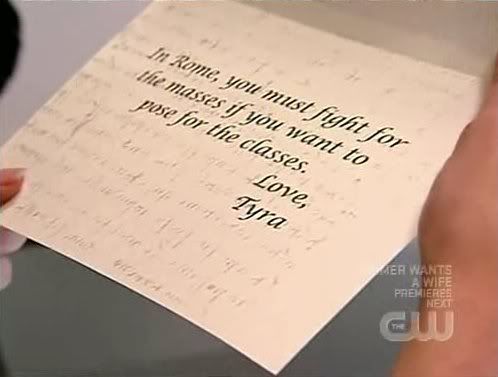 Here she greets the
den of vipers
judging panel with a friendly wave: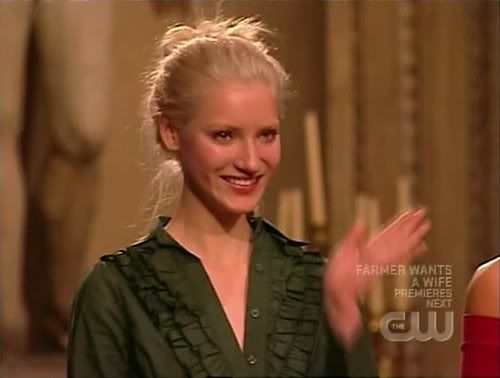 Here she gives us a nice, unobstructed view of her sternum: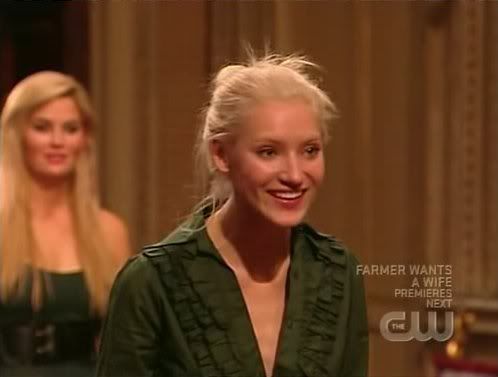 ---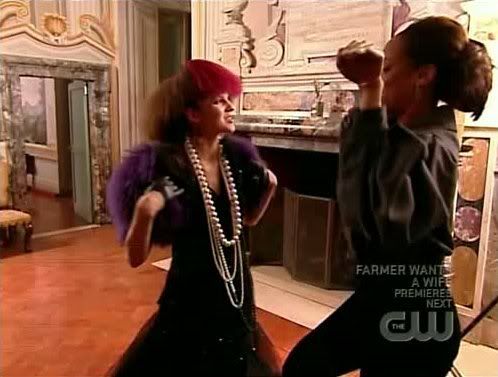 Tyra complained that "Katarzyna brought me back to the '80s" at the week's shoot. No, Tyra, I don't think Katarzyna was the one who put you in a vintage David Byrne big jacket.
---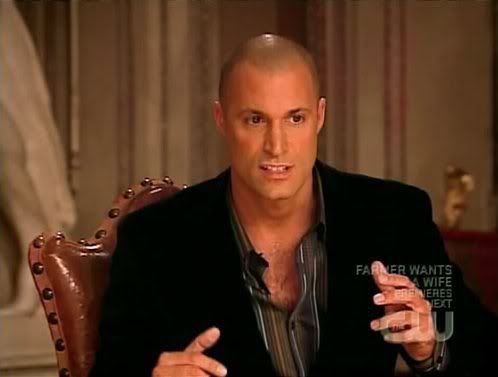 Nigel was alarmingly accurate when
he assessed Whitney
.
---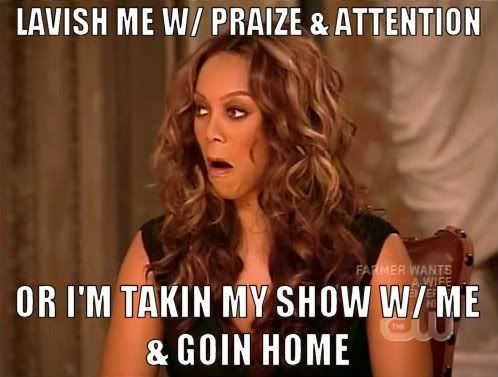 Oh, I'm sure you've got something in your weave so outrageous and resistant to reason that will have everyone talking about you, Ty Ty!
---
Dominique showed real versatility this week, and that's why she's well on her way to becoming America's next top model.
She can do fierce gladiatrix: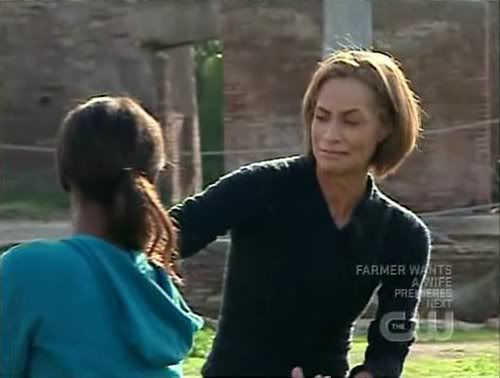 She can do shocked: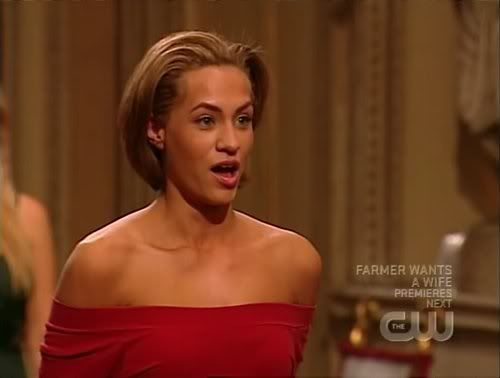 And finally, here's her Pacino:
Indie rating: The Pipettes - "I Think We're Alone Now"