This may be my last recap because I don't think I could compete with Mary's trenchant brevity.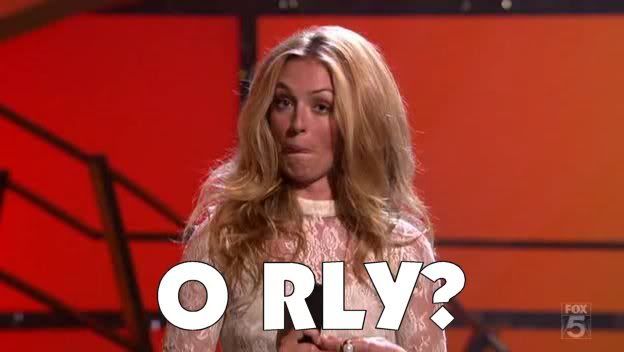 I bow before her mash-up of
Molly Bloom's soliloquy
and
mid-'90s beer commercials
.
---
Let me just jump into this recap, as I don't have anything ponderous to say.
Read More...

Just kidding, I've got plenty thanks to Mia Michaels.



Download Mia Michael's group routine (91.2 MB)

Mia's routine was not so much Cirque du Soleil, because what grotesquerie as this could exist under the warm light of day? Visible only because of the luminescent moonscape of the stage harshed them into our consciousness, no, this was an unreal Cirque de la Lune occupying the liminal fringes of civilized living, a shadow society replete with its ritualized customs that dressed in the clothes of daylight civility, then broaching all good taste: the ringmaster and his court, resplendent in dubious pageantry, initiating their progress with screams and the rhythmic pounding of their staves, the lost, infantile naif absorbed into this tattered outcast family, and as the waking world reasserts itself, announced by the disembodied voice of an unseen God -- "Please welcome your host!" -- they march into the darkness, but not before a vital transaction between them and our beacon of light.




And yo, hey, I was wrong to compare Mark to Gollum, particularly when he makes such a great netherworld ringmaster.





And also, because Gev is the real Gollum.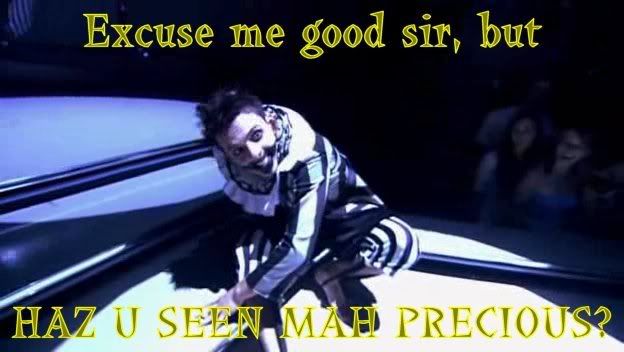 A shame we didn't get to see more of Gev in that dance, because think about how crazed his character would have to be if out of that freaky assembly he's the court jester.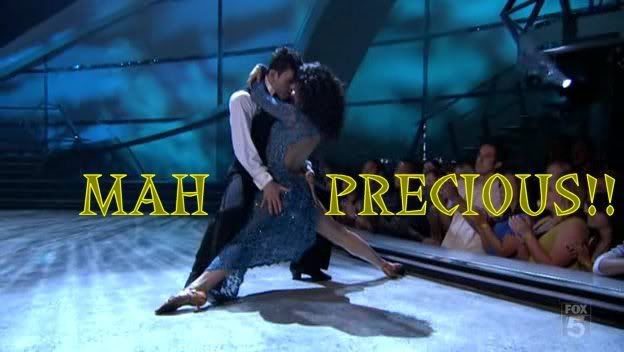 ---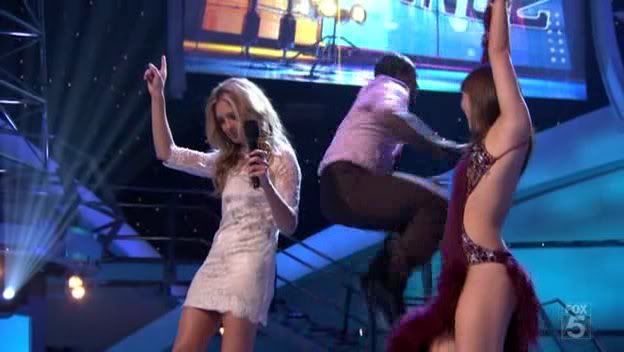 I don't think I've explicitly mentioned it here, but I've been making an honest effort not to dwell on the show's many failings and concentrate only on things that make me happy. In fact, my agenda has been made possible thanks to Joshua and Katee, who for a third week in a row were the highlight performance for me, and for the second consecutive week, turning my SYTYCD weltanschauung upside-down, getting me first to unconditionally love a Broadway number, and now, a ballroom number.



Download Joshua and Katee's Samba (55.6 MB)




The show's fixation on his trunk junk, while brief, was nonetheless intense, because during the credits of the performance show, we got another eyeful of canful.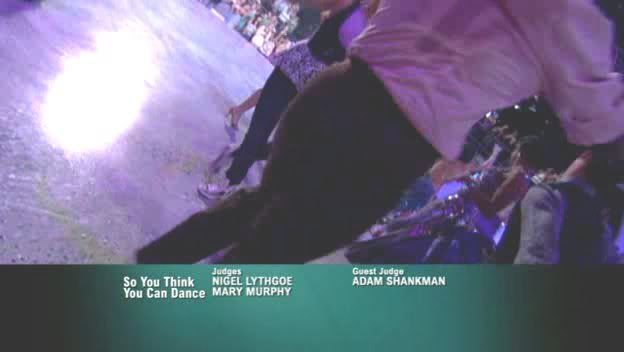 Not to mention pa's.


---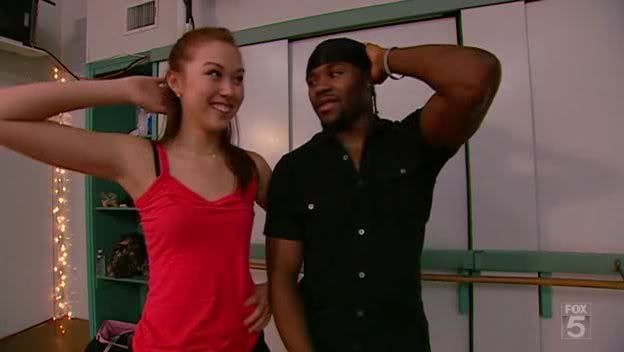 I love how Katee's Awkward Dance is now becoming a thing, and that Joshua's playing along with it too. Together, it's absolutely adorable, though even when she does it solo, she looks sultry.


---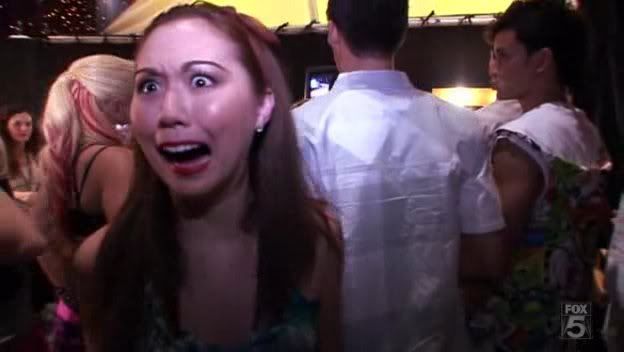 Prior to this week, Katee was just sort of along for the Joshua ride, but now that we're seeing more of her as a person, I'm ready to call her awesome. Her boyscreams, for one, are totally hot, way more attractive than her girlscreams.





And hey, how about her choppy new haircut? I bet now she put on an Asian persona when she goes out on auditions.


---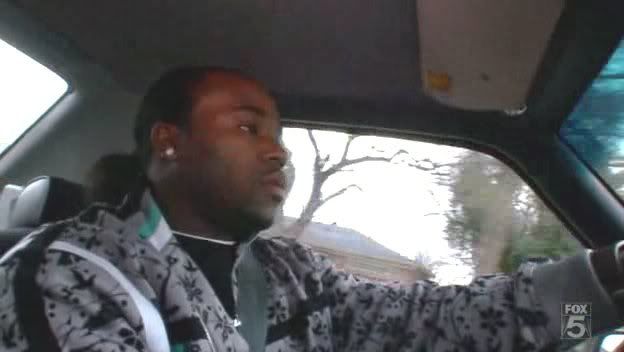 Katee sez: "America might think that Josh is like this tough guy: he drives cars..."

If she thinks that's studly, she ought to know that I drive a car, too.


---

To be serious for a moment...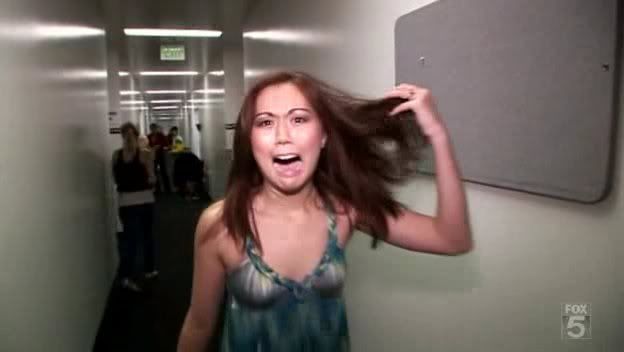 Never underestimate the power of narrative. The same episode where we hear "Katee doesn't feel like she's pretty or sexy or whatever, but she really is... Katee is hot" and where she becomes my favorite female contestant -- that's no coincidence. SYTYCD usually deploys narrative blindly and with a heavy editorial hand, but they do it enough that one time in a million it actually hits its mark and humanizes a person to give viewers (i.e. me) a potent way to empathize with her, which of course says more about my psychology than it does about Katee or the show. But I choose to run with the effects and leave the cause well enough alone: my fellow San Josean is now my favorite female contestant.


---

The Dress.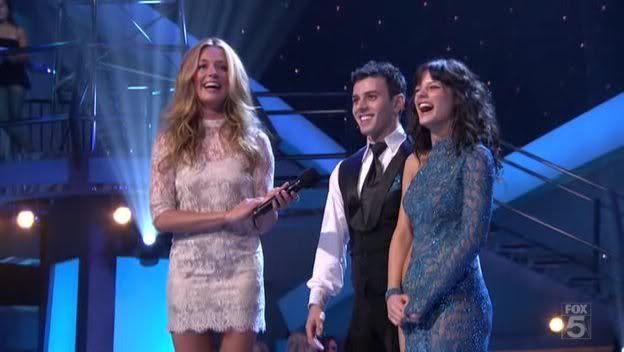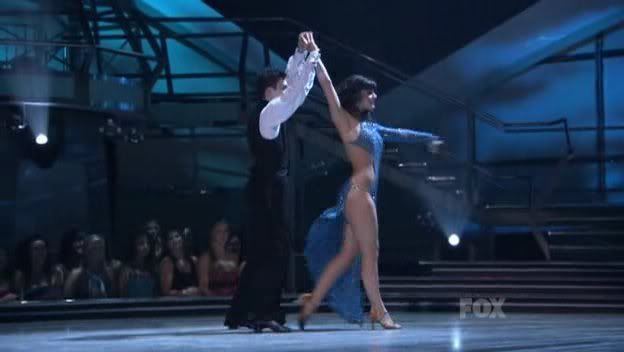 It was great, wasn't it? Every time she turned around, she looked like she was in a blue version of Princess Leia's slave girl costume. (A brief tangent: while I was yes researching Princess Leia's metal bikini, I came across -- oh boy, that sounds awful -- I stumbled upon a promo for a Slave Leia Group Photo thing at the upcoming San Diego Comic Con. I will be there, though only time will tell if my presence is as a slack-jawed ogler or as a participant.)

ANYWAY.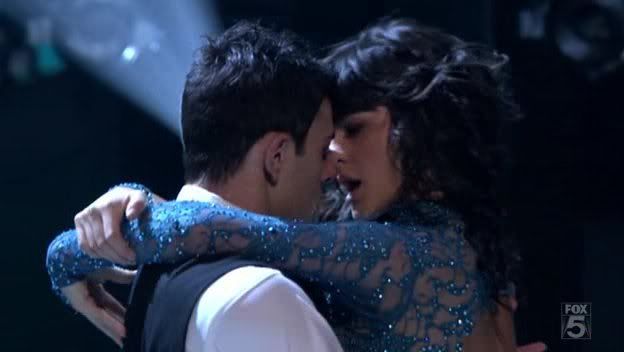 Just like Joshua and Katee's samba, I surprised myself with how much I enjoyed Gev and Courtney's rhumba, though you can never discount the blatant sex appeal as my motivation, since the porno music set the mood just so. Who needs subtlety?

It stumbled in the beginning, and even I noticed that Gev's hands didn't finish his extensions, but that doesn't take away from the rest of the dance, and let's give credit to Gev, too -- he looked like James Bond.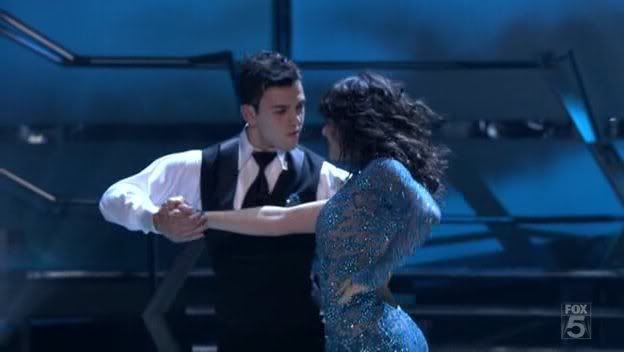 I also have to praise (!) the camera work; it wasn't overly intrusive, and in the case of the slower numbers, judicious use of closeups on a single dancer's face can be devastatingly hot. (I noticed a closeup on Courtney in the contemporary routine in week 2 to much the same effect; perhaps I just like gazing at her face.)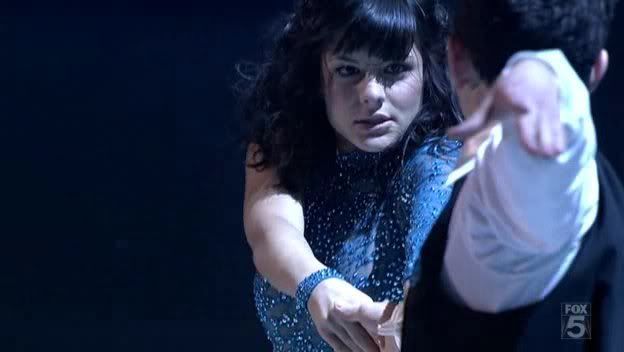 Download Gev & Courtney's Rhumba (80 MB)

They're both stupid hot, they've avoided the bottom three so far, yet they seem to be an afterthought. Even Cat makes fun of them in a patronizing way.


---

Mark is no Gollum -- he's more of a Conan.


---

Chelsea's elimination bites since I never really got a chance to deploy the awesome nicknames I had for her and Other Chelsie (though now, Only Chelsie would be more apropos). Wait a second, did I just get to use them? I mean, greatest elimination ever.


---

And because I have witty nicknames for the Courneys and because one of them has had to solo two out of three weeks, I'd better reintroduce Weird Kourtni.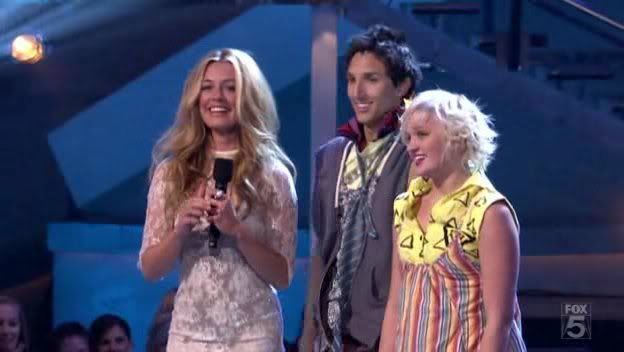 Weird Kourtni and Tall Matt both had to wear costumes that were, for a comics-inspired routine, much too washed out. Unless Weird Sonya Tayeh was referencing vintage Silver Age comics, which have a more muted color palette. While I'm deigning to talk about choreography that didn't move me at all, where were the iconographic parts in that routine? Weird Kourtni and Tall Matt were larger than life only in height.


---


Everybody, after me: It's not a "ninja mask," it's a balaclava. Wait... is he doing the Awkward Dance too?


---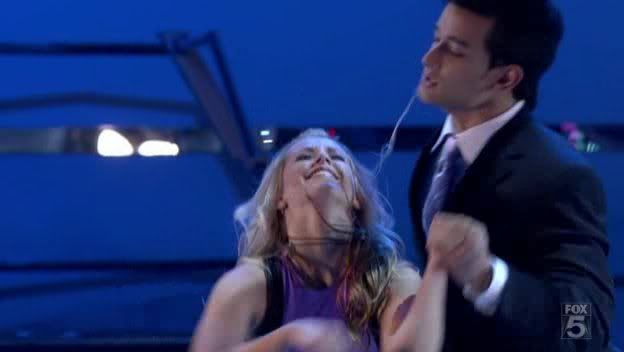 Download Mark & Only Chelsie's Hip Hop (66.9 MB)

A very good lyrical piece, but I wouldn't class it in the same league as the earlier Katee/Joshua hip hop. It's merely very good, but it's sort of a pale version of the earlier NappyTabs joint and suffers further from a couple things; Mark fills out a suit quite splendidly, but Only Chelsie is in some kind of a costumer's joke. Tights and sneakers? Also, I might be predisposed towards disliking Only Chelsie, but where Katee communicated her grief with laser-like potency, Only Chelsie struck me as excessively emotive. But otherwise, I give it two bent pinkies.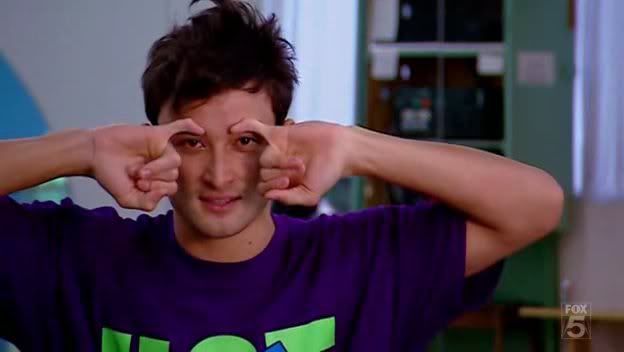 ---

T!YBE Wayback Machine

Marquis does the Shauna!




To be a little bit contrarian, I preferred Jessica in the hip hop she danced with Will. Given the grittiness of the choreography -- I like Cicely and Olisa! -- he made it look entirely too effortless; Jessica looked like she struggled against the steps to give it the rawness that's mostly been missing from the show.

Also, apropos of nothing, I like Jessica because she seems open to trying different things.


---

Some interesting musical choices this week, and I mean "interesting" in that non-committal way where someone asks you how you like something and you don't want to hurt their feelings because you think it sucks like Phil Collins. I'm convinced that Eliminated Chelsea and Smilin' Thayne were heh heh bottomed because of music karma: why Phil Collins when we live in a universe that has The Supremes?

Find a song less appropriate to dance to than "The Beautiful People" and win a free mention in next week's recap! Can you see that I am serious?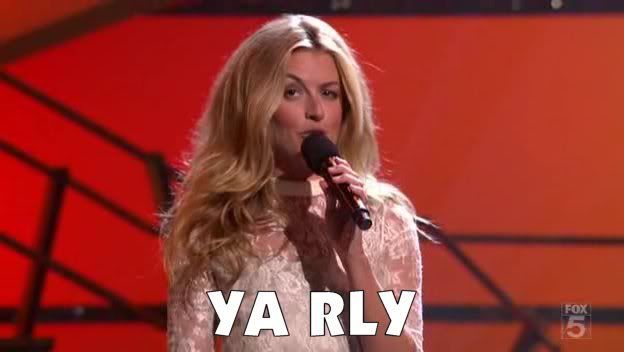 Some additional rules: it can't be dreck -- "The Beautiful People" is still a good song, after all -- and in the spirit of fun, it has to be appropriate for commercial radio, e.g. no Stockhausen, Merzbow, etc. Sorry if I just spiked your "4:33" joke.


---

So the alleged dance that went with the Marilyn Manson tune.




After sitting through her routine again, I feel that Comfort dances mostly from the waist up, and mostly in her arms. She doesn't get into the ground as much as I'd like to see, so she ends up looking stiff-legged a lot of the times. (Coming on four seasons of this show, I had better show improving dance knowledge.) I dearly hope that with a new partner, she'll turn the proverbial it on.


---

Beneath Cat's cheery exterior lurks a vicious lioness.




You think she's playfully butt-bumping Comfort, but Cat sends the hip hopper flying and clutching her back. I'm onto you, Deeley!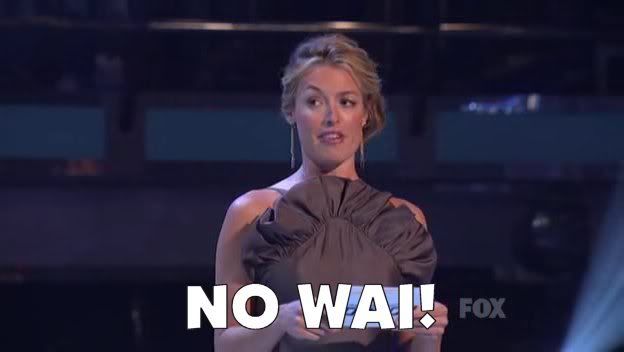 ---

Allow me to parse Mary's "ancient, old Murphy proverb." The proverb itself is not ancient, but rather, the Murphy. Rimshot, please.


---


Oh god, it's spreading.


---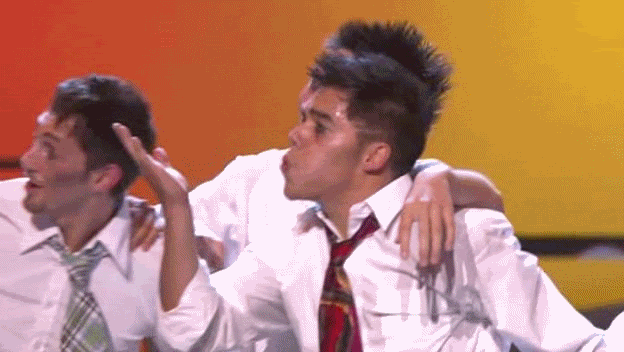 You get a Romeo and Juliet vibe too?


---


Disco? Who cares about disco. But on the subject of Jessica's continued, befuddling presence, allow us to consult an expert in such matters, Adam Shankman.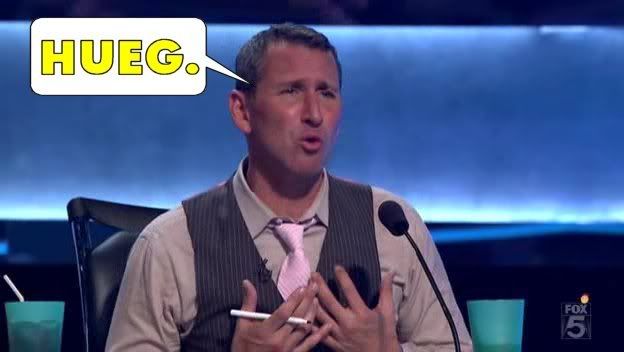 Mr. Shankman, if you could expand...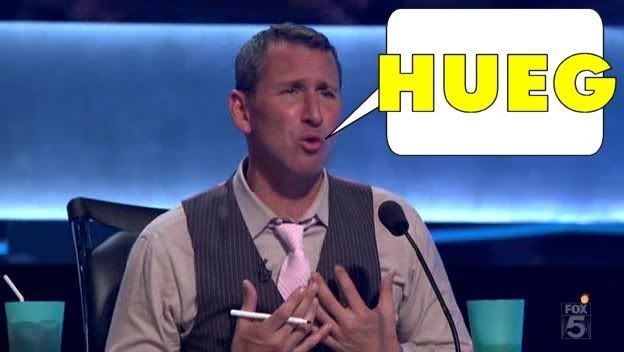 Ah yes, well.

Noted gentleman Mr. Wingfield finds Mr. Shankman's argument compelling.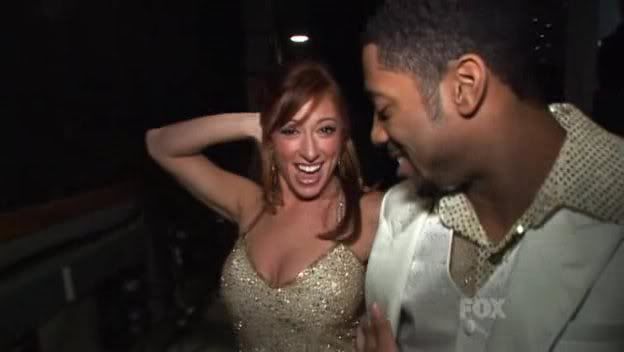 ---
The LOLCATDEELEY Moment of the Week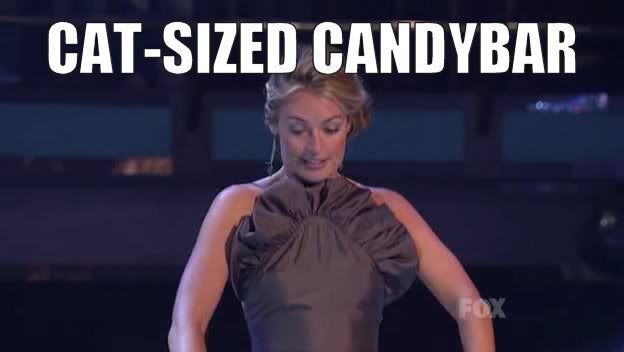 ---

Qwest didn't deliver quite what I was expecting, and since I'm not into turntablism, I couldn't get into their dance through the music, either. It does improve on further viewings, though after watching a few more times, I still can't find Ryan's solo in it.


---

Way back when I found out that Shane Sparks wasn't going to lay out steps for SYTYCD anymore, I was disappointed while looking forward to what would surely be greater involvement from Dave Scott. We've had two hip-hop routines each week so far, but nary a Dave Scott joint. However, maybe, just maybe, the show is paving the way for something special, as evidenced by a recent interview.


KS: I have to ask one more So You Think You Can Dance question and then we'll go back to Dance Crew. Are you going to be judging this season or choreographing for the couples?
SS: No problem. Actually, no. I can't do anything visual. They can't show my face at all. If you noticed, when my choreography was done -- Give it up for Shane Sparks! And they didn't show me. Did you notice that? (Emphasis added)


Reading between the lines, Shane is clearly suggesting that we'll soon be seeing the introduction of a new twist in the format of SYTYCD: the guest Mystery Judge! Clad in a balaclava to preserve his anonymity, he will cry at insane popping and call favorite routines "sick" while we will be left wondering to his identity!

Indie rating: Tarnation - "Is She Lonesome Now"