Here's the highlight of SDCC...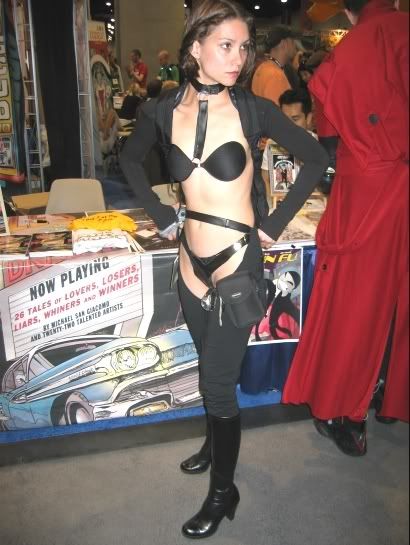 How's that for a hook?
Actually, the fact that Aeon there was the acme of my time at SDCC speaks both to the con itself and my tastes, which together have conspired to make 2008 the last con I'm likely go to. Before making my annual hajj to Nerd Mecca, I told a few people that this would be my last Comic Con. To a person, they didn't believe me, but the hassles involved with the pilgrimmage now far outweigh the geeky euphoria that's becoming more and more remote to me. I mean, traffic was so bad inside and outside of the convention that even Spidey had to resort to public transportation.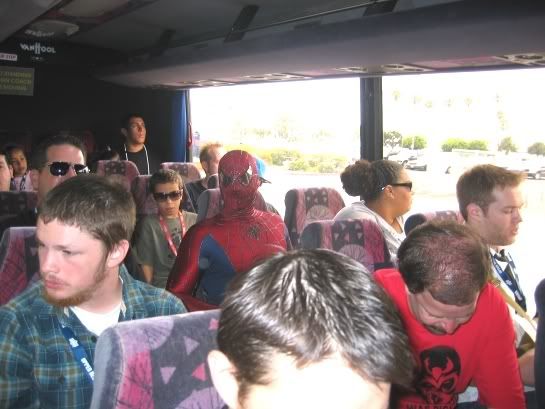 More reasons why SDCC has jumped the shark after the jump.

On the surface, SDCC looks like it's becoming ultra-commercialized thanks to enormous Hollywood productions squeezing out the insular world of comics and reorienting the entire convention around pop culture in general. This summer, though, comics have reasserted themselves, infiltrating the upper echelons of Hollywood and commercial viability and reclaiming its cetnral role at the Con (e.g. lots of cosplayers inspired by the Joker of The Dark Knight). And fine, I don't mind commercialism so much, not when my enduring love for tv forces me to embrace the fruits of corporatism -- SDCC is probably the best opportunity for regular folks to be wooed so directly by actual tv producers, actors, and other sundry poobahs.

But as a result of its ever-rising profile and cachet as a pop cultural event, SDCC has at the same time been transformed into a perverse Disneyland; for popular panels that you want to attend, you have to line up an hour beforehand to make sure that you get in. Maybe I was naive, but I thought that True Blood (Alan Ball's upcoming HBO vampire series) wouldn't be hard to get into and tried to get in just before it started, but by then the meeting room was already at capacity and I couldn't get in. For especially landscape-changing pop phenomena like Heroes or Battlestar Galactica, you could hardly take any chances. I had no pretensions about getting into Heroes, but with BSG in its last season and me at my last SDCC and having missed 2007's BSG panel, I went to into its meeting room before 11am while The Simpsons panel was still in progress (BSG started at 2:30), and sat through a Dean Koontz panel (I listened to my mp3 player) and Joss Whedon's The Dollhouse panel (hey, my mancrush Tahmoh "Helo Agathon" Penikett is in it). (In the process, I had to abandon my place in line for Terminator: The Sarah Connor Chronicles and any delusions of seeing WTF new recurring guest star Shirley Manson. Opportunity costs. :\)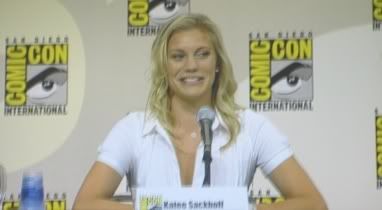 At this point, I have to make an admission: I'm not even much of a BSG fan anymore; my interest in the show peaked in the middle of the second season, so it was hard for me to get into the "So Say We All" festivities, though my state of sleeplessness had a lot to do with how distant I felt from everything. See, I wasn't kidding about my Doctor Who marathon; I'd been slowly getting through the revived series when I actually looked at the SDCC lineup less than a week before the Con and saw that it was holding a Doctor Who panel, including outgoing showrunner Russell T. Davies. I was only through the first two seasons, though, and through a combination of dwindling credits and balky servers, I still had almost a full season (or about 10 episodes) left by the time I got settled into San Diego at 10pm Wednesday night. So I plowed through them until 6am Thursday morning, napped for 45 minutes, then went to the Con. As you'd expect, I've been paying for the sleep deprivation ever since, and I'm sure it wreaked havoc with my ability to enjoy anything.

However, even if I wasn't a zombie, in some cases, a panel might've proved to be a sore letdown. I heard that the Heroes panel, for instance, was no more than a glorified test screening for the season 3 premiere and that the audience didn't get to interact at all with the cast. Meanwhile, the BSG panel was moderated by Kevin Smith, who, while funny, bogarted the bulk of the time that could've, should've been given over to the audience in an open Q&A session.

All the same, my convention malaise was underpinned by my increasing apathy towards comics, which rendered the proposition of Comic-Con a little pointless. I used to love to get convention sketches from artists -- the most I've ever gotten at one con was, I think, 13 -- but this time I barely got five. Since my faculties weren't engaged in nerd ecstasy, I had time to think about what used to appeal to me about conventions, and I concluded that they rebalanced the relationship between creators and fans. In short, they give the audience a voice. Maybe (probably) I don't affect the official narrative of a tv show or a comic, but I was able to broadcast my own narratives (or better yet, zings) to my peers -- which is what I do on my blog, only with more stammering and sweating. But if I'm a nerd without anything over which to geek out, then I don't have any narratives to offer (or I do have a narrative -- a pithy suggestion about a possible crossover between BSG and SPOILER SPOILER SPOILER FOR YOU WHO AREN'T CAUGHT UP WITH BSG UP TO THE FINALE OF THE FIRST HALF OF THE LAST SEASON Cormac McCarthy's The Road -- but Kevin Smith made it his business to cockblock me). So as a nerd ronin, a geek without a master, or even a gathering of similarly sweaty dweebs with whom to commiserate over a fictional narrative, is it finally time for me to acquaint myself with the Whedonverse?


---

SDCC wasn't a total loss, of course; hottie cosplayers can go a long way.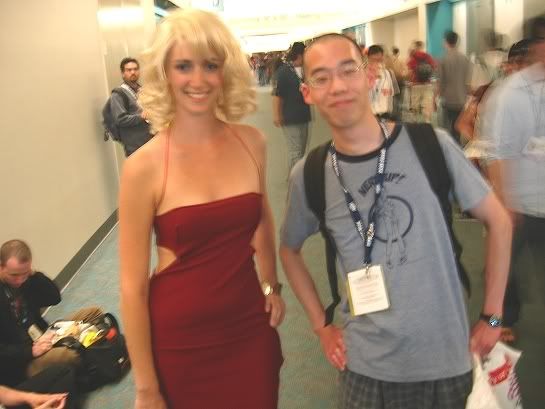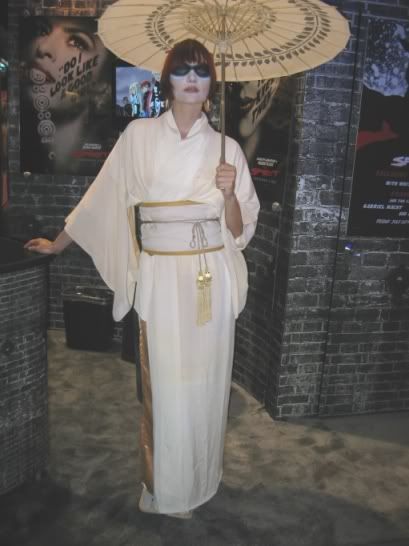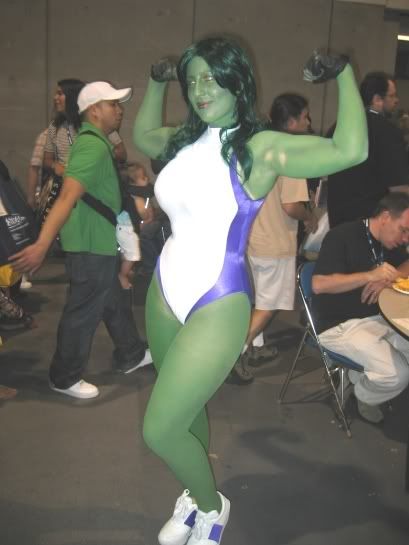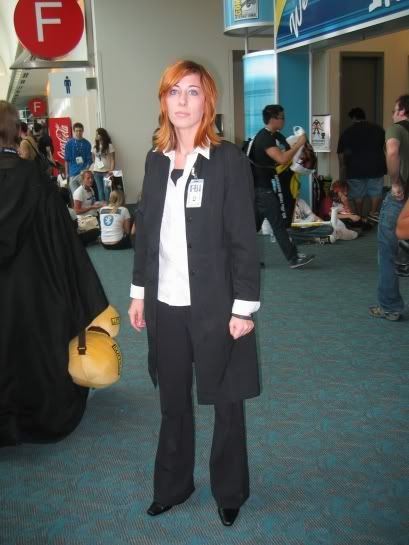 And although he wasn't wearing that sexy Justin Timberlake hat, I was stoked to see Scott "Pete Hornberger" Adsit at SDCC.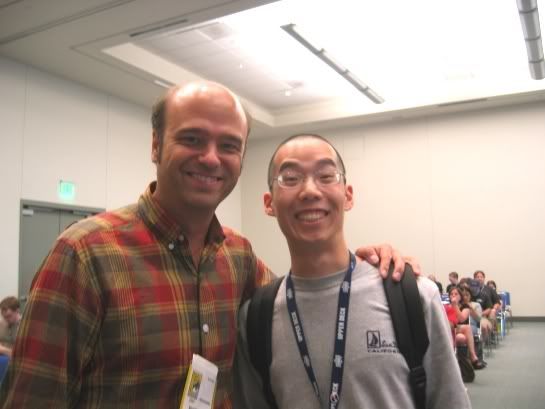 I can confirm that he will appear in some capacity in the third season of 30 Rock. I bring you news that you can use.

As for Doctor Who, Russell T. Davies never did make it to the panel (he was locked away working on scripts for Torchwood), but I did find out that Stephen Moffat -- the new showrunner and the writer responsible for "The Empty Child"/"The Doctor Dances," "The Girl in the Fireplace," "Blink" (aka the episode which he packs with not one but two mind-scrambling sci-fi conceits), and "Silence in the Library"/"Forest of the Dead" -- speaks with the exact same inflections and rhythms as the Tenth Doctor.



---

I got to take a photo with one of my favorite writers from Justice League Unlimited, Dwayne McDuffie.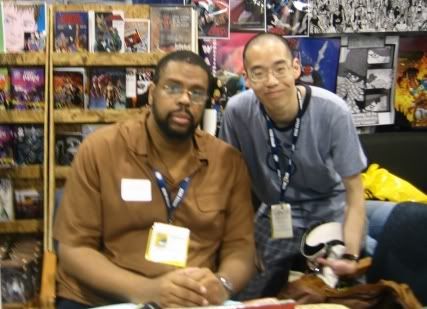 I also got my JLU DVD signed by both him and Bruce Timm.


---

Lots of Cobra this year.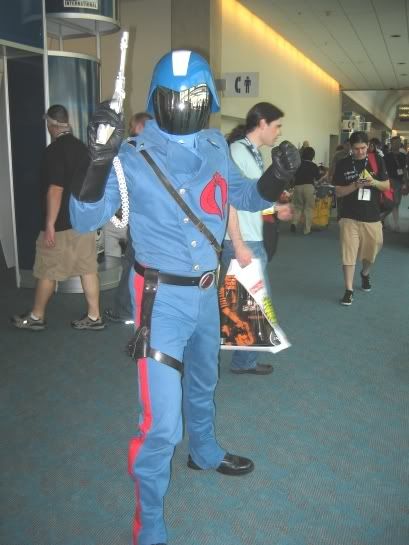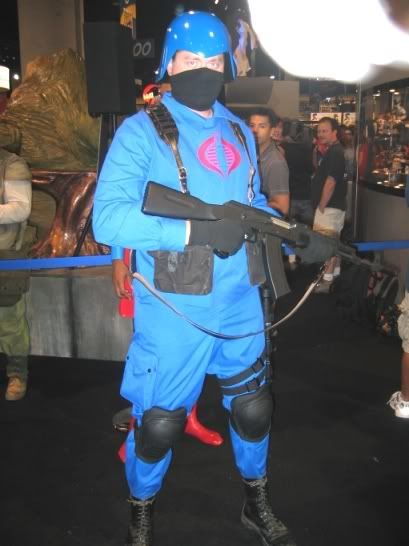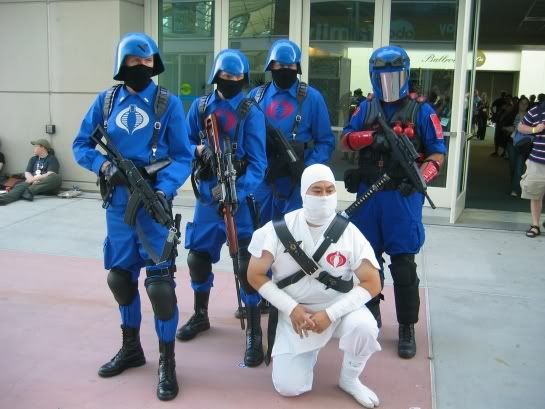 ---

And my sketches made up for the low quantity with pretty good quality.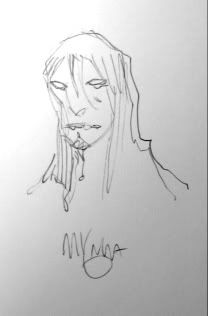 Mike Mignola -- a vampire.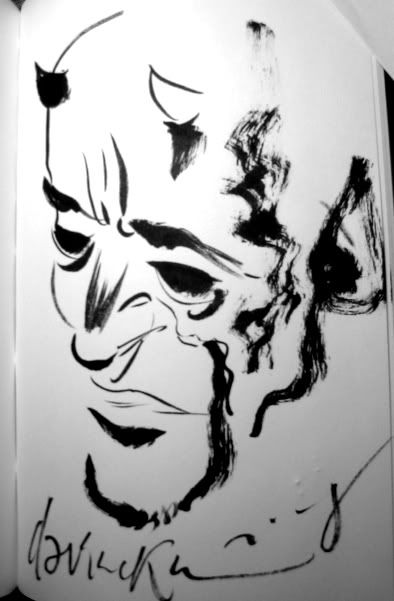 Dave McKean -- I asked if that was Satan or Pan, and he answered, "Yes."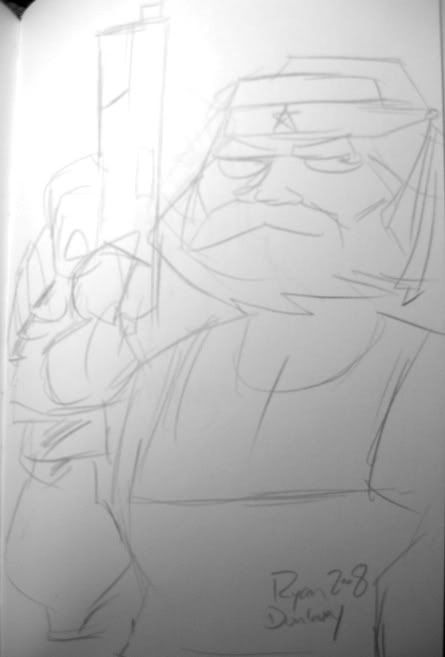 Ryan Dunlavey -- Karl Marx.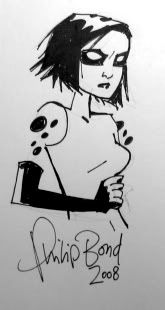 Philip Bond -- Venus Dee Milo. I adore Bond's art, but when I asked him for a sketch, I couldn't think of anything, only that I really loved his work with Grant Morrison and Peter Milligan. "That's practically everything that I've done," he said. "Would it narrow things down," I replied, "if I suggested something you did for Vertigo?"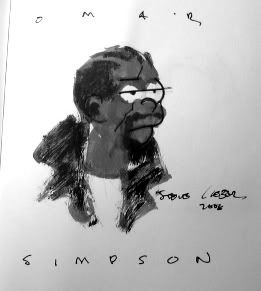 Steve Lieber -- Omar Little. I'd known Steve Lieber from his work with Greg Rucka, but he caused an Internet sensation with his Simpsons-style caricatures of characters from The Wire. We chatted about The Wire, too (Rucka hasn't watched it yet! But Ed Brubaker has), and he ranked his favorite seasons: 4, 3, 1, 2, 5. He also mentioned Generation Kill and how much he enjoyed Ray Person on his constant ephedra-high.


---

Last, but not least: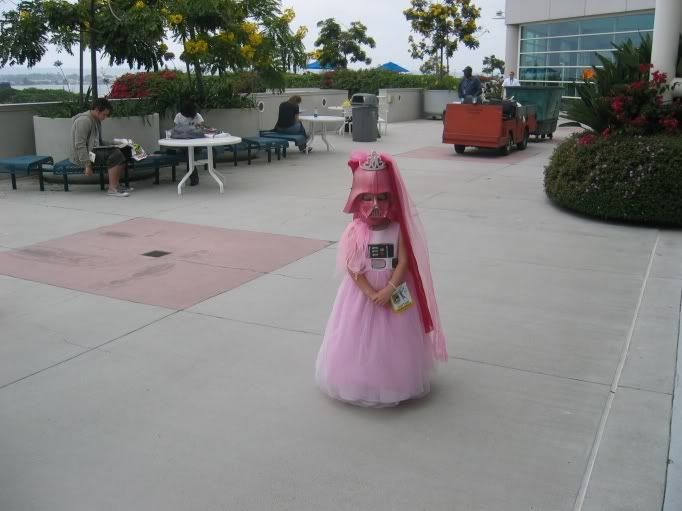 Indie rating: Paula Fraser & Tarnation - "Now It's Time"