Welcome to
So You Thought This Was A Family Show
!
Will may have given off airs of pretension from the beginning when he auditioned to a spoken-word piece, and this won't help dispel such notions: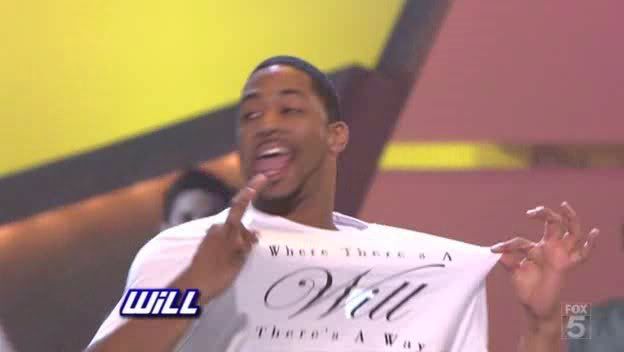 Let's double the fun -- he's impressed enough with the logo that he popped his tee again near the end of the opening danceoff: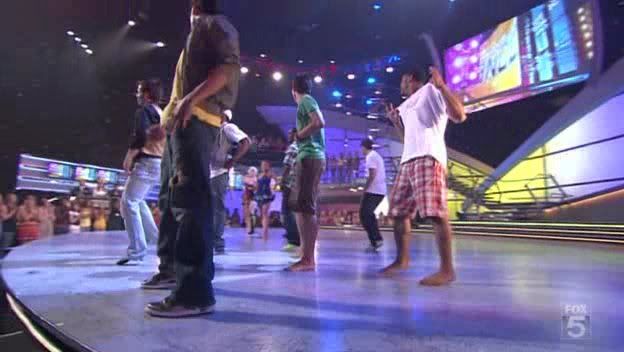 But then he went ahead and took off the shirt -- and any shirt -- during his lyrical jazz piece.
It's harder to maintain self-importance when you have nothing to hide behind, to which Twitch could further attest.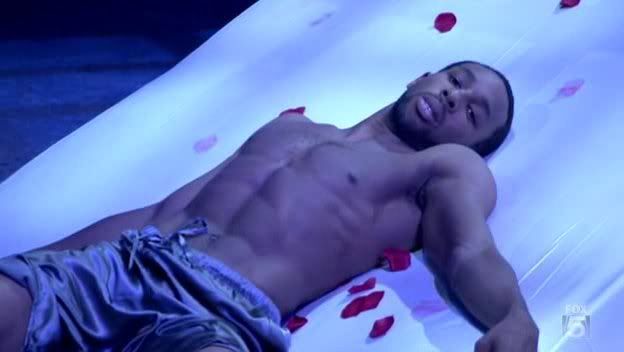 Bedroom eyes or bedroom abs, this week, the show laid bare (hah hah) what dance is fundamentally about -- bodies moving, with or against other bodies.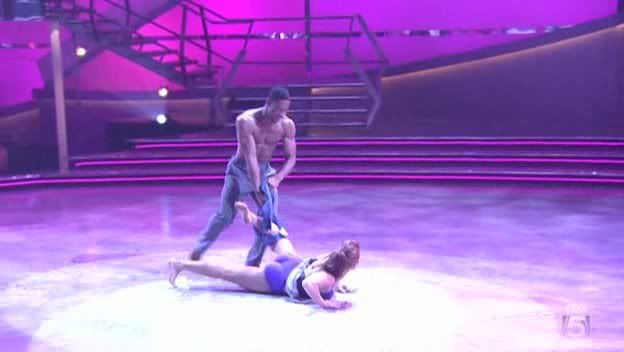 Even Cat got into the act -- tell me there's nothing dirty about
this little exchange with Nigel
, and how could you explain to tweens what exactly she meant when she mused about how full of awesome boys' shirts were?
I'm only a little surprised that the choreographers or costumers took this long to dress down the boys, since we've gotten a sizable head start with the girls. Tight pants, long slits, plunging necklines, open/no shirts, and Comfort's onstage orgasm -- hooray for tits and abs!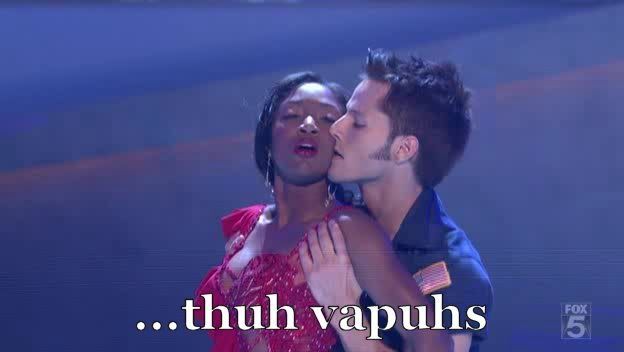 (The prevalence of sex in dance is why people who complain about Nigel's perviness are overstating their case, though the difference in his age to those of the dancers is a valid source of discomfort.)
Read more sexiness after the jump...
---

Normally, I'd dismiss as a crank anyone who lamented the degeneracy of present-day hotness, but this time, some of these voices are actually pretty sharp and I'm baffled that they'd overlook the unmitigated brilliance of this season just because it doesn't engage in narrative hijinks (e.g. growth arcs, or an obvious underdog) as often as it has in prior seasons.

Conceptually, SYTYCD could be a narrative-proof reality program because it principally traffics in such a visually spectacular medium: dance. But to fulfill its pure, spectacular potential, the program would need to have transcendent dancers who can be the tent poles that raise the rest of the show above narrative. Just watch the amazing dances and never mind the "growth" bollocks. However, all that metaphysical voodoo is well and good for those of us who are beings of abstraction, but mremember that SYTYCD is at its core a commercial enterprise. Manifest platonic idealism (if there is such a thing) doesn't perpetuate commerce, which sells need by telling us stories about what we're missing and, hey, what we can buy (or buy into) to complete ourselves. The overall talent on SYTYCD, in historical practice far from the platonic ideal, has ranged unevenly, and thus the show has had to abandon pure spectacle, and instead, it co-opted commercial narratives. Thus, we've seen and been trained to expect "You're finding your humility" or "Isn't it amazing how much you've matured?" or "You're the underdog now, dawg!" or some other one-size-fits-all storyline.

In the immediate context, commercial narratives connect the dancers directly to viewers. Whether by default or by design, SYTYCD has always fallen back on narrative to buttress or humanize its contestants so that the general viewing audience -- of which I count myself, so don't call me an elitist-- can better connect with these tv people. In my mind -- and here I'm perfectly happy to speak for the rest of tv-watching humanity -- anyone who appears on a primetime show becomes larger-than-life, and consequently, they seem more remote than they are in real life, which is all well and good, but being all of us good little consumerists, we need to be reassured about how these mythicized phantasms fit into our quotidian lives; the show "explains" how we need the dancers by presenting them in the mold of narrative in a way similar to how adverts tell us how we need a certain product so that we'll feel more complete.

(An aside. Thinking along the lines of marketing, I've been wondering if it might explain why Thayne stayed over Matt. Does the show worry about branding its dancers? With his more overtly classical training and given Nigel's criticisms of him, Matt represents high-end quality (read: effete), while Thayne, with his smile and HSM credits, lines up more as the mass-market and more affordable choice. And with more appealing high-quality guys like Will, the show didn't need another upscale product that might dilute Will's worth. This is pure circumstantial speculation of course, since I don't know anything about the decision-making process on SYTYCD or about marketing.)

Where narrative had been a televisual necessity in seasons past, I see a different environment this year. I'm fairly confident that we're not marching towards a Marxian paradise in which we've transcended late-capitalist commerce, but the current roster of dancers is simply so good that we don't need character arcs, especially among the frontrunners. Extant narrative arcs principally apply only to the kids lagging in the competition, like Comfort or Jessica, and in the case of Jessica, her arc was produced solely by the judges lobbing bombs of abuse at her. Meanwhile, we haven't heard "ZOMG UR A HIP HOPPER" to Twitch or Joshua in at least a week, and Mark has been treated as an institutional treasure (if I'm off-base, feel free to correct me (actually, don't, because I'm not wrong, and you'd just bust my flow)), because they've reached points where narrative has become extraneous to Joshua and Katee stirring our souls.

But if you demand that the show contextualize its performers in some kind of reality bildungsroman, well, maybe you have higher standards than me, in which case, I'll be watching the Pussycat Dolls from the opening week again.


---

Four weeks straight now, Joshua and Katee bring the performance of the night, and if anyone still had lingering questions about how well they'd fare in the competition, I'd bet they answered them all.



Download Joshua and Katee's Contemporary (20.2 MB)

Joshua's power in this is ridiculous, but he never overpowers the piece (compare how he lifted Katee against the way Will mauled Jessica in their lyrical jazz). Katee is all soul, restrained to the point that I get drawn into what she does.

I'm still trying to wrap my head around the physics of the assisted run.


---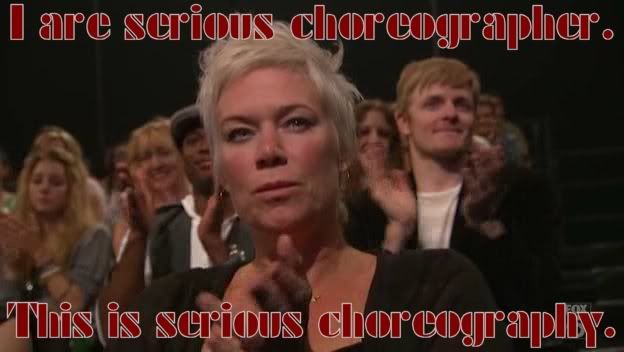 ---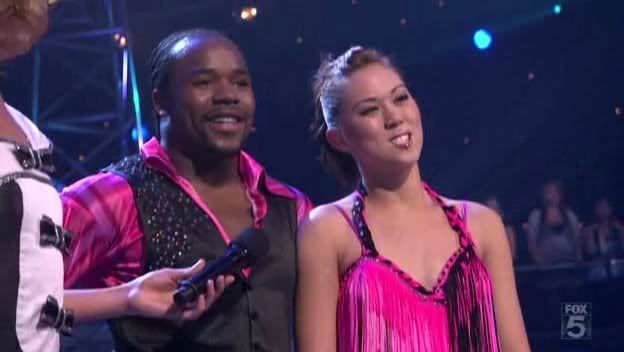 The West Coast Swing, on the other hand? Eeeeehhhh. Their lone misstep thus far; the less said the better, especially Katee's outfit, which was another example of blatant Project Runway / SYTYCD synergy with Jillian's Twizzler bodice dyed pink.


---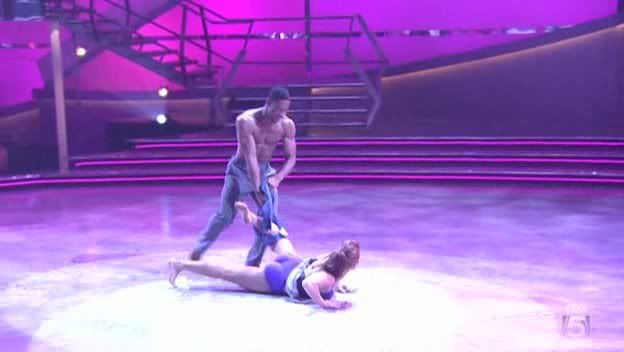 Will and Jessica's Mandy routine was good, but it doesn't compare favorably to Joshua and Katee's contemporary (though which routine can?). The only reason I'm comparing the two at all is because of how the woman in each piece is treated, and in Jessica's case, the choreography looked murderous on her and her knees, which kept getting the brunt of Will's violent pulls.


---

The other Mia routine, for Twitch and Kherington, was also one of the night's better ones, but to expand on how Nigel called it critique-proof, that dance was mostly about performance, emotion -- not so much technique. It mostly involved jumping on a bed and throwing rose petals in the air.

On the other hand, Twitch's paso was designed to minimize his steps and hope that everyone would be distracted by a cunning six-point plan, which I've gone to the trouble of diagramming below: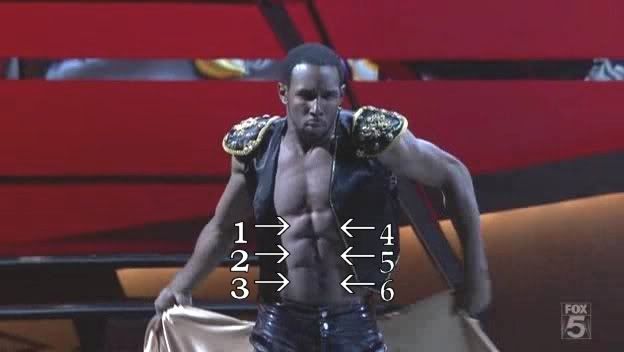 ---

Weird Kourtni's hip hop was dire. Even though the choreography called for soft and smooth, her moves merely slid from one to the next without any terminal popping or hit, so instead, everything she did looked like she was melting slowly. Her deficiencies were even more palpable when you compare her to Matt, who much to everyone's surprise, pulled off a reasonable facsimile of the choreography. And if I had to guess, Cicely and Olisa were looking pissed mostly because of Kourtni.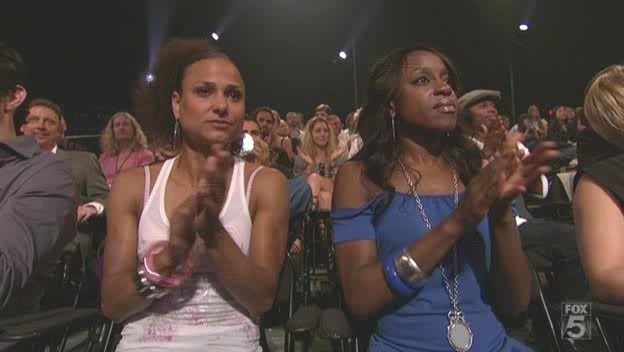 ---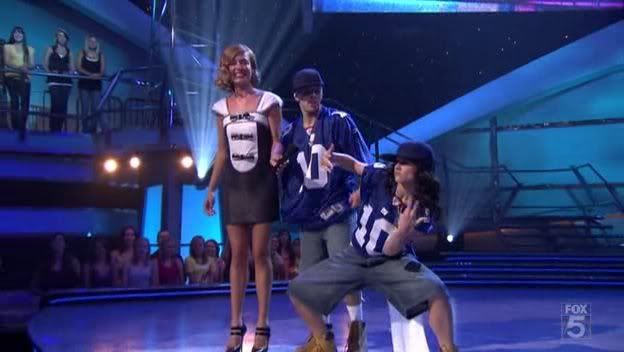 The other hip hop -- between Gev and Courtney ("Only Courtney" would be played out -- given how often Cat cracks little people jokes about them, what about Shortney?) was aight, though you'd guess that the one rocking it would be Gev. Nope, Shortney was the stronger partner. She was the one with the attitude, the energy, and the raw. Maybe it shouldn't be too unthinkable, since being an NBA cheerleader, she's bound to have hip hop in her repertoire -- but that shouldn't explain why she so clearly blew a b-boy out of the water. Nevertheless, it was still a refreshingly funky gig in a season when most of the hip hop has tended towards lyricism.

And it inspired this trenchant lol: why on earth would one wear an Eli Manning jersey to dance hiphop? Sure, Eli is definitely more ghetto than Peyton, but still...

A Manning zing you can frame, folks.


---

Brief tangent -- I'm pathetic enough that I scrutinize my referral logs with talmudic intensity, and I've noticed that I'm getting visitors and fans from actual real dance sites where the posters are real live dancing people. Consider my mind blown that they'd bother with the trivialities of image macros and idiot one-liners. I'd tell everyone to raise their standards, but I like the attention too much. So yeah, welcome new readers! Just be aware that long-time readers get extra coolpoints.


---

Mark and Only Chelsie made zero impression on me this week, and not for a lack of quality. It's just that every time I queue up either of their routines, I end up thinking about something else and forget to watch them. Sorry.


---



Download Gev's solo (18.8 MB)

In a season of forgettable solos, Gev was a godsend Thursday night. He's not a virtuoso like Ryan, nor the dynamo of power like Hok, and he doesn't match Dominic's telegenic flare, but Gev puts together a solo better and hits a greater variety of visual spectacles: the humor (e.g. that wind-up monkey move), the show of strength (the seizure on the ground), the acrobatics (THE FLIP), and if you focus on the red, tall, French smudge on the left, he has the ability to scare the hell out of Cat: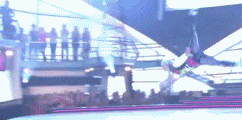 Has any other b-boy (or b-girl) elicited the six feet of furious concern that Gev has in his hat? Or that he's, yes, he can spontaneously grow half a foot to sky over Deeley?


---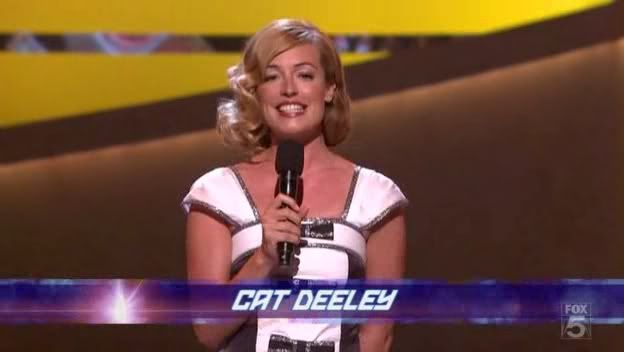 If you conveniently ignore that ridiculous dress on performance night, Cat probably hasn't had such a hot looking week since she began hosting the show; any other point in the season and she would've stolen the show. Her flapper 'do had plenty of class to it, yet it didn't come close to matching her results night panache. With that Egyptian style, she had zero bad angles -- stunning all the way through.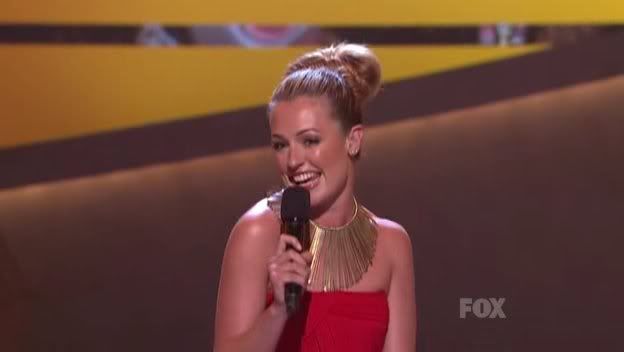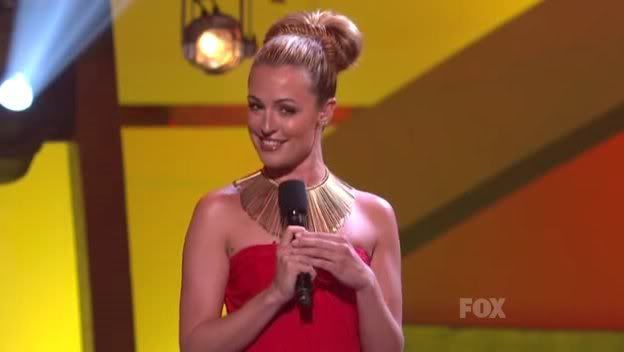 Her plum look has in fact inspired an entire string of


LOLCATDEELEY TIMES!!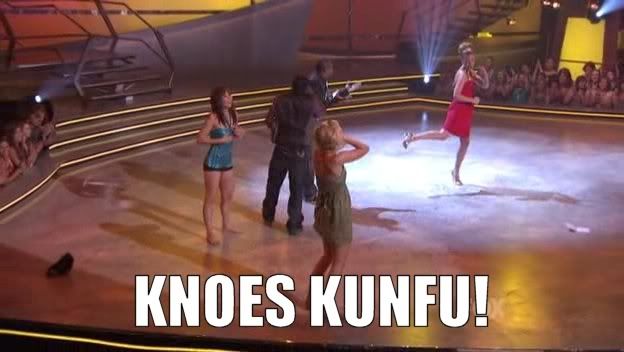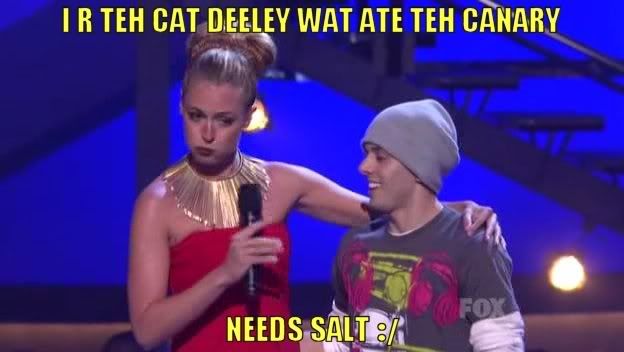 Yes you are, Deeley.


---

And here she is, doing a Noo Yawk accent. Love.


---

I don't have a whole lot to say about Kourtni and Matt, except that they bowed out with class. Kourtni got a bit of advice from Cat...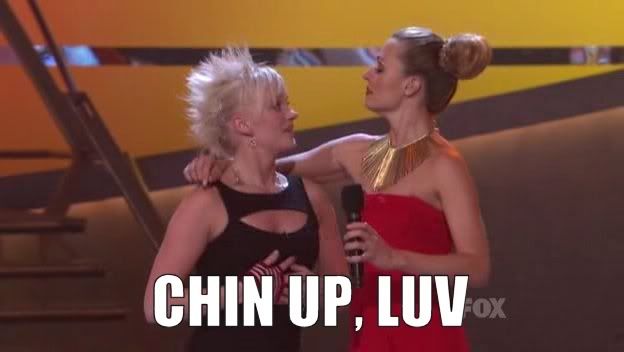 ... while Matt showed that all this time, he was a closet Trekkie and we never knew.




That factoid emblematizes the show's dropped ball, because apparently they've been sitting on a goofy dork all this time while wasting time with paeans to Tasty Oreo's cattiness. Other aspects of Matt that we were deprived of until too late include his ridiculously flexible legs...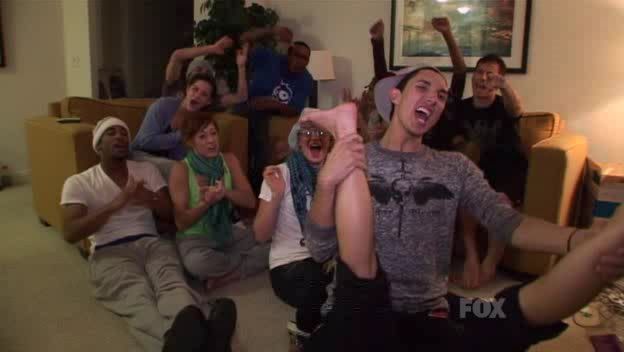 ... and the extrasensory versatility of his nose: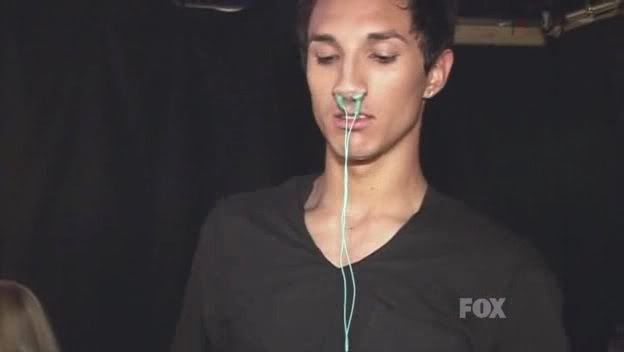 ---

We're at the point now where projecting the top 10 isn't a bold exercise, since any couple who fails to make the top 3 is by default in the bottom 3. But if I wait any longer, then the top 10 would have already been determined, at which point, in all likelihood, Comfort will be an odd girl out, depending on whether voters buy into the Jessica hate or not.

Twitch, Kherington, Mark, and Only Chelsie are mortal locks for the top 10, since as couples, they've built up enormous fanbases that will vote for them even if they get smacked down by the judges, judges who have never come close to laying into any of them. "Marksie" have a slight edge over "Twitchington" because neither of them have even been close to dinged about smiling too much or not getting into character easily.

The last spot in the top 3 will come down to Joshua and Katee, and Will and Jessica. My favorite couple holds the advantage, since neither of them have been accused of dragging the other down, and also because THEY ARE AWESOME AND MY FAVORITE. I usually vote six times for Joshua and Katee, which I'm sure will provide the difference between top 3 and bottom 3.

That leaves Comfort/Thayne and Gev/Courtney as two locks for the bottom 3. "Gevney" are pretty far ahead of "Thaymfort" since they've been in the bottom only once to date and in their performances have been considerably more solid. Considering Gev's killer solo, he's safe unless his next protest t-shirt has a picture of goatse.cx on it. Courtney gets in if only by association with Gev (this is how the algebra works in my mind). Comfort is in danger -- since she'd be soloing for the fourth straight week -- as is Thayne, for the same reason. Another strike against Comfort -- every week they judges have to decide to keep the only legit hip-hop girl on the show, the more patience they use up.

As to which two dancers will get eliminated, it depends entirely on on that wildcard couple. If it's Joshua and Katee (who'll be passed through without another thought), goodbye Comfort and Thayne. If Will and Jessica, Will is obviously safe, and take your pick between Comfort and Jessica. Unfortunately for Thayne, facing off against Gev and Joshua or Will, the show has run out of contemporary boys for him to hide behind.

One caveat: The preceding is based on logic as applied to a reality program, and you know how well that can go.


---

From this point on, I'm going to draw in my SYTYCD world so that a certain botoxed, overtanned... ok, I'll just say it, Mary Murphy -- I'll be ignoring her as best I can, which means no more YES I SAID YES I SHRILL YES or MaryMania, both of which demanded that I pay so much loving attention to one so hated that I stretched myself to the bounds of sanity. The things I do for a laugh.

Except one last thing. I have to note that I think we've uncovered a relation between Mary and Miss Teen South Carolina.




By the way, is she wearing Cat's dress from last week? If she was crowbarred into that wisp of a slip, that might explain why Mary looked especially bloated.

And also, she told Thayne when Smiley found out he was in the bottom 3: "You are just the sure thing, dude, aren't you? I mean, you are there 100% -- IN THE BOTTOM THREE. HAAAAAAA." (That quotation 100% true! Except for the part that I added!)


---

Unexpected celebrity roll call!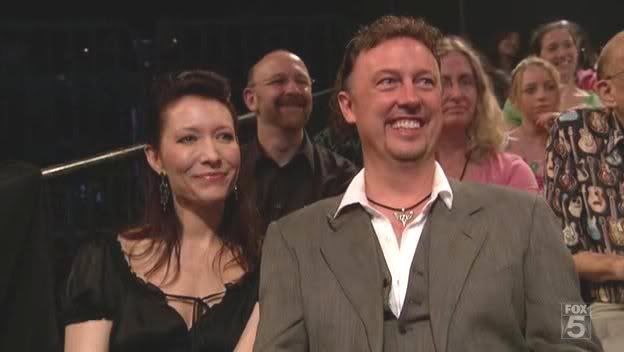 Cate Blanchett!





Juliette Binoche!


---


Lacey! Let me just get this joke for you haters out of the way: too bad the Schwimmers never managed to train Lacey, right?




To which I would say, "Piss off." Because I am the world's only Lacey fan.


---

Oh jeez, did I really make that pun?


---

For my own nefarious amusement: During the One Republic gig, one of the swaybots had some difficulty getting the tricky science of swaying down.




Not that I laugh out of malice -- I haven't tried clapping along with a song in concert in 4-5 years because as sure as the blogosphere will complain about how SYTYCD was better in seasons past no matter the present quality of the show, I always fall out of time. So sister, I know how you feel and have retreated to life on the internet where it's safe for the rhythm-challenged.

Indie rating: Lil Wayne - "Lollipop